Fourth of July fireworks displays may lose some of their sparkle this year as consumers burn through a nationwide shortage of inventory.
Even dealers who are well-stocked at the moment say some favorites may be harder to come by as Independence Day nears.
"Right now we're stacked floor to ceiling, but we always encourage people to shop early to get the best selection," said Keesha Woodard, whose family owns the Exit 1A and Dixieland Fireworks stores in East Ridge.
Distributors and dealers say pyrotechnics are the latest casualty of rising demand and limited supply, an issue that has similarly plagued consumer goods ranging from bicycles and chlorine to lumber during the coronavirus pandemic.
"First it was toilet paper, now fireworks," said Brandon Corn, general manager of retail operations for Fireworks Supermarket, which operates 20 stores in eight states, including in Jasper and Cleveland, Tennessee.
"I would say that we are in a good position inventory-wise due to our ability to purchase at large scale, but nationally there will be significant fireworks shortages, and some of the smaller retailers will have pretty significant challenges getting inventory and having enough inventory" to take them through the Fourth of July, Corn said.
Shortages are more likely to affect backyard shooters than professionals prepping for organized shows, according to the experts, but at least one event in Hamilton County has been canceled for lack of inventory.
Photo Gallery
Chattanoogans buy fireworks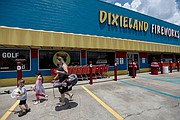 The city of Lakesite, which uses consumer-grade fireworks, has alerted residents that the pyrotechnics that normally end the Fourth of July barbecue won't be possible because the order is held up overseas.
"It's low-key, but we buy enough to make it worth people's while to come out," said Mayor David Howell. "[The supplier] said we could do smaller stuff, but not like we've done in the past, so we decided it might be better to cancel or postpone."
In Spring City, Tennessee, Pentecostal Worship Center, which sells fireworks as its major fundraiser for missions, is scaling back due to lack of merchandise. Marsha Grace, wife of Pastor Mike Grace, said the church normally operates three stands in Spring City, Dayton and Jacksboro, Tennessee, in the two weeks leading up to the Fourth, but will have only two locations for the 29th season.
"We couldn't open one whole tent," she said of idling the Jacksboro location. "You can't get [supplies] like you normally can. We're getting shipments every day, but [in other years] we would have gotten them all by now."
Grace said church leaders have been told to expect "about 60% of what we ordered."
Figures from the American Pyrotechnics Association show that 2020 was a record-breaking year for consumer-grade fireworks, jumping from $1 billion in 2019 to $1.9 billion in 2020. Professional-grade fireworks took a significant hit, dropping from $375 million in 2019 to $93 million in 2020.
Much of the drop can be attributed to canceled shows and shuttered theme parks during the coronavirus, said the association's executive director, Julie L. Heckman.
"There were no sporting events, no concerts, no festivals, no fairs, no Independence Day fireworks. Labor Day was a bust. New Year's Eve was a bust. These companies have been hanging on by a thread," she said.
As business for the professionals went into free-fall, homebound families looking for cheap entertainment splurged on poppers, snaps and spinners.
"No one anticipated backyard fireworks would have such an unprecedented, record-breaking year," Heckman said, "but there was nothing else to do. You couldn't go on vacation. You couldn't go to a sporting event. There was no entertainment. So people brought the celebration to their backyard."
That spike in demand is a major reason for the shortages this year.
"The consumer fireworks industry basically exhausted their inventories, which never happens. Never happens," Heckman said.
China, where most fireworks are produced, also faced challenges in meeting the demand after manufacturing shutdowns during the pandemic.
Heckman said the bigger issue now is the backlog at U.S. ports, which is predicted to restrict distribution of consumer goods through first quarter 2022.
"It's affecting every household good, every commodity that gets imported," she said. "It's not just fireworks. It's everything that consumers have on shelves."
Contact Lisa Denton at ldenton@timesfreepress.com or 423-757-6281.