Overcoming obstacles to guide their teams to a memorable season was a common theme for this year's six finalists for Scrappy Moore Best of Preps Coach of the Year.
Each of these mentors found success - their teams won a combined seven state titles during the 2020-21 high school season - despite adversity, allowing them to stand as examples to their players.
This year's finalists are Ringgold's Daniel Hackett, Coahulla Creek's Aurelio Jacobo, Red Bank's Mandi Munn, Baylor's Gary Partrick and McCallie's Ralph Potter and Mike Wood.
The winner will be announced during Thursday's Times Free Press Best of Preps banquet, which due to COVID-19 concerns will again be a virtual event, shown at 7 p.m. at timesfreepress.com.
Photo Gallery
Academy at Riverdale Benefit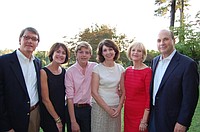 More than 200 people crammed into the Edgehill home of Vicky and Mark Saviers on Sept.