The crowded Chattanooga mayoral field will narrow down considerably in an April runoff between the top two voter-getters from Tuesday's city election, business and nonprofit leaders Tim Kelly and Kim White.
The 15-person tussle of local candidates competing to replace two-term mayor Andy Berke resulted in a vote so split that no one could win according to the city charter, which requires a candidate earn over 50% of the total vote.
With 30.1% and 29.2% respectively in unofficial final results, front-runners Kelly and White face six more weeks of campaigning.
Kelly, 53, a native of Chattanooga, owner or past owner of local companies including a car dealership and CEO of the Chattanooga Football Club, is running on a platform of experience running businesses, managing employees and handling crises.
(READ MORE: Most Chattanooga City Council seats decided, two runoffs set)
Kelly, who narrowly beat White with less than a 300-vote lead, gave an emotional speech to supporters outside of Chattanooga Brewing Co. late Tuesday, calling for stamina in a long campaign marred by COVID-19.
"I've never run for anything before in my life. And so, not having anything to compare to, I was sure of one thing only and that was that, because of the COVID pandemic, it was really going to be tough," Kelly said before a moment of silence for those lost to the virus. "And I was prepared for that ... but I was not disappointed in the enormity of that challenge."
An at-times tearful Kelly went on to individually compliment and thank each of the candidates who lost the initial race.
"We're fighting for the soul and the spirit and the future of this great city. Chattanooga's greatest asset is its people and we're blessed with an abundance of community leaders willing to step up and put in the work to make our city the best it can be," he said. "And we need that spirit, and we need that commitment more than we ever have."
Kelly promised continued nonpartisan efforts through the runoff and to expand on his, "the best vision," for the city in coming weeks.
White, 60, a Hixson native and the former CEO and president of nonprofit redevelopment agency River City Co. whose previous business career included recruitment for a Fortune 500 company, has run on her experience creating public and private partnerships and chops in driving local development.
White gave an upbeat speech at the Westin Hotel, thanking donors, staffers and supporters who had carried her into the runoff.
"I am ready, and I am so excited to be continuing this campaign and being the next mayor of Chattanooga," White said to the screaming room. "And I couldn't have done it without you. We've seen amazing momentum."
White also congratulated Kelly on his campaign and celebrated the crowd running a positive, issue-based race.
"It has all been about issues, it's been about vision, it's been about experience, and that's what we're going to keep talking about because it's what we've got the best of," White cheered, before thanking voters.
"So whether you voted early - I wish some of you hadn't - or came down on Election Day, you made your voice heard. But your job isn't over," she said. "To those that voted for me, I want to thank you so much. It's an honor. It's a privilege. I'm going to work hard for you for the next six weeks, and I'm going to work hard for you as mayor. I need you to give me your vote again one more time, on April 13. And for those that didn't vote or voted for another candidate, come on over."
If elected, White would be the first woman to serve as mayor of Chattanooga.
The pair beat out a robust field of challengers, including 13 other community activists, citizens and leaders.
Top runner-ups were former city attorney Wade Hinton, who got 21.5% of the vote, and local entrepreneur Monty Bruell, who got 8.5%. Either of them would have been the city's first Black mayor had they succeeded in their bid.
Photo Gallery
Chattanooga mayoral race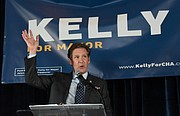 Hinton delivered a speech to supporters late Tuesday, congratulating both White and Kelly.
"I think the conversation for this community will continue. We have a number of weeks to continue that conversation," he said. "While the results are not what we anticipated, the outcome in many ways went beyond what we said we would do."
Bruell said in an interview Tuesday night that he was not mourning the outcome and was ready to support Tim Kelly.
"This race was never about my becoming mayor, it was about providing our city with leadership and sparking our city with progressive change, and I feel like we have changed the city forever," he told the Times Free Press, noting that he told his team to prepare for more work. "We were Chattanoogans before the race, and we'll be Chattanoogans still tomorrow.
"It's no secret that Tim and I are friends. He's a great guy, his heart is in the right place," Bruell said. "I will do everything I can to make sure that he is the next mayor of Chattanooga."
Bruell said he and Kelly are scheduled to meet next week.
The runoff election will be held on April 13, along with runoffs from Tuesday's District 2 and District 5 City Council races.
Early voting will run from March 24-April 8, and absentee ballot requests will be available starting on March 12. March 15 is the deadline to register to vote in the April runoff.
Contact Sarah Grace Taylor at staylor@timesfreepress.com or 423-757-6416. Follow her on Twitter @_sarahgtaylor.