Tyner senior Amarion Dillard has provided a crucial spark this season with his ability to slash to the rim and attack.
The springy guard was on point for Class AA's ninth-ranked Rams Tuesday as Dillard scored a game-high 18 points to help lead a 62-49 Region 2-AA semifinals home victory over Red Bank.
"Amarion has really provided us a spark and we've been leaning on him offensively this year," said Tyner coach E'Jay Ward. "He comes through in the clutch and has really been a strong senior leader. He has been here before and he really came out with great effort tonight again. We need that from him down the stretch."
The Rams (19-2) are in for a stellar region finals showdown at home Thursday against rival Howard (18-4). Both teams will advance to the sectional round as well for a chance to play in the state tournament.
Photo Gallery
Prep roundup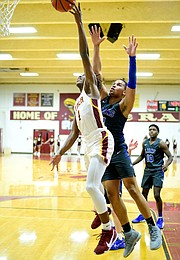 Tyner 6-foot-5 sophomore Keelan Jackson's defense played a big part in the win over Red Bank as he was able to grab tough rebounds and disrupt shots.
The Rams outscored the Lions 18-7 in the second quarter in which Nehemiah Bloodsaw scored all eight of his points. Senior Melique Hambrick (13 points) was hot in the third quarter as the standout shooter hit from long-range and was also able to drive to the basket.
"I am proud of the intensity my boys played with," Ward said. "They played good defense and took care of the basketball and rebounded. To be able to host this postseason has been great. I really like our chances at home. Our guys are ready to keep going."
Red Bank was led by seniors Kel Eddins, who made five 3-pointers, and Cam Bell, who had 11 points and 11 rebounds.
Region 2-A semifinal
Arts & Sciences 56, Oneida 55: It took a defensive stand in the final seconds, but the Patriots earned the tough home win to advance. The Indians had the final possession but a short jumper just before the buzzer rimmed out and the Patriots will travel to Harriman for the region title Thursday.
Ethan Brown led CSAS with 18 points, including four 3-pointers, and Justin Brown finished with 17.
Region 3-AA semifinal
Howard 71, Loudon 62: A strong start to the second half - 18-12 run - helped the Hustlin' Tigers take the lead and they were able to hold on last to advance to the region championship game. Meechie Bowens and Cobi Dixon led a balanced Howard offense with 16 points apiece, while Kerrick Thorne added 15 and Xavier Fisher 10.
Region 3-AAA semifinals
Cleveland 68, White County 53
Warren County 75, East Hamilton 66
GHSA Basketball Quarterfinals
Class AAA Girls
* Cross Creek 51, Sonoraville 47: The Lady Phoenix led by as many as 11 in the first half before the visitors used a suffocating defense to pull out the win in Calhoun. Sonoraville (23-5) controlled the action from the start, using nine first-half points from point guard Lindsey Bowman to hold a 33-27 halftime lead.
That lead would have been nine except for a 60-foot halftime buzzer-beater by Cross Creek's Michaela Bogans. That shot turned momentum, but Sonoraville used a strong third quarter from leading scorer Alexa Geary to hold onto a 42-35 lead entering the final eight minutes.
Those minutes, however, were a nightmare for Sonoraville as the visitors scored the first 10 points of the period - five from Jordyn Dorsey - to take a 45-43 lead with 3:17 to play. The Lady Phoenix would score only five points in the quarter, including an 0-for-6 mark from 3-point range.
"To their credit Cross Creek defended us extremely well in the fourth quarter," said Sonoraville coach Stephanie Caudell, whose team has made two Elite Eights and a Final Four in addition to winning three region titles in the last three seasons. "Their defensive pressure caused us to rush shots. We also had to expend so much energy guarding them late and they handled the ball well when they got the lead."
Lindsey Bowman led Sonoraville with 14 points, with Geary adding 12 and Matti Parker eight. Dorsey topped Cross Creek (22-2) with 28 points, with Bogans adding 10.
Class AAA Boys
LaFayette gets the rare chance at redemption tonight at home as Cross Creek visits for the second consecutive season. Both programs were in Class AAAA a year ago when the Razorbacks overcame a 15-point halftime deficit to defeat the Ramblers 58-55.
LaFayette (22-1) returns four starters from that team while Cross Creek (23-4) returns only big man Corey Trotter, a 6-6 post who averages 17 points and 13 rebounds. He had 16 points and 14 boards in last year's comeback win, most coming in a second half that saw the Razorbacks use their size advantage to rally.
Class A Private Boys
Christian Heritage travels to First Presbyterian Day in Macon for a quarterfinal game that has the makings of a shootout. The Lions (22-3) have a formidable lineup that features a pair of talented freshmen in Jax Abernathy and Zundra Jackson to go with seniors Evan Lester and Nash Bingham.
They will have to find a way to shut down a Vikings' lineup that is led by guards Jordan Jones, who has a 60-point game this year, and Jay King, who averages right at 19 points per game. A key for Christian Heritage is limiting turnovers as FPD averages 13 steals per game.
BASEBALL
* Heritage 12, Coahulla Creek 2: Cade Kiniry allowed no earned runs and struck out five in the five-inning game for the Generals (4-1). Alex Mixon drove in three runs on two hits and scored twice, with C.J. Robertson and Landon Skeen each getting two hits. Bailey Stroud led Coahulla Creek with three hits and an RBI.
Monday game
* Gordon Lee 8, Ringgold 6: Cade Peterson had three hits, drove in three runs and scored twice to lead the Trojans (3-1) to the road win. Blake Rogers added two hits and three RBIs and Kade Cowan two hits. Jake Poindexter, headed to the University of Georgia, allowed one run and four hits in four innings to get the pitching win, with Bo Rhudy getting the save. Sam Mills had two hits and Ross Norman drove in three runs for the Tigers (4-3).