As e-commerce continues to grow and the pandemic pushes more remote, touchless buying, a growing number of car buyers are making and financing their vehicle purchases all online.
Steve Marlin, general manager of Crown Subaru in Chattanooga, says the internet has changed car buying tremendously, especially during the pandemic.
"A lot more people have more time to spend at home, and they are doing a lot more shopping at home," he says. "We've increased our internet staff, and going forward we're looking at an increasing share of online sales and even delivery of vehicles where people live. We want to make people feel as safe as possible. COVID made us all change a bit."
Last year, digital disruptors such as Carvana and Vroom sold more than 300,000 used cars across the United States through their web-based businesses, which deliver the vehicles they sell directly to the buyer's home. But online sales companies still captured less than 1% of the 45,553 used cars and trucks sold in Chattanooga, according to the Hamilton County Clerk's Office.
New cars are still typically sold through auto dealerships for each brand, but growing car brands like Tesla are embracing online sales to bypass dealers and sell directly from the manufacturer to the consumer. Most car companies and dealers use the web as a tool to drive consumers to showrooms, but dealers are beginning to also offer online, touchless buying of vehicles totally outside of the dealer showrooms.
Brent Morgan, president of Integrity Automotive Group, who has worked in the automotive business for over three decades, says the internet is changing how consumers buy cars, just like it has for most every other product, and dealers are adapting their models to accommodate online inquiries, sales and financing options.
"We look at the internet as a positive tool because it does give buyers more and easier access to information about their buying options," Morgan says. "But we do think that there is still a positive side to in-person visits, face-to-face assistance from our product specialists and their presentations, and the chance to drive and try out their vehicle choice."
Photo Gallery
Local auto dealerships adapt to e-commerce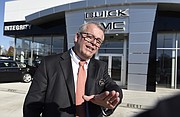 Car complexities spur retail visits
As vehicles have become more computerized and automated, the help and instructions of a sales associate have become even more important in evaluating, buying and ultimately driving a new car or truck. But Morgan says the COVID-19 pandemic has propelled the move to more touchless and remote buying and video presentations about each vehicle.
General Motors Co. in late March stepped up the promotion of its Shop-Click-Drive program, which lets customers get trade-in estimates and apply for financing without visiting stores. They can also arrange for home delivery of new vehicles.
Walter Jackson Chevrolet in Ringgold, Georgia, is among the dealers using the Chevy web site Shop-Click-Drive to allow consumers to pick their favorite vehicle, schedule a test drive, arrange financing and even get the vehicle delivered to their home. Cadillac requires all of its dealers to have concierge services to the homes of car owners and buyers.
Ryan Jackson, general manager of the 51-year-old dealership started by his grandfather, says dealers continue to adapt to online sales, like most businesses.
"We can do almost everything online," Jackson says. "But people want to come into the store, talk with someone and test drive a vehicle. I think there is still a lot of value in coming into the dealership and shopping, but during the pandemic, there has been a lot more online and remote sales."
Online sales rise in pandemic
GM executives say purchases through its online service, which started in 2013, have increased during the pandemic by about 40% from pre-COVID levels, with 85% of GM dealers now using Shop-Click-Drive.
"Definitely we'll see more customers wanting to do most, if not all, of the transaction online," GM Chief Executive Mary Barra said at an automotive press briefing in July. "But I don't think everyone will want to do that, and that's why we have to meet them where they're at."
State laws protecting new-car dealer franchises have made a Tesla-style direct sales model difficult in some states. Ten states, including Alabama, ban direct sales of new vehicles online and eight other states, including Georgia, limit direct online sales.
Dealers benefit from getting car buyers into their showrooms where they can often up-sell them on features and add-on services, such as extended warranties. But with most buyers coming into showrooms after doing research online, buyers are more focused in their buying, but they also are more informed about their prices and options and they have easier access to more car-buying options.
Buying options grow
CarMax, which entered the Chattanooga market in 2012 with a store along Interstate 75 that maintains one of the biggest used car inventories of any dealership in the region, makes computer terminals available so customers can view CarMax's nationwide inventory online. For a fee, CarMax can transport any one of 30,000 vehicles from another site to Chattanooga.
Marlin says the worldwide web also opens up vehicle sales to a wider audience for conventional dealers, including his local Suburau dealership, as well.
"If there is a particular model that is in demand, we will get responses on the web from many other cities," Marlin says, noting a recent sale to a customer in St. Louis.
"It's really opened up the market for used cars especially," he says. "A lot of people are negotiating deals on the internet or on the phone and they are ready to close when they come in."
Mike Jackson, CEO of AutoNation - one of the biggest auto retailers in the country with more than 350 new and used car dealerships - says online sales continue to grow and he expects the trend to continue long after the pandemic is gone.
"This is an inflection point, a strategic shift, and it's not going back," he says.
READ MORE
* Gearing up: From high-tech manufacturing to getting under the hood, the auto industry drives workforce training in the Chattanooga area
* Charging ahead: The road to VW's electric future runs through Chattanooga
* Show on the Road: After a year off track, Chattanooga Motorcar Festival refuels for 2021