Rusty Wright has held firm to his beliefs.
His University of Tennessee at Chattanooga football team was going to focus on the fall. The second-year head coach was going to use the pandemic-induced spring schedule as a developmental period, at all costs. Even as his Mocs climbed to a top-10 national ranking in both Football Championship Subdivision polls entering Saturday's home game against Mercer, Wright made it very clear how he feels about the spring.
But there was belief the high rankings - No. 9 in the Stats Perform FCS Top 25, No. 10 in the coaches' poll - might change his perspective. And surely he wouldn't bypass the chance for a championship, as his team was one of two remaining undefeated teams in the Southern Conference along with Virginia Military Institute? Conference titles are hard to come by: UTC hasn't won one since 2015.
In a move surprising to some, he essentially punted on the season - an interesting metaphor considering some of the Mocs' special teams woes this year - with his approach to Saturday's game at Finley Stadium. Against the Bears, 21 new starters emerged in the lineup, including 17 first-time starters and 13 freshmen. Nine of those freshmen were on offense, including all five linemen.
And those players held their own, although the defense appeared to tire at points in the second half.
But they lost 35-28, which fired up a large portion of the fan base. Some of the crowd of 3,144 - the general public was allowed at a UTC football home game for the first time since November 2019, with capacity reduced to 5,000 for now - left the game early (and not simply due to multiple weather delays); others expressed their displeasure on social media. It wasn't just the loss, it was that all those players who helped the Mocs start this spring so well stood on the sideline watching and cheering on their younger, less experienced teammates.
The Mocs dropped to 3-2 overall in 2020-21 and 3-1 in the SoCon; the Bears (3-5, 3-2) won for the second straight week after getting routed at VMI.
So while Wright continues to express that this spring is about development for the fall, when the Mocs have an 11-game regular season waiting, those disappointed in the decision will, fair or foul, hold him to it. While Wright may be thinking about just having players ready for the fall, those fans will be expecting some hardware to show for what they perceive to be tanking on a season.
The FCS will have playoffs twice in 2021, but advancing as an at-large selection won't be enough to please those who believe the Mocs lost their opportunity to win the SoCon on Saturday, the same day VMI reached 5-0 overall and in the league with a 36-31 win at Wofford.
"I can't worry about that," Wright said. "I made a decision. It was best for our program today. I don't know what the fall is going to look like; nobody told me what this (the spring) was going to look like, and so I've got to make a decision today. I'm in the middle of this trying to figure it out, and I'm doing the best I can trying to figure it out.
"It's not as easy as just coming out here Saturday and seeing everything. There's a lot that goes on Monday through Friday in our locker room, in the dorms. It's not quite as easy as just rolling out here. There's a lot on these kids, and some of their minds isn't always in the right spot. That's what concerns me the most."
Photo Gallery
UTC vs. Mercer football on March 27, 2021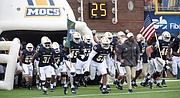 Mocs star
Freshman Lance Jackson made his first start at running back for the Mocs, and he went for 135 yards on just 19 carries. Only one of his rushes went for negative yardage, and what he was able to show to the coaching staff and others was that if and when his number is called, he will be prepared, much like Ailym Ford was during the 2019 season.
Key stat
In a game in which Wright played almost exclusively second-stringers, its still came down to little things. And Saturday, two of those little things were a pair of muffed punts by freshman Jamoi Mayes, who otherwise played well with 97 receiving yards and a touchdown as well as a 43-yard kickoff return. Those two fumbles set up both of Mercer's first-half touchdowns, and it gave them some momentum for the final two quarters after they went into the locker room with a 14-7 lead.
Turning point
The Mocs had dominated the game in the first half in every facet except the score, but there was a feeling that even that could swing in UTC's favor with one good drive as Mercer was struggling. Mayes muffed a punt that was negated due to an illegal substitution penalty on the Mocs that gave the Bears a first down, but then after the defense made another stop, Mayes fumbled again and the Bears recovered at the 16-yard line, using seven plays to go up 14-7.
Quotable
"Nobody's ever done it. Nobody's ever played eight games in the spring and 11 in the fall, so I don't know what it's going to look like. I'm trying to make the best decision I can with the information I've got in hand and the people I've got in hand to get it done. Nobody's giving me an answer; nobody's giving those kids an answer, and I've got to make the best decision I can." - Wright on not playing his usual starters
"No matter who's in the game, you want to win. It didn't matter who was playing, we had that mentality preparing for the whole week. We just weren't able to get it done." - Arnold
Final thought
Wright's decision to focus on the fall is the right one for his program in light of playing two seasons in one year, but that decision will come at a cost: He has to win. This team has the tools to do so, but there's no margin for error at this point.
Contact Gene Henley at ghenley@timesfreepress.com. Follow him on Twitter @genehenley3.