For Steam Logistics in Chattanooga, the past year brought big growth along with the huge challenges the pandemic delivered. The number of employees doubled to 140, and the business grew 200% as international logistics became more complex and fraught with delays and rising costs.
That rapid growth meant thinking fast to make sure the company culture kept pace, says CEO Jason Provonsha.
"Culture exists by default or by design," he says. "We all spent time talking about this. How do we build this for scale?"
In the early days of the pandemic, logistics largely ground to a halt, along with most other business. But it quickly became clear that moving goods around would be a high priority for consumers, Provonsha says.
"Suddenly, everyone's at home ordering from Wayfair," he says. "Rates went through the roof. A container that had been $2,500 was now $8,000. Next thing you know, we are going at a crazy pace. It happened so fast."
The office closed temporarily, but began in May offering people the option to come back in and work with masks and social distancing in place.
"We all came back pretty quick, but it was very much a personal thing," says Adam Shearer, the company's chief financial officer. "We told people to come back if they wanted to."
Steam Logistics
* Founded: 2012
* Employees: 140
*Why this is a Best Place to Work: We take our jobs very seriously, but we don't take ourselves too seriously. We like to make work fun and bring a little levity to the fast-paced, stressful environment that is ever-present in the logistics space. You will find us approachable, authentic, and without pretense.
* Online: steamlogistics.com
They had recently doubled their space on Market Street, and had plenty of room to do it, he adds, and in the coming months, Steam will double its footprint again, expanding from 11,000 square feet to 22,000. Steam will occupy space recently vacated by Arrive Logistics, which went to a work-from-home model.
"In certain roles, the collaborative part of the job is so important," Provonsha says.
At the start of the year, Brittany Paone was promoted from her role as manager to vice president of Human Resources, and her team expanded to include a recruiter and a trainer.
"They're fully ingrained in our culture and they live those values," she says. "I have a great team around me."
Photo Gallery
Steam Logistics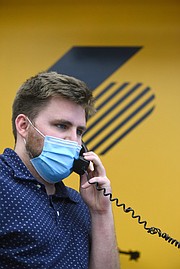 Steam also launched a new domestic logistics business in April, creating a complement to its international logistics business.
"Our headcount could easily double again," Provonsha says. "Adding this domestic strategy to the business will be a big driver of growth. We have 1,500 international customers, and they have national business, too, and they know us and trust us."
In 2021, the company has hired 50 people - more than it hired in all of 2020, Shearer says. The growth has created opportunities to grow the ranks of company leadership, Provonsha adds.
"One of the best things is being able to promote people," he says. "We've been able to create a whole new group of leaders, which is great for them and for us."
Best Places to Work 2021
* What does it mean to be a Best Place to Work in a post-pandemic world? * Despite pandemic, 3H Group Hotel team pushes ahead together * Mauldin and Jenkins accounting firm offers workers chances for learning, growth and fun * Pinnacle Bank puts associates first * HHM CPAs grows its mission through COVID-19 crisis * Reliance Partners moved quickly to respond to coronavirus * Tennessee Valley Federal Credit Union mission, culture draws and keeps employees * Text Request brings its team back together in new downtown space * Unum says it's better connected than ever before * Technology was key for Warren & Griffin amid pandemic