Chattanooga Girls Leadership Academy and Chattanooga Preparatory School opened a new playground, sports field and pavilion on Monday unlike any other school playground in town.
Funded by a $4.2 million grant from the BlueCross BlueShield Foundation as part of the insurer's Healthy Places initiative, the new 15-acre play and sports complex is designed to draw community residents outside of school hours to use the workout and play facilities.
"This is designed for inclusive play for all ages and all abilities," said Jennie Sumrell, community outreach director for Playcore's Center for Outreach, Research and Education, which built the playground. "It focuses on the needs of the whole child so it provides a lot of sensory and physical opportunities and opportunities for social interaction."
The project includes a pavilion for community gatherings, a walking track and sports courts, 40-yard dash and challenge courses, a multi-purpose field with bleachers and inclusive playgrounds for children ages 2-5 and ages 5-12. With a diverse array of play and workout options, the complex is designed to draw adults and adolescents as well as young children to the playground equipment, Sumrell said.
Photo Gallery
Healthy Places park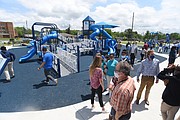 The Highland Park site was chosen more than two years ago as the first Healthy Places play area in BlueCross's hometown. The grant was awarded in response to a proposal organized by the Young Women's Leadership Academy Foundation, the founding sponsor of the CGLA, to provide outdoor space designed for connection and recreation.
The multi-purpose field will be used for school soccer, lacrosse and other team sports by CGLA and Chattanooga Prep, but the playgrounds, track and pavilion are intended to encourage physical workouts and active play for people of all ages in the community.
The playground will be restricted for school use only during school hours, but community residents are invited to use the facilities from sunrise until sunset, excluding school hours while school is in session.
"When we moved to our location on Bailey Avenue in 2011, our goal was to become a community partner in Highland Park," said Dr. Sue Anne Wells, co-founder of CGLA. "We are excited to share our space with not only our campus partners, but the entire community."
The BlueCross grant for the project included $840,000 for a maintenance fund for upkeep on the new park in future years.
Chelsea Johnson, director of community relations for the BlueCross Foundation, said the CGLA project is the first Healthy Place in Tennessee built at a school, rather than a municipal or community park.
"But this is a great community, and we hope this brings people of all ages here to use the great equipment and play areas that have been built for the entire community."
The BlueCross foundation began three years ago focusing most of its annual gifts to fund healthy places and playgrounds across the state as part of the foundation's efforts to encourage healthier activities for individuals and stronger communities in areas where the parks are located. Last year in honor of its 75th anniversary, BlueCross gave $750,000 grants to 10 playgrounds across the state, including money to add more exercise and playground equipment in the next year at the city's St. Elmo Park.
By the end of 2021, BlueCross plans to have 17 of its Healthy Places open across Tennessee. Johnson said the biggest Healthy Places project so far - a $5.4 million upgrade of the David Carnes Park in Memphis - is already succeeding in engaging more people in regular exercise and spurring new investment around the renovated historic park.
"We realize that even though we're a health issuance company and not a playground company, there are a lot of elements of health that come together with a project like this, for both physical and mental health for individuals, families and entire communities," she said.
Contact Dave Flessner at dflessner@timesfreepress.com or 423-757-6340.