RINGGOLD, Ga. - If this year's Ringgold High School baseball team is a sign of what is to come for the next decade, the Tigers are in very good hands.
A run to the GHSA Class AAA semifinals did not come easy as coach Drew Walker's team overcame a 5-5 start, thanks to the leadership and work ethic of eight seniors who all will be playing college baseball after their time as Tigers came to an end when they were swept in a best-of-three series against North Hall, 10-2 and 3-1 on Saturday.
Entering the doubleheader, Ringgold was 24-1 since March 6. In 14 of those wins, the Tigers held their opponent to one run or less.
"These guys have been putting in the work for this season since June," Walker said. "I can't run those seniors out of that hack shack or run them off this field. They are always here and even beat me here at times.
"I think a lot of people thought this program might be going down after such a great last decade. But through these seniors' work ethic and consistency, they have solidified that this legacy and tradition is still intact. The younger guys certainly learned a lot from watching them stay process driven all the way through."
North Hall (31-5) outhit Ringgold (29-8) by a combined 20-5 count on Saturday, and the Trojans got complete games from Jaret Bales and Eli Reece, whose nasty curveball helped him post eight strikeouts in the second game.
Ringgold's dynamic pitching duo of Kenyon Ransom and Chase Ghormely combined to allow five earned runs and issue just one walk, but the Tigers totaled eight errors. Ghormley retired 11 straight batters in game two but had a streak of 21 straight scoreless innings come to an end.
A solo home run from Ringgold's Colin Mountjoy started the scoring in game two; fellow senior McCain Mangum hit an opposite field two-run homer in game one.
With the program's fourth run to the state final four this century and another Region 6 championship, Ringgold's senior class left a solid foundation.
"I am so proud of this group," Walker said. "They worked harder in the offseason and during the season than any team I have coached before. They have set the tone for the next decade. Ringgold is not going away."
Photo Gallery
Ringgold vs. North Hall baseball on May 15, 2021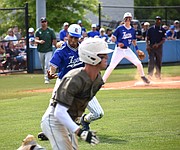 Grace Christian Academy 17, Silverdale Baptist Academy 6: Turner Junkins had four hits and Brett Rogers added a two-run homer for the Seahawks (29-4-1), whose season came to a close in the first round of the TSSAA Division II-A state tournament.
SOFTBALL
Boyd Buchanan 3, Northpoint Christian 0: In a first-round meeting in the DII-A state tournament, the visiting Lady Buccaneers got a two-run double from Presley Williamson in the fourth inning, Gracie Petty drove in the other run and freshman Kiley Elliott struck out 11 batters and allowed three hits. Boyd Buchanan will travel to Columbia Academy on Wednesday for a doubleheader in a best-of-three quarterfinal series with a spot in the Spring Fling at stake.
Also, Silverdale Baptist, after a first-round bye, will host a quarterfinal series against Goodpasture, a 10-0 winner against Trinity Christian.
Chattanooga Christian School 12-12, Ensworth 0-0: The Lady Chargers swept a best-of-three series to advance to a quarterfinal series Friday at Brentwood Academy, which had a first-round bye. Madison Vandergriff drove in six runs and homered twice, while Hannah Blevins had three extra-base hits and four RBIs. Emily Day picked up both wins, tossing a combined six shutout innings.
White County 3, East Hamilton 1: The Lady Hurricanes lost in a Region 3-AAA semifinal.
TRACK & FIELD
McCallie continued an undefeated season by winning its 15th straight region championship, taking the DII-AA East title this past week with 148 points to runner-up Baylor's 48 and third-place Chattanooga Christian's 47.
McCallie's Eric Rivers won the triple jump with a leap of 44 feet, 2 inches, which is the leading performance in D-11 this season, and also won the high jump, qualifying for state in those two events as well as the triple jump and the 4x100 relay. Team captain Jackson Burns qualified for state in the 100- and 200-meter dashes, and Michael May qualified in both hurdles events, where he was second to teammate Nic Robinson, and pole vault, where he was second to teammate Jack Braman.
Robinson was also part of the winning 4x100 and 4x200 relay teams, and other region champions for McCallie were Aaron Crowder (discus), Kavan Reynolds (400) and Evan Smith (shot put). All four relay teams will advance to the May 26 state meet for McCallie, which also qualified in 20 individual spots.
May, Rivers and Robinson will also compete in the state decathlon Thursday and Friday.
GPS also won a DII-AA East title as the Bruisers' 124.5 points beat out Baylor's 105. GPS won the discus, high jump, long jump, pole vault, shot put, triple jump, 300 hurdles, 3,200 and 4x800 relay.
Also, Signal Mountain's girls won the Small School East Section ahead of their bid for another state championship.
BOYS' SOCCER
CCS 3, Lipscomb Academy: The Chargers won in Nashville to set up next Saturday's DII-AA quarterfinal at Baylor, which had a first-round bye.
Contact Patrick MacCoon at pmaccoon@timesfreepress.com. Follow him on Twitter @PMacCoon.