True to its name, The Chattanoogan hotel is opening its newest restaurant under a name harkening back to the city's industrial roots.
The new FORGE restaurant, formerly known as the Foundry, opens Thursday on the first floor of the newly renovated 199-room hotel now branded as part of the Curio Collection by Hilton at 1201 Broad Street. The decor and menu are designed to reflect both Chattanooga's early manufacturing roots and modern-day American cuisine.
"We've developed a menu to not only make our hotel guests happy but also attract many local visitors and guests," said Chef Daniel Walters who has developed a "The Chattanoogan was built to help revitalize the city and to be a place for Chattanoogans so we want to attract local guests as much as possible."
Matt Reidt, the food and beverage director at The Chattanoogan, said the FORGE is designed to be more than just a one-time special events eatery but one that locals will want to frequently visit. Initially, the FORGE will be open from 5 p.m. to 9 p.m., Wednesday through Saturday, but eventually, the restaurant will add a luncheon and breakfast menu.
"We wanted the cuisine to reflect for our travelers something that is authentic about Chattanooga," Reidt said. "I think the food will be some of the best in the city, but we're trying to keep it within a price range so that people are comfortable regularly coming back to dine and sample all that we will offer."
Dinner entrees will range in price from about $14 to $32 and will feature a variety of local favorites as well as classic dinners. The restaurant will soon offer valet service at one of the restaurant entrances on South Broad Street.
QUICK BITE
HOURS: 5 p.m. to 9 p.m., Wednesday through Saturday. PRICE: $14 to $32 range. LOCATION: Chattanoogan Hotel, 1201 Broad Street. NOTABLE MENU ITEMS: Fried green tomatoes with pimento cheese, jalapeno pepper jam and slaw; slow roasted short rib with smoked cheddar grits, broccolini, cherry stout jus and tobacco onions; and smoked tofu bowl with stir fry quinoa, sweet potatoes, mushroom, collard green kimchi, onions, peanut sauce and bean curd noodles.
Photo Gallery
Forge restaurant opens at Chattanoogan hotel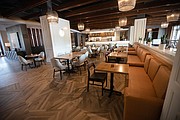 An original plan for an Italian restaurant was dropped in favor of a more locally oriented eatery. The 160-seat restaurant also features a 60-seat meeting area and has been added along with a new bar known as Stills and Mash and adjacent to a coffee shop known as Noogans that opened earlier this year.
Atop The Chattanoogan, the hotel recently converted its former spa and pool into a rooftop bar known as the High Rail and relocated the full-service spa facility to an expanded area of the first floor.
The opening of the FORGE and Stills and Mash on Thursday marks the completion of a complete redo of The Chattanoogan since the 20-year-old hotel was bought in 2018 by the Ascent Hospitality Group for $27 million.
"This is our cherry on the top of all that we have done," said Ellen Peavy, director of sales and marketing at The Chattanoogan Hotel. "The silver lining for the pandemic was that we were able to complete these renovations during a slower time without as much interruption. There is not an inch of this property that has not been touched and upgraded over the past couple of years."
The High Rail bar, a rooftop tavern which opened earlier this year atop The Chattanoogan overlooking the downtown skyline, is attracting over 70% of its clients from the local market as well as appealing to tourists and hotel guests. Reidt hopes for a similar local appeal to the new hotel eatery.
The Chattanoogan Hotel was built by the city of Chattanooga in 2001 to help bring more business groups to town. But coming out of the pandemic which limited most business conventions and conferences, the new owners are trying to appeal more to both local guests in the restaurants and leisure travelers in the hotel, in addition to business and convention guests.
"We're seeing a lot of "staycations" by local residents here and special events like weddings and receptions," Peavy said. "The past year has been difficult for most of the hospitality industry but we feel like we're opening at a good time as travel resumes and people are anxious to get out of the house and do more activities again."
Contact Dave Flessner at dflessner@timesfreepress.com or at 423-757-6340