It's been a long time since Blue Ridge was a sleepy small town.
Today the railroad town, which gets its name from the mountains in which it sits, is bustling with visitors from Atlanta, Chattanooga and Asheville, not to mention Floridians who flock to the area in the summer to escape the heat.
At 1,762-feet elevation, Blue Ridge is slightly cooler than Chattanooga and in the fall, the leaves seem redder, yellower and a deeper shade of auburn.
Blue Ridge's downtown is set alongside a historic train depot and a park - featuring a large sculpture of a rainbow trout - and is crammed with shops, galleries, restaurants, wine bars and craft breweries. You'll find all sorts of goods for sale - from boutique clothing to the obligatory fudge shops to Appalachian crafts and, of course, sorghum.
And bring your pups - Blue Ridge is an especially dog-friendly town, and many store owners not only allow dogs inside but offer them treats, and many restaurants have water bowls in outdoor seating areas.
Photo Gallery
Need a fun fall trip? Try Blue Ridge, Georgia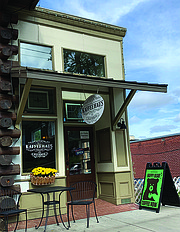 If in-town shopping and cafe culture isn't your thing, there are plenty of opportunities to hike along parts of the Appalachian Trail and other wilderness areas, float down the Toccoa River in the summer (fun fact: Tennessee's Ocoee River changes names to become the Toccoa at the Georgia border, about 15 miles from Blue Ridge); or take a ride in an antique train along the river to nearby mountain towns.
Blue Ridge also is a good base from which to explore nearby towns like Blairsville, Georgia; Murphy, North Carolina; and Ducktown, Tennessee.
You could also make things super simple and do nothing but tuck away in a mountain cabin, maybe build a bonfire and relax and enjoy the fall colors and mountain vistas.
Blue Ridge is 82 miles from downtown Chattanooga. A couple of different routes will get you there, the most pleasant of which takes the Ocoee Scenic Byway through the Cherokee National Forest and offers views of the region's dramatic rock formations and waterways.
Once you're in Blue Ridge, here's how to spend your time.
Things to do:
The Blue Ridge Scenic Railway's website describes the 26-mile trip that stops in McCaysville, Georgia, and Copperhill, Tennessee, as a "nostalgic journey through the charming Appalachian foothills." The train rides, which offer closed- and open-air coach cars, are popular in the fall.
More info: 877-413-8724
Appalachian Trail Rides offers guided horseback trail riding through the Blue Ridge mountains. The trails wind across a 250-acre farm in Mineral Bluff, Georgia, that offers clear mountain views and creek crossings. Guides are experienced with riders from beginner to advanced.
More info: 706-374-0362
Pick your own apples at Mercier Orchards, which also sells items like butters, jams, honey, candied nuts and pies. The orchards have a winery serving wine and hard cider and a pond from which guests can fish for bass, grass carp and brim.
More info: 706-632-3411
Where to eat:
Rum Cake Lady Cuban Cafe. The best Cuban food this side of Miami. This funky spot - with counter service and outdoor eating - offers traditional Cuban staples such as arroz con pollo, black beans and plantains. Or just stop by for pastelitos and a café con leche.
205 West First Street, Blue Ridge
Das Kaffee Haus. A narrow, stylish coffee shop serving beans from Batdorf & Bronson of Marietta, Georgia, various coffee drinks and fancy pastries.
612 East Main Street, Blue Ridge
Harvest on Main. This rustic-chic spot serves creative food that they describe as "globally influenced with a Southern twang." The restaurant works with local farmers and suppliers to source menu items such as blackened rainbow trout with black bean hummus, jasmine rice, arugula and pickled tomatoes and duck cassoulet served with pork belly, white bean stew and pickled red onions.
576 E Main Street, Blue Ridge
Did you know?
The Blue Ridge Mountains are part of the larger Appalachian Mountains range and get their name from their bluish color when seen from a distance. Trees release a hydrocarbon called isoprene into the atmosphere, causing the bluish haze. Source: ourstate.com
The Black Sheep has a covered patio and outdoor space under a 200-year-old oak tree where you can soak in the sounds of New Orleans jazz, sip a cocktail and order oysters from the raw bar. The upscale menu features lamb lollipops, veal osso buco and diver sea scallops, which are hand harvested from the ocean floor by professional fishermen.
480 West Main Street, Blue Ridge
Crane Creek Winery in nearby Young Harris is worth a visit. The winery was started by a Georgia native and career U.S. Army officer who developed his appreciation for the art of winemaking while stationed in Northern Italy. After retiring from the Army, he started a second career as a winegrower. Crane Creek has a tasting room and a peaceful setting in the shadow of mountains. Guests can bring their own picnic. Their wines include lesser-known grapes like grüner veltliner, traminette, seyval blanc, norton and chambourcin.
1040 Crane Creek Road, Young Harris, Georgia
Where to hike:
Long Creek Falls, located on the Appalachian Trail near the Three Forks, is an easy 1.9-mile out-and-back trail near Suches, Georgia, that features a 50-foot waterfall. Leashed dogs are allowed. Be warned: The road to the trailhead is gravel and bumpy.
A hike to Jacks River Falls takes you to a roaring waterfall in the lush, remote Cohutta Wilderness. The falls are 9 miles north of the trailhead, Jacks River Trail at Dally Gap. Expect breathtaking scenery and river crossings (bring a change of clothing).
The Swinging Bridge over the Toccoa is popular with day hikers and is on the route of the Benton MacKaye Trail. The 270-foot long bridge is the longest swinging bridge east of the Mississippi River and allows views of the picturesque river. The bridge is one of the most visited sites on the Benton MacKaye Trail, which winds for nearly 300 miles through the Appalachian mountains. A 3.5-mile hike starts on Georgia Highway 60 between Morganton and Suches.
Places to shop:
Canoe is an elegant, artistic shop that sells leather bags, jewelry and hats handcrafted in Blue Ridge, along with art, scarves, blankets and some home decor items. The jewelry is crafted from leather and natural stones and bags made of leather or animal fur. Next door is Oar, the men's side of the store, with unique, rugged bags.
624 East Main Street, Blue Ridge
Out of the Blue sells decorative European ceramic, linens, glass, gourmet foods (think artisanal cheeses and French pâté), wine, including some from North Georgia, and an impressive selection of regional craft beers. "You don't need to sacrifice the good things in life when you find yourself in a little town at the foothills of the oldest mountains on earth," the store's website declares.
647 East Main Street, Blue Ridge
Blue Ridge Mountain Outfitters is the place to go if you need gear for a long hike or a fishing or kayaking expedition.
500 East Main Street, Blue Ridge
If you want touristy stuff like T-shirts and stickers, hit up Blue Ridge Adventure Wear. This store also had outdoor clothing and footwear as well as dog treats and gear.
661 East Main Street, Blue Ridge
If you're fan of tea, don't miss lively Tupelo Tea, which sells many varieties and blends of tea, honey and items like tea pots and cups. A tea-and-honey bar allows clients to make their own individual tea blends from more than 100 different tea leaves.
531 East Main Street, Blue Ridge
Qinti Peru is a boutique selling brightly colored Peruvian handbags, alpaca clothing and jewelry.
531 East Main Street, Blue Ridge