Marlon Hampton was a quiet man, the opposite of his outspoken younger brother.
Hampton, 49, rarely voiced his conservative ideology. But Patrick Hampton - an activist, columnist and a former leader at civic group Hamilton Flourishing - has made a name for himself, interviewing firebrand Candace Owens and visiting the White House to meet with former President Donald Trump.
Patrick Hampton is no stranger to controversy on social media, and through the opening days of October, he posted about his brother's COVID-19 illness to tens of thousands of followers.
His posts expressed outrage over hospital staff who would not use unproven medical treatments such as ivermectin.
"My brother thought he was going to die in the hospital. He believed that," Hampton told the Times Free Press. "I convinced him that I would find a doctor that would treat him with things he wanted to try, like vitamin C, vitamin D and ivermectin. And they said that was not a possibility at all at Erlanger or any hospital in the area."
Hospital staff cannot discuss an individual patient's care with the Times Free Press due to patient privacy laws, an Erlanger spokesperson said.
After a roughly three-day stay at Erlanger East Hospital, Marlon Hampton was discharged after declining further treatment, preferring to receive care at his East Brainerd home through hospice and attempt to obtain the vitamins and ivermectin.
He died on Wednesday, four days after his discharge.
On Thursday, Patrick Hampton's posts gained attention on a Reddit page called the "Herman Cain Award," which mocks people like Cain, a well-known conservative and onetime presidential candidate who died of COVID-19 after proudly attending a Trump rally in Oklahoma without a mask.
Speaking to the Times Free Press on Friday through a flow of tears, Patrick Hampton said he followed his brother's wishes and did what he thought was best.
"It has nothing to do with Trump. It has nothing to do with our political view," said Hampton, who lives in Ooltewah. "I just wanted to save my brother. That's all. And now everyone is putting on Reddit that I killed my brother. So now everyone is sending me these messages and sending my son messages, saying that I killed my brother, because they want to punish me for being a Black conservative."
Hampton's dozens of Facebook posts continue to receive thousands of reactions, many applauding his actions and offering medical advice of their own.
Leaving the hospital
Marlon Hampton and his family got sick with COVID-19 last month. Initially, his illness was mild, but as an overweight, unvaccinated patient with diabetes and kidney disease, he was at higher risk for serious illness and death.
Marlon Hampton likely would have taken the vaccine, his brother said, but did not because of underlying health conditions.
Marlon Hampton and his wife sought a monoclonal antibody treatment meant to keep high-risk people who test positive for COVID-19 out of the hospital. Though Marlon Hampton's wife received the treatment, Patrick Hampton said that his brother did not because his oxygen level was too low to qualify.
At the hospital, he hoped to receive supplemental oxygen that would raise his oxygen levels enough to qualify him for the antibodies. But once he was admitted, he learned that the therapy was only offered to outpatients, his brother said.
Patrick Hampton began posting to his Facebook page, accusing Erlanger of following "Death Protocols" - a term that's gained popularity on the internet among those who believe the standard COVID-19 protocols supported by leading medical organizations are to blame for coronavirus fatalities.
Hampton said Erlanger wanted to continue treating his brother with remdesivir, the only Food and Drug Administration-approved antiviral drug for treating COVID-19. The drug was given to Trump when he became infected in October 2020. Hampton also said the hospital wanted to place his brother on a ventilator.
Both potential treatments were refused because Hampton and his brother had read on the internet that overweight people typically fare poorly on a ventilator and that remdesivir could be harmful for people with kidney disease.
In videos of FaceTime calls with hospital staff, posted to Facebook, Hampton said he had another doctor who would treat his brother. Health care workers in the videos repeatedly warned Hampton his brother would die if removed from the treatment offered at the hospital.
Doctors in Chattanooga and across the country have expressed exasperation at dealing with COVID-19 misinformation and angry demands from family members of patients that they provide unproven treatments such as ivermectin.
Patrick Hampton told the Times Free Press it is not the doctors and nurses he actually blames for his brother's death. It is something bigger, he said - the COVID-19 treatment protocols.
Dr. Girish Nadkarni, an associate professor of nephrology at the Icahn School of Medicine at Mount Sinai who has published extensively on the treatment, management and outcomes of patients hospitalized with severe COVID-19, said that it's always best to prevent the disease through vaccination and other mitigation measures so that treatment isn't needed. Those who are unable to be vaccinated must be extra careful to avoid contracting COVID-19.
Treatments differ for each individual case, but some common therapies for hospitalized COVID-19 patients include steroids, remdesivir, supplemental oxygen and antibody drugs, Nadkarni said. Some patients also receive medications to help prevent blood clots.
As for ivermectin, Nadkarni said that "there have been several large studies which showed that ivermectin could have worked, but those were flawed and not borne out in well-conducted trials."
Physicians are trained to make decisions based on their best judgment and evidence-based medical consensus. Those who don't could face legal action or loss of license.
(READ MORE: Tennessee doctors who spread COVID-19 vaccine misinformation could lose their licenses)
"As a physician, I would be well within my rights to not prescribe something that is shown that it has no benefit and potentially might be harmful to patients," Nadkarni said.
Photo Gallery
Marlon Hampton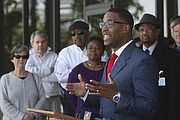 Going home
On Oct. 3, Hampton posted a picture of EMS workers moving his brother by stretcher into his home. Patrick Hampton, a son of a pastor and former youth pastor himself, said his brother reached higher blood oxygen levels after leaving Erlanger.
He referenced the Biblical story of Lazarus, restored to life by Jesus in the Book of John.
"The Erlanger doctor told my brother he would die before he got to the elevator or in transport," Hampton wrote on Facebook on Oct. 3. "The Devil is a liar! He made it home!"
The next day, Hampton accused hospice workers of lowering the flow of oxygen to his brother. He wrote on Facebook that he had to "physically remove" the hospice workers so he could increase the flow of oxygen to his brother.
Hampton wrote there were doctors who were taking over his brother's care and asked for donations to help with the costs.
On Oct. 5, Hampton spoke on David Tulis' radio program on NoogaRadio 92.7 FM. On air, he accused local hospice workers of attempted murder.
"They are keeping people in Erlanger hospital and they are murdering them," Hampton said on the radio show. "They are murdering them by refusing them the care that they need."
In a video posted Oct. 6, Hampton accused the company supplying oxygen of being evil and refusing to refill his brother's tanks. An employee on the phone said he could not say anything because Hampton was streaming on Facebook.
Hampton later wrote the tanks were filled, although too late.
That afternoon, his brother died, never having received the medications the family desired.
I-medicine
The Hamptons are not alone in their belief that standard COVID-19 treatment protocols should be scrapped in favor of unproven alternative treatments. On Facebook, Hampton referred to ivermectin as "I-medicine" or "I can't even say the word because this post will be flagged."
Ivermectin is an FDA-approved drug widely used in humans and livestock to treat some external and internal parasitic infections. The drug is not approved as a treatment for COVID-19, although clinical trials are ongoing.
Ivermectin gained popularity early in the pandemic when the coronavirus was less understood and clinicians were trying an array of existing drugs in hopes that one might quell the deadly virus.
Studies of ivermectin's effectiveness against COVID-19 presented mixed results, in part due to those studies having small sample sizes, not defining what a successful outcome meant and participants using other drugs, such as hydroxychloroquine, at the same time, according to the National Institutes of Health.
In July, one of the largest ivermectin trials in the world widely cited for its positive results was retracted due to data issues and plagiarism, dealing a significant blow to researchers who believed the drug might hold promise in the fight against COVID-19.
For those inclined to believe a conspiracy, the retraction further fueled skepticism.
The drug has amassed a large following of supporters online, leading some people to try and obtain the drug - commonly sold over the counter for livestock use at farm supply stores - and attempt to treat themselves. In August, an Alabama poison control hotline issued a warning over the increase in ivermectin-poisoning calls.
Studies of ivermectin's ability to stop COVID-19 cells from reproducing determined the amount necessary to have such an effect would require "doses up to 100-fold higher than those approved for use in humans," according to the NIH.
Hampton, who said until the pandemic he was focused on politics and Black conservatism - not public health - gets information from the NIH as well as America's Frontline Doctors, an organization formed in the summer of 2020 in opposition to pandemic lockdown measures and is vocal in opposition to vaccines.
"I get data from a lot of different sources," Hampton said. "Mostly if they're banned or if they've been censored, that's where I really start digging and looking for stuff, because I believe there's something they don't want us to know about treatment for COVID."
He used his large social media following to seek help for his brother, specifically someone to administer drugs through an IV, he said. But local health care organizations would not help because his brother left the hospital against doctor's orders or he was still positive with the virus, Hampton said.
"We could not get him any of the medicine that he needed because no one would touch him but Dr. Brooks, the only doctor in the area that would even consider prescribing him the medicine he needed," Hampton said.
Dr. Thomas Brooks, an obstetrician and gynecologist, was willing to advise Hampton and help him obtain the vitamins and other medicine he sought.
Brooks said when people come asking for help, he tries his best. He declined to answer further questions from the Times Free Press but authorized Hampton to share their text exchanges with reporters.
In the messages, Brooks told Patrick Hampton there was a lot of misinformation about the virus and said he would review literature Hampton was reading about treatments. Brooks emphasized that it was important that Marlon Hampton remain under the care of trained professionals, the texts said.
"Ivermectin alone may not be effective and based on what you have said he needs more aggressive treatment," Brooks wrote, adding that he wouldn't prescribe something to a patient he hadn't examined.
Ultimately, Patrick Hampton said his brother left the hospital because he wanted to be with his family and attempt the treatments he believed would help.
"We almost made it," he said. "We almost did it. We almost beat it."
Being Black, Patrick Hampton said he was raised not to trust the government or authorities, especially after learning about events like the Tuskegee syphilis study. The skepticism of power is hard to put in words, which bothers Hampton as a conservative who values logic and specificity.
"As a Black conservative, that's something I don't really like to promote because you can't quantify that," he said. "What do you mean, don't trust 'them' for what they did? What did they do? Articulate that to me."
As the family spends the weekend planning the funeral for his brother, Patrick Hampton still believes there is something bigger at play. He said his final conversation with his brother was about how God was going to use Marlon Hampton's story to expose what Hampton believes are overly restrictive COVID-19 protocols.
"He shook his head yes, and I left to go and get something to eat," he said. "And that was the last thing I said to him."
Contact Elizabeth Fite at efite@timesfreepress.com or follow her on Twitter @ecfite.
Contact Wyatt Massey at wmassey@timesfreepress.com or 423-757-6249. Follow him on Twitter @news4mass.