Devonnsha Maxwell's first college football offer after a standout high school career at traditional Georgia power Valdosta - less than a half-hour drive from the Florida line - came from Eastern Illinois assistant Demarcus Covington.
Maxwell's mom, Regina, shut that down quickly.
"She said, 'No, you're not going up there," Maxwell recalled this past week.
A week later, the same coach called with another offer. By then, Covington was on staff at the University of Tennessee at Chattanooga, which had recently hired Tom Arth as head coach.
"My mom was good with it," Maxwell said.
Days like Saturday are why the Mocs are equally good with it.
Maxwell set a program record with five sacks in UTC's 21-16 Southern Conference win over 10th-ranked and previously unbeaten East Tennessee State University at Finley Stadium. Maxwell had four of his quarterback takedowns during a fourth quarter in which the Mocs (3-3, 2-1) built an 11-point lead and then held on for the program's first win against an opponent with a top-10 Football Championship Subdivision ranking since beating No. 8 Samford in 2017.
"He's a guy," said Rusty Wright, who is in his third season as UTC's head coach, having been hired when Arth departed for Akron in December 2018 after two years with the Mocs.
"He's a different guy, and that was the thing. We hadn't played that many snaps, so we had rotated some guys in there, and when he gets a chance and he decides to go, he's hard to handle."
Maxwell's first sack came late in the first quarter. ETSU quarterback Tyler Riddell fumbled on the play in Mocs territory, UTC's Jay Person recovered, and the Mocs turned the ensuing possession into a touchdown drive for the game's first points early in the second quarter.
Running back Tyrell Price was UTC's yardage leader in rushing (102 yards) and receiving (39), scoring two touchdowns on the ground, and Ailym Ford added 95 yards on the ground as the Mocs rushed for 235 against the SoCon's third-ranked run defense. It's the fifth 100-yard rushing game of Price's UTC career.
This day, though, was about another aggressive performance by the UTC defense. ETSU (6-1, 3-1) had committed only five turnovers this season coming into Saturday; the Buccaneers had three against the Mocs. Also, the Bucs had allowed only four sacks through their first six games, but the showing by Maxwell alone - no other UTC player had a sack - topped that.
With the victory, the Mocs bounced back from an overtime loss the week before at reigning SoCon champion Virginia Military Institute and kept alive their hopes for a conference title and a spot in the FCS playoffs. They also maintained possession of the railroad tie that serves as the trophy for the reigning winner of what has been dubbed the Rail Rivalry. UTC has won three straight against the Bucs and improved to 24-19-1 in the all-time series.
The Mocs are on the road next Saturday, facing Samford at 1 p.m. Eastern in Birmingham, Alabama. UTC is back at Finley Stadium the week after that, with the Oct. 30 homecoming game against Furman set for a 1:30 p.m. kickoff.
Photo Gallery
UTC vs. East Tennessee State on Oct. 16, 2021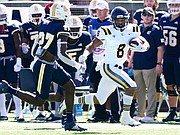 SATURDAY'S STAR
It really doesn't make sense to choose anyone other than Maxwell, right? After redshirting his first year at UTC in 2017, he earned Freshman All-America honors the following year and was an All-SoCon first-team selection the past two seasons. The 6-foot-2, 296-pounder now has 27.5 career sacks, which moves him into third on UTC's all-time list, behind Davis Tull (37) and Keionta Davis (31).
SATURDAY'S STAT
UTC quarterback Cole Copeland threw for 82 yards against the Bucs. It's the Mocs' fewest passing yards in a victory since they had 74 in a 24-9 win over Samford on Nov. 5, 2011.
TURNING POINT
ETSU had driven to the Mocs' 9-yard line early in the fourth quarter and chose to go for it on fourth down. Riddell tripped on the play and fumbled, and the ball was recovered by Person. Six plays later, Price broke free for a 58-yard score that put the Mocs up 21-10, essentially putting a rally out of reach for the visitors in the defensive battle.
QUOTABLE
"I told Jerrell Lawson and Ben Brewton, 'I'm in my mode. I'm in my mode.' We needed a play, the game was still in the balance, so I had to go out and make a play and give us a gap." - Maxwell on his four-sack fourth quarter.
"Coming off that 'L' last week and with this being our rivalry, winning today was huge on our part." - Price
FINAL THOUGHT
Using transitive property, the Mocs are 25 points better than Southeastern Conference program Vanderbilt, which lost to ETSU in Nashville to open the season. But the reality is that due to its inconsistent play prior to Saturday, UTC needed this win. The SoCon is a wide-open league, and the Mocs have postseason aspirations, so beating the Bucs was important and the team got it done. The road ahead doesn't get easier, but now UTC has a statement victory it can hang its hat on.
Contact Gene Henley at ghenley@timesfreepress.com. Follow him on Twitter @genehenley3.