Chattanooga's newest grocery store opens Tuesday on downtown's Southside in what company officials call a new food-selling concept for the area.
The Gordon Food Service Store on Broad Street behind the Pizza Bros restaurant hopes to attract wholesale and retail shoppers with its no-membership-fee model, officials said.
"We'll compliment traditional grocers," said Mark Dempsey, marketing director for the Grand Rapids, Michigan-based company that's debuting a 27,000-square-foot store in Chattanooga.
Gordon sells to restaurants, food service operators, caterers, and schools primarily through a delivery service, he said. The store also offers that clientele products when they run out between deliveries, Dempsey said.
But the store, which employs about 50 people, also is open to the typical walk-in grocery shopper, he said.
"A lot of folks who live around the store need a place to grocery shop," Dempsey said. "We'll bring them something they've never had before in Chattanooga."
For those consumers, Gordon offers both well-known and private label brands, he said.
Also, the store offers deli meats and cheeses, salads, and rotisserie chicken, the company marketing director said.
"We have grab and go ribs and eight-piece fried chicken every day, fresh guacamole," he said. "We'll be a great solution for a quick and easy meal."
Dempsey said Gordon looked at a lot of areas in Chattanooga but it likes the Southside's accessibility.
"We felt like it was part of the heart of Chattanooga for us," he said.
Gordon landed in an area that Chattanooga developer John Wise is actively turning into what he calls "a small West Village." Wise owns the Pizza Bros building, an apartment complex and other ventures between Broad and Chestnut streets in that area.
Matt Makowski, the Gordon store manager who came from a company unit in Murfreesboro, said the location offers "a unique blend of items."
Photo Gallery
Gordon Food Service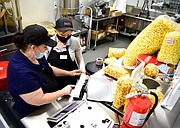 He cited the 15 different kinds of popcorn it sells, as well as that many varieties of juices. The store does not sell alcohol or tobacco, the manager said.
In terms of prices, Makowski said Gordon is "very competitive" with both Food City and Publix on the retail side.
On the wholesale part of the business, the store offers a range of products in bulk. It also has large walk-in freezers for frozen goods.
Makowski said the store carries out van delivery to businesses with "a quick turnaround."
The Gordon store will be open seven days a week from 7 a.m. to 8 p.m. Monday through Saturday and 9 a.m. to 6 p.m. on Sunday, Makowski said.
Dempsey said that through the coronavirus pandemic, Gordon has focused on helping restaurants navigate the virus to survive and succeed as well as help consumers at home get the products they need.
The company, which has about 175 units, is moving into the region with a new store also planned for Huntsville, Alabama, in December, Dempsey said.
At 27,000 square feet, the Chattanooga location is about half the size of the proposed Food City at 1305 Broad St. not far away on a 5.7-acre tract that for many years housed Carter Distributing Co.'s warehouse.
The Food City project also will include residential and commercial components.
Further south toward Lookout Mountain on Broad, Publix is constructing a 32,000-square-foot store.
Forbes Magazine in 2019 said Gordon Food Service was the 22nd largest privately held venture in the United States, with its biggest competitors US Foods and Sysco.
Forbes put Gordon's annual revenues in the year ending October 2019 at $15.5 billion.
Contact Mike Pare at mpare@timesfreepress.com or 423-757-6318. Follow him on Twitter @MikePareTFP.