After rescheduling the gathering four times in the past year due to the pandemic, Gov. Bill Lee on Tuesday addressed the Chattanooga leadership prayer breakfast, an institution that has continued for over four decades.
Lee said he didn't come to the prayer breakfast as a politician or to talk about any governmental policy. Instead, the 62-year-old former business owner and farmer serving his first term in elected office as Tennessee governor acknowledged he was a "fallen, broken" man whose life has been shaped by his faith in God.
Lee told the nearly 2,000 attendees at the prayer gathering that his belief in God's grace helped him recover from the tragic deaths of both a child and his first wife and the attempted suicide of one of his daughters two decades ago.
Lee later went on to remarry and rebuild his business and ultimately win the Tennessee governor's race in 2018 over formidable Republican and Democratic candidates. But the future governor said he felt a bit like Job in the Old Testament when his first wife, Carol Ann, died in 2000 in a horseback riding accident.
Lee said he had to rely on the Christian faith he developed while a student at Auburn University to recognize that though his conditions had changed, God had not. Through his adversities, Lee said he became more aware of the needs of others and his dependence on his faith.
"I had a richer, fuller life even in the midst of single parenting four kids and navigating through things I hoped I would never have to do," Lee recalled. "I think to the degree you are broken, you can experience wholeness, and to the depths that we experience pain, we can experience that height of joy. I think that is why God spares us not trouble in our lives because if we can walk through that with Him, then our lives are just that much richer and deeper."
Photo Gallery
2021 prayer breakfast in Chattanooga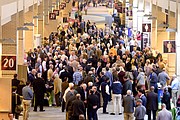 (READ MORE: Gov. Haslam says Chattanooga prayer breakfast unique among events)
Lee said he and his children have recognized how fortunate they are as Americans doing mission work in poor areas of Mexico, Haiti and Northern Uganda.
"I am such a blessed man," Lee said.
In a video presentation at the prayer breakfast, Chattanooga Mayor Tim Kelly asked for community prayers for the city.
"Please pray for unity and for wisdom that we will all make decisions that will benefit all Chattanoogans," Kelly said.
(READ MORE: Tim Kelly takes office as mayor of Chattanooga)
Contact Dave Flessner at [email protected]