For Maria Fotiadis, opening a brick and mortar restaurant in East Ridge near the corner of Ringgold and Germantown roads has allowed her to return things like French fries and fried eggplant back to her menu, but more importantly for her, it gives her an opportunity to meet and mingle with customers.
She and her husband, Paco, opened 2 Crazy Greeks in 2015 in Hixson after moving to the Soddy-Daisy area from New York. It was located in a stand-alone trailer, and everything was to go.
More than two years ago, they bought a small food truck out of which they sell a limited menu of sandwiches and salads. The Go Gyro Go trailer is typically parked in the parking lot of Chattz Coffee on Broad Street, but it also is used to cater events.
The couple closed 2 Crazy Greeks a couple of years ago and moved last year to East Ridge, where they stumbled across the old Fresh Burger Grill location during their commutes. They inquired about the availability of the space and opened Go Gyro Go earlier this month.
Photo Gallery
Go Gyro Go opens in East Ridge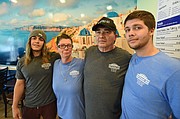 "This is our first sit-down place with tons of seating," she said. "We have tables in the back room for parties and for people who want more privacy.
"The place in Hixson was drive-through, and you can't conversate with people or check in and ask how things were. I've been a waitress for many years, and it is good to chat with customers. This is much nicer."
The menu features the items patrons of 2 Crazy Greeks and the Go Gyro Go food truck have come to expect - gyros, spanakopita, Greek lemon potatoes, salads, falafel and sausage and pepper sandwiches. Fotiadis said she has added fried pickles with tzatziki, as well, because people seem to like them.
If you go
* What: Go Gyro Go, 3507 Ringgold Road* Hours: 10 a.m.-9 p.m. Monday-Saturday; 11:30 a.m.-7:30 p.m. Sunday* Specialties: Gyros, falafel, Greek salads, and home-cut fries. All dishes are prepared on site.
"Only the pickles are frozen," she said. "We make everything fresh, including the fries which are hand cut."
She said the business has been busy in recent months doing weddings and events such as the 3 Sisters Bluegrass Festival.
She said once things settle down and she and her husband can, they plan to expand their delivery option and even add beer to the menu.
"Right now, everything is happening so fast, which is great," she said.
Contact Barry Courter at bcourter@timesfreepress.com or 423-757-6354.