Going up against the University of Tennessee at Chattanooga defense in practice each week, running back Ailym Ford has a pretty good perspective of how strong the unit is.
Week in and week out, the Mocs are proving it on game day as well.
UTC limited Furman to 157 yards of total offense in a 13-3 victory Saturday afternoon at Finley Stadium, improving to 5-3 overall this season and 4-1 in the Southern Conference to stay atop the standings alongside three other teams with one league loss apiece: East Tennessee State, Mercer and Virginia Military Institute.
"Our defense is amazing," Ford said after rushing for 108 yards, including the game's lone touchdown. "I love watching them, I love supporting them. They always get the ball back in the offense's hands, whether it's turnovers, picks, sacks, it don't matter. They can always find a way to get the offense the ball, and I love watching them."
The Paladins (4-4, 2-3) had only two possessions that gained 50 or more yards, with one of those at the end of the game. The other ended in an interception by Jerrell Lawson, his fifth pick this season. The Mocs also sacked freshman Jace Wilson four times, with two of the quarterback takedowns by sophomore outside linebacker Jay Person.
The noteworthy defensive performance was not only nice for the Mocs but necessary, because while the offense compiled 418 yards, it largely struggled in some key spots.
UTC senior Tyrell Price had 110 yards on the ground to give the team a pair of 100-yard rushers, but the passing game had trouble as Cole Copeland and Drayton Arnold shared the load at quarterback. Coach Rusty Wright said the Mocs had installed a package for Arnold, who started the season opener against Austin Peay before giving way to Copeland since, but both players missed on opportunities to add to the Mocs' lead. Copeland threw an interception in the end zone on the Mocs' second possession as they tried to make it 14-0.
After the game, Wright noted "there was no controversy" about the starting position.
"We were going to take a few more shots with him (Arnold) in there," Wright said. "His arm is just a little better than Cole's, so we were going to take a few more shots in there. It didn't play out for us to do that.
"Cole got upset a little bit there because he wasn't in there to start the fourth quarter, but I was like, 'Dude, you're going to go out there and win this thing. It's your team, and you're going to go win it."
The Mocs are down to the final three games on their schedule, visiting Wofford and Mercer the next two weekends before closing the regular season at Finley against The Citadel on Nov. 20.
Photo Gallery
UTC vs. Furman football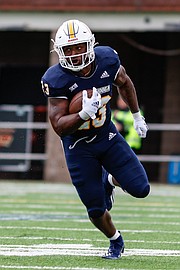 SATURDAY'S STAR
Ford gets the nod because he had the lone touchdown of the day, powering in from 2 yards on the game's first series. He also went over 2,000 rushing yards for his UTC career during the game.
SATURDAY'S STAT
Furman entered the game first in the SoCon in fewest sacks allowed with just five in seven games, but the Mocs got to Wilson four times as part of their latest aggressive defensive performance.
TURNING POINT
The Mocs took over with just a touchdown advantage and 14:50 left on the clock, but they bled nearly nine minutes (8:53) off with a 16-play, 53-yard drive that ended in Aaron Sears' second field goal of the afternoon, which put UTC up 10 points.
FINAL THOUGHT
The weather on a cool, damp day made it a little more difficult to judge the Mocs' overall performance, but it could probably best be described as sluggish offensively and solid defensively. As the calendar moves into November, UTC is making its final push toward the postseason, and with a pretty hapless opponent up next - Wofford (1-7, 0-6) lost by 20 on Saturday as Western Carolina won for just the second time this season - the Mocs have a chance to continue to gain momentum.
Contact Gene Henley at ghenley@timesfreepress.com. Follow him on Twitter @genehenley3.