The rumblings, the stories, the trauma of what occurred on the bridge entered Eric Atkins' consciousness long before he knew the names.
"You never forget a lynching," Atkins said. "That's why we remember some that were even 100 years ago, whether that's Emmett Till or Jesse Washington, the numbers go on. You never forget one because it stays in your memory. And Ed Johnson was always etched into the consciousness of a lot of African Americans, especially when you talk about the Walnut Street Bridge."
The stories, the warnings perhaps, were passed between generations of Chattanoogans orally. The city, as it morphed over decades from a manufacturing town to a tech hub, presented little recognition of the extrajudicial and racist violence that occurred on one of its most iconic symbols.
Ed Johnson, a Black man in his early 20s, was lynched on the Walnut Street Bridge in 1906 while a crowd of around 100 watched. Thirteen years earlier, Alfred Blount was killed in a similar way from the same bridge. Johnson and Blount are among six known lynchings in Hamilton County.
This weekend, the city will recognize Johnson and the lawyers who fought against injustice on his behalf, as well as the other lynching victims of the area, part of a yearslong effort to acknowledge and address Chattanooga's racist history.
Photo Gallery
Ed Johnson memorial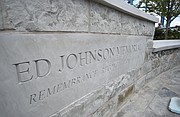 The events will include history tours, talks with the artist behind a memorial and a discussion about the legacy of lynching.
The weekend will be capped off with the unveiling of a permanent visual art installation beside the south entrance to the Walnut Street Bridge. The piece includes statues of Johnson and his two lawyers, Styles Hutchins and Noah Parden.
But as the city memorializes a dark part of its history and looks to build a brighter future, the project is entering a moment in American history where discussions of race, racism and history are fraught.
For Atkins, who serves as the vice chair of the Ed Johnson Project committee, the project arriving amid that reality is a sign of success.
"To come through all these things that have happened in the country over this time, all this public debate and discourse over our basic humanity on a lot of levels, to put forward this memorial has really been a remarkable feat," he said.
The story
On Jan. 23, 1906, a white woman named Nevada Taylor was choked with a leather strap and raped while walking home from her trolley stop near Forest Hills Cemetery.
Despite multiple eyewitnesses testifying Johnson was working at the Last Chance Saloon the night of the attack, he was arrested.
Hamilton County Sheriff Joseph Shipp's case relied on the false testimony of Will Hixson, who claimed to have seen Johnson near the trolley stop that night. Hixson claimed a $375 reward, which today would be worth more than $10,000.
Known lynchings in Hamilton County
There have been six known lynchings in Hamilton County. According to the Equal Justice Initiative, lynching was the most public form of terror and violence, largely leveled against Black people. The attacks, motivated by white supremacy, exploited communities of color and led to millions of Blacks fleeing the American South, where lynching was most prevalent.These are the names of the known victims of lynching in Hamilton County:​​Elridge Merrill, 1873Charles Williams, 1885Thomas Gailiff, 1889Alfred Blount, 1893Charles Brown, 1897Ed Johnson, 1906
In light of the arrest, angry mobs attempted to break into the county jail and lynch Johnson, who was moved to Nashville for safety.
An all-white, all-male jury overlooked the testimony of a dozen witnesses who testified to Johnson's innocence. Jurors sided with the testimony of Hixson and Taylor, who said she believed Johnson was the person who attacked her, despite saying the night of the attack that she did not see the perpetrator's face.
The jury found Johnson guilty of rape.
With the urging of Johnson's family, local attorney Noah Parden filed an appeal alongside attorney Styles Hutchins. Both were Black men whose judicial actions made them the targets of violent threats and intimidation.
Their appeals locally and to the Tennessee Supreme Court were denied. However, their argument that Johnson's constitutional rights were violated found an audience before the U.S. District Court in Knoxville, which led to a seven-day stay on Johnson's execution, issued by the governor.
Parden, working with a Washington, D.C. attorney, secured a 10-minute meeting with U.S. Supreme Court Associate Justice John Marshall Harlan.
On March 18, Harlan issued a stay of Johnson's execution so the full court could hear the case.
Meanwhile, at Johnson's request, hundreds of members of St. James Baptist Church visited him in jail. Johnson was baptized there. According to accounts at the time, Johnson said he was at peace and forgave those who threatened him with violence.
A day later, on March 19, a mob of angry Chattanoogans broke into the county jail and overpowered the 72-year-old deputy guarding Johnson's cell, the lone security officer assigned for duty despite threats of violence and previous lynching attempts.
Johnson was taken to the Walnut Street Bridge. With a noose tied around his neck, the mob wanted him to confess. Johnson again asserted his innocence.
His final words, according to the Chattanooga Daily Times, were, "God bless you all. I am innocent."
The mob's first attempt at hanging Johnson failed. They tried again but when Johnson did not die they began shooting him. A stray bullet cut the rope and Johnson, still alive, fell to the bridge. A sheriff's deputy shot Johnson dead where he lay.
Black residents in Chattanooga refused to work the next day. The streets were filled with protests. Shipp ordered the National Guard in to protect the city.
The mob's defiance of the Supreme Court's order angered the justices. In 1907, the court put 25 men on trial for contempt of court, the only criminal trial the nation's highest court has ever heard. Six of the men, including Shipp, were sentenced to between 60 and 90 days in prison.
When the men returned to Chattanooga, they were greeted at the train station by about 10,000 people. Renditions of "I Wish I Was in Dixie" were played.
By that point, threatened violence and fear had forced Parden and Hutchins to leave Chattanooga.
Legal scholars have argued the Johnson case informed Supreme Court rulings on civil rights for decades to come. Atkins said the reaction, and intervention by the Supreme Court, is a main factor in why Johnson's story is remembered.
"I think we can look to the Ed Johnson case and see that someone actually gave a damn about it and something was actually done about it, even though it was in contempt of court and it wasn't about the lynching," he said. "But you could see that because of the Supreme Court and the instances around the lynching, you could see that someone paid a debt that they owed even though they were small prison terms."
The project
Nearly 100 years after the attack, in 1999, LaFrederick Thirkill was house sitting for a friend when he came across an article in the Chattanooga Times about the Pleasant Garden Cemetery, a historic 22-acre Black cemetery nestled in the annexed community of Ridgeside near Missionary Ridge.
The cemetery was overgrown and in disrepair, Thirkill said. He organized a community cleanup with his friend Vaughn Moore. It was during that cleanup Thirkill met Leroy Phillips, a lawyer who co-wrote the book "Contempt of Court" about the legal case.
Phillips, who died in 2011, took Thirkill to Johnson's gravesite. There, etched in the stone, were the man's final words.
Ed Johnson weekend events
To see the description of each event visit edjohnsonproject.com/dedication. Thursday, Sept. 16 - Artist Talk: Jerome Meadows: 6 to 7 p.m. at The Hunter Museum of American Art, 10 Bluff View Ave. Friday, Sept. 17 - People's History of Chattanooga Tour with Michael Gilliland: 12 to 2 p.m. and 3 to 5 p.m. at Union Depot Historical Marker, 158 West M.L. King Boulevard, near Carter Street. - The Work of an Artist: Q&A with Jerome Meadows: 5 to 6:30 p.m. at The Bethlehem Center, 200 W. 38th St. - The Ed Johnson Project Keynote Lecture and History Roundtable Discussion: 5:30 to 7:45 p.m. at The Camp House, 806 E. 12th St. Saturday, Sept. 18 - History Panels on Display: 10 a.m. to 4:00 p.m. at The Camp House, 806 E. 12th St. - Colors of our World Storytime: 10 to 11:00 a.m. at Chattanooga Public Library - Downtown Branch, 1001 Broad St. - RISE MLK History Tour with Shane Morrow: 11 a.m. to 12:30 p.m. and 3 to 4:30 p.m. at Waterhouse Pavilion, 850 Market St. - Medal of Honor Tour: 2 to 3:30 p.m. at Charles H. Coolidge National Medal of Honor Heritage Center, 2 W. Aquarium Way. - The Legacy of Lynching and the Soul of America: A Conversation with Jon Meacham and Eddie Glaude, Jr.: 5 to 6 p.m. at Olivet Baptist Church, 740 E. M.L. King Blvd. - Keeody Gallery Presents: Visuals for the Voiceless: 6 to 8 p.m. at ArtsBuild, 301 E 11th St. Sunday, Sept. 19 - The tomb of Ed Johnson and the Resurrection of Christ: 11 a.m. to 12:30 p.m. at The Hamilton County Courthouse lawn, 625 Georgia Ave. - The Ed Johnson Memorial dedication: 3 to 4:30 p.m. at Walnut Plaza, 100 Walnut St. - The Ed Johnson Memorial dedication gathering: 5 to 6:30 p.m. at Walker Pavilion in Coolidge Park, 150 River St.
Fascinated by the overlooked piece of history, Thirkill began touring the country with Phillips to tell Johnson's story and learn from other groups addressing instances of racist violence, from the Rosewood Massacre to Emmett Till and the Orangeburg Massacre.
Phillips drew attention to Johnson's story through his book, so Thirkill decided to use his talents to tell the story in another medium, writing the play "Dead Innocent: The Ed Johnson Story."
A production was held at Chattanooga State Community College, and Thirkill used the proceeds to launch the Ed Johnson Memorial Scholarship Fund for local students pursuing a degree in criminal justice.
In 2000, Johnson's conviction was posthumously overturned. In 2016, the Tennessee House adopted Joint Resolution 701, which honored Johnson and described his killing as "unjustifiable."
Thirkill attended a gathering to celebrate the resolution. There, he met with other community members and researchers who were working on or wanted to do something more to memorialize the story. There was a convergence of ideas. Thirkill joined the Ed Johnson Project, becoming co-chair, and helped raise more than $1 million for the memorial scholarship.
Some foundations were initially hesitant to fund the memorial, wanting to see broad community support. The committee began holding dozens of community conversations to tell the story and engage the public. Committee members estimate they engaged more than 3,000 area residents.
The committee sought design ideas for a memorial in 2017 and, a year later, selected Georgia-based visual artist Jerome Meadows to design the project.
Through the visual arts piece, the group wanted more than mere recognition, it wanted to create an opportunity for healing, said Donivan Brown, the current chair of the committee.
"If I burn your house down and then build a monument of your house, we're not going to be healed," he said. "There are some things I may have to engage with you on if I actually want to get to a place of healing. I actually might need to rebuild your house. Now, we can't rebuild Ed Johnson's body. We can't re-import his spirit into a monument, but the best thing we can do is something that is emblematic of his life and the legacy that this case had and his lawyers."
'All the chaos, all the brokenness'
A deliberate, yearslong series of community conversations extended the project's timeline. The completion of the physical memorial this weekend enters a different political and social landscape than when the project began in 2015.
A new president is in office. An ongoing pandemic has killed more than 660,000 Americans and 4.55 million people worldwide. Months of protests in 2020 called for attention to systemic injustice and violence against Black people as names including Breonna Taylor and George Floyd became rallying cries for change.
Earlier this year, the Tennessee legislature passed measures that would withdraw funding from school districts if teachers discuss certain race-related topics.
Ed Johnson Project committee members
Donivan Brown, chairEric Atkins, vice chairMariann Martin, secretaryKevin BateEleanor CooperMel CooperSteve DerthickLinda DuvoisinEllis GardnerKathleen HuntKatharine McCallie GardnerDollie HamiltonBeth MurphyBruce StewartJann SullivanLaFrederick ThirkillElizabeth Williams
"A big part of what has drawn folks from the community to the effort is that in a moment, in a multiyear era where so much has gone wrong, something has actually gone right," Brown said. "All the chaos, all the brokenness, all the strife, it appears that the county and the city came together to pursue this end."
Brown said that does not mean everyone in Hamilton County is supportive of every aspect of the project.
"But," he said, "it looks to me that a community can actually engage with a dark part of its past and the city not crumble - that we can touch it and everything that we believe are our ideals doesn't fall apart."
Yet navigating questions of presentation and focus created tension even among some committee members, who ranged in age, race and wealth. At one point, Thirkill was concerned the group was focusing too much time and energy on addressing white guilt rather than telling the story.
"They were under the impression that white people didn't know that what they were doing was wrong," Thirkill said. "You mean to tell me these people didn't know what they were doing to Ed Johnson? When they denied him his rights? You mean to tell me the mob didn't know what they were doing when they broke in and lynched him? You mean to tell me they didn't know what they were doing? Stop it. I just can't buy that."
There was even debate about Johnson's final words. His gravesite carries the phrase, "I am a innocent man." The project's website and a newspaper account reads, "I am innocent."
Conversations like that bothered Thirkill.
"C'mon people, do you think this Black man who was getting ready to be lynched was worried about correct grammar? And why do you feel like you need to correct that?" he said. "It's been the same way on paper for over 100 years. Why do you feel that you need to be the authority on this and go back and say, 'Oh, this is wrong. He didn't say that.'?"
The committee hopes that, in telling the story, a process of healing can begin.
Shame - whether felt by those victimized by racial violence or by those who carried out or with silence tacitly approved of the violence - pushes people apart, Brown said.
"We've done a lot of work to keep our good name as a nation, while there are many folks outside and within that know we have a complicated history," he said. "And I think the more we deny the things - how we got the land, how my family got to this country - the more we deny those things, I think the less capable it makes us of actually dealing with the fault lines that persist today."
Johnson's final words, forgiving those who killed him, echo the final words of Jesus on the cross, Brown said, a parallel that should not be overlooked in a city that celebrates its religiosity.
Contact Wyatt Massey at wmassey@timesfreepress.com or 423-757-6249. Follow him on Twitter @news4mass.