Wahid Dorany, an Afghan American and Chattanooga area resident, is awaiting the day that his parents, wife and two siblings can join him after he helped facilitate their evacuation from Afghanistan.
Dorany worked the phones from the U.S. to help his family navigate their departure from the war-torn country on Aug. 25 but didn't know if he'd ever see them alive again.
In 2014, Dorany had received a Special Immigrant Visa and moved to the United States in fear for his and his family's lives after serving on the front lines with the Army and the Marines in Afghanistan for three years as an interpreter.
He had also previously worked for an American security company in Afghanistan, but even with his years of experience working with seven different U.S. infantry battalions, listening to the night of the evacuation from his phone was surreal.
"That night that I evacuated my family was one of the craziest things I've ever witnessed in my life," he said. "It was a matter of like, I am going to see my family again - or I will never see my family again."
With American citizenship awarded after his years of service, Dorany only hoped that his family could take a similar route and make it out of the country with their lives intact amid the chaotic withdrawal of the U.S. as the Taliban quickly resumed power. He wanted to keep them safe, especially since he knew his father had served in the Afghan National Army and his family was opposed to the Taliban's rule.
Dorany wrote an article for a publication called Motherly that was published on Aug. 24, asking for help to get his family out of Afghanistan. From afar, he had already helped them take the dangerous journey from his hometown of Herat to Kabul, and they joined the crowd at the gates of the Kabul airport.
Dorany had help from a series of "friends of friends" - and especially from David Kinzler, the first Marine for whom Dorany ever interpreted. Dorany has lived with Kinzler's family since 2014, and the friends got connected to a Marine captain on the ground in Afghanistan on Aug. 25.
The captain helped locate Dorany's parents, wife and siblings in the crowd, and they then finished their necessary paperwork and secured seats on one of the evacuation flights to Qatar a few hours later.
Photo Gallery
Local Afghan American man eager for family reunion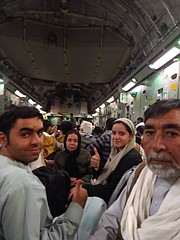 Dorany said he went to bed in the U.S. that night - happy and grateful that they got out safely. But he awoke to sobering news. In the same location with the same people who had helped his family just hours before, a bomb had gone off, killing at least 60 Afghans and 13 U.S. military members.
And over the next few days of watching the scenes on TV, Dorany said his mind was having difficulty processing just how close of a call it had been - and the impact on all those who were left behind.
"We saw what happened and all of those people who were still left back there that needed help to get evacuated but they couldn't just because they were not as lucky as I was," he said.
His family would later board flights to Italy and Germany before heading to the United States, where they are now waiting separately at military bases in Virginia and Philadelphia after receiving security and health checks.
According to a report by The Associated Press, Dorany's family joins an estimated 50,000 incoming displaced Afghans already in or headed to the U.S., including those who worked for the U.S. and their relatives.
Once all of their paperwork, including work authorizations, is completed, Dorany said he is working to secure housing and basic necessities for his relatives to join him in the Chattanooga area.
Dorany currently lives with the Kinzler family on Lookout Mountain. He moved with them from the Washington D.C. area in early August after David Kinzler got a job at One to One Health in Chattanooga. The Kinzlers are like a second family to him, Dorany said, mentioning that the children call him "Uncle Wahid."
Dorany works for Bellhop, a local moving company.
A GoFundMe for Dorany's family raised $45,000 to help them rebuild their lives, and someone came forward to donate a car for their transportation needs.
"It's really been an outpouring of support from all walks of life, both here in Chattanooga and then in D.C., and other parts of the country," said Micah Johnson, who has helped circulate Dorany's family's story in the area. She had previously worked with Kinzler for former Sen. Bob Corker, R-Tennessee.
"I think as people have watched the events in Afghanistan, and it's just been devastating to watch, and when people heard that there was a specific family coming to Chattanooga, and they had a tangible way to help people just, you know, they stepped up," Johnson said.
Dorany hopes that other refugee families will be welcomed with similar levels of support across the country. Bridge Refugee Services in Chattanooga is currently preparing for the high likelihood that the area will soon be resettling a few of the incoming Afghans.
(READ MORE: Bridge Refugee Services prepares to possibly resettle Afghan allies in Chattanooga area)
"We're lucky, we're fortunate, we're thankful and grateful for every single thing these people did for us, for me and my family," Dorany said. "We're very good at this point, and there are thousands and thousands of Afghan refugees that come to this country with just a simple backpack. None of them even have a second pair of clothes to wear."
Kinzler hopes people realize how life-altering the situation has been for refugee families like Dorany's and offer kindness.
"I think there's often a perception of like, 'Oh, they're going to get such a great deal, they get to come to the United States' and yes, there is truth to that especially for [Wahid's] brother and sister, like absolutely, to have the chance for the opportunity that America affords people ... but they're leaving everything they know," he said.
"Especially for Wahid's parents, that's terrifying. Can you imagine being 60 years old and not speaking the language and not ever seeing something like this and suddenly coming to a new setting?"
And now that Dorany's family is safe in the U.S., he waits and prepares for their future.
"Afghans are family-oriented people. They stay with their family until they die. So my brother and sister will probably stay with my mom and dad and they're trying to support them. ... My goal is to start them into English classes and learn the language as fast as possible," Dorany said.
"Hopefully we have lots of folks around to talk to them and they have interaction [on a daily basis], learn and find a job. And if they want to go to school, enroll them into school. If they want to work, find them jobs and ... help them start a new life from the scratch."
Contact Tierra Hayes at thayes@timesfreepress.com.