The Chattanooga area's first meadery, Flora de Mel, is now open in Rossville, along with kitchen-in-residence Calliope.
Made with fermented honey, mead is considered the world's oldest alcoholic beverage and its popularity in the U.S. has grown exponentially over the past few decades. The number of commercial meaderies nationwide went from 60 in 2003 to more than 450 in 2020 - a 650% increase - and more than 200 more meaderies plan to open over the next two years, according to the American Mead Makers Association.
Chattanooga developer Jay Martin and his wife Stephanie, a ceramic artist and sculptor, began their venture to open Flora de Mel in 2019.
They took up beekeeping in 2015, and as entrepreneurs the couple had been thinking about how they could turn the hobby into a sustainable business. After visiting a small meadery in North Carolina, they started educating themselves about mead and set up a home test kitchen.
"We would put the kids down and nerd out," Stephanie Martin said.
Photo Gallery
Flora de Mel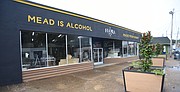 While they're looking to expand their apiary, the honey used to make Flora de Mel comes from area producers such as Blue Ridge Mountain Honey and Pigeon Mountain Trading Company.
In addition to water and yeast, honey can be fermented with tea, fruits and spices to make mead in an infinite variety of flavors that range from bone-dry to super-sweet.
There are two varieties of mead: sparkling, or session, which is about 6.5% alcohol by volume; and still, which ranges between 14-18% ABV, Jay Martin said.
The meadery has eight, 200-gallon primary fermenters, and it also currently has five experimental batches fermenting above the bar in glass demijohns, which are traditional Italian winemaking vessels.
Since making mead is a long process - sparkling mead is a two-month process, and still mead takes two months to ferment and an additional six months to age - Flora de Mel currently has only a limited quantity of three meads produced in-house. It is also offering meads produced by other small Southern meaderies as well as larger meaderies across the nation in its taproom, along with signature cocktails and mocktails.
The three Flora de Mel meads available now include its oolong mead, made with oolong tea and aged five months in whiskey barrels. The wildflower mead, made with Georgia wildflower honey, and the blueberry basil mead made with local blueberries and basil, are also aged in whiskey barrels
They have a limited amount of Flora de Mel mead currently available by the bottle, and they hope to have their first big batches ready to bottle by the holidays. Flora de Mel also plans to eventually start canning the sparkling mead produced in-house, Jay Martin said.
Located in the former company store of Peerless Woolen Mills, Flora de Mel is one of few new businesses in downtown Rossville.
"It was a booming town center in the past, and it's primed for growth," Jay Martin said.
The space is filled with pieces crafted by local artisans, including a ceramic wall hanging by Stephanie. It seats about 45, and also has an outdoor patio bordering Chattanooga creek.
They knew the meadery needed a restaurant to succeed, and when they were approached by the team behind Calliope about using the space they felt the restaurant concept was an ideal match with Flora de Mel.
The restaurant's owners include former Whitebird chef Khaled Albanna, general manager and sommelier Joi Mason and bar program and event manager Raven Humphery. The three met working together at Whitebird, the restaurant inside the Edwin Hotel.
Rather than describing his food, Albanna said he prefers to let his food be his voice. That's how they landed on the name Calliope, the Greek mythological muse of eloquence and poetry whose name translates "beautiful voice."
Calliope serves Levantine cuisine - from the Eastern Mediterranean region of Levan comprising Iraq, Syria, Jordan, Palestine and Lebanon Albanna - influenced by Albanna's time growing up in Jordan, his mother's Egyptian heritage and the various states he's lived in since moving to the U.S.
The menu is focused on fresh food from the sea and land, all cooked over charcoal and wood, he said.
The most popular dishes are the whipped feta and the lamb sausage, Albanna said.
For first-timers he suggests ordering the mezze, a spread of chef-selected dishes that feeds three to four.
For a smaller dish, Albanna recommends the ember-roasted chicken with heirloom tomato compote and mint salad.
The charcuterie plate pairs perfectly with a mead flight, he adds.
The restaurant serves as the kitchen-in-residence at Flora de Mel, but the goal is for Calliope to eventually move into its own space within the next two years, Albanna said.
Flora de Mel and Calliope are at 313 McFarland Ave. in Rossville and can be reached at 706-841-4170, or visit florademel.com or eatcalliope.com.
Contact Emily Crisman at ecrisman@timesfreepress.com.