NASHVILLE - A Tennessee effort to ban sales or possession of delta-8 products if the hemp-derived substance contains more than 0.03% of the psychoactive drug THC is advancing in the General Assembly.
The legislation cleared the Senate Judiciary Committee and House Criminal Justice Subcommittee last week. It has the support of law enforcement officials, who say the products - which often come in the form of gummies and cookies - are getting into the hands of children and can be dangerous.
Senate Bill 1904/House Bill 1927 passed both committees as officials from the Tennessee Bureau of Investigation as well as the Department of Safety and Homeland Security urged lawmakers to approve it.
But the legislation has triggered alarms among growers, retailers and others involved in Tennessee's estimated $75 million to $100 million hemp industry. They say their products are safe. And their rebuttal to law enforcement is another bill, SB 1767/HB 1690. It seeks to regulate delta-8. It would require testing, ban sales to anyone under age 21 and impose a 6.6% privilege tax on both delta-8 and delta-10, a variant.
Producers and retailers argued for the House regulatory measure, which moved through a subcommittee last week on a voice vote. But it failed in the Senate Judiciary Committee on a 3-6 vote.
Customers with chronic pain and other issues use delta-8, proponents say, because they believe it helps ease pain and also helps with anxiety and other issues. Proponents also argue that, unlike opioids, it's not an addictive narcotic.
'Really shocking'
"It's really shocking they choose to focus on this when we have such a problem with opiates in this area," said Elisha Millan, who owns Grass Roots dispensary, which sells delta-8 at its store in Chattanooga and also operates a wholesale company providing products to retailers. "These products are safe alternatives to opiates."
Millan said she first began using another cannabis-based product, CBD oil, years ago after she was diagnosed with Crohn's syndrome and was unable to work for a decade. It helped her, Millan said. And she later decided to start a business making cannabis-based products for others suffering from chronic pain and other issues. CBD is a chemical found in marijuana, but it doesn't doesn't contain tetrahydrocannabinol or THC, the psychoactive ingredient that produces the high, she said.
According to the federal Food and Drug Administration, delta-8 tetrahydrocannabinol, also known as delta-8 THC, is a psychoactive substance found in the cannabis sativa plant, of which marijuana and hemp are two varieties. THC does not occur in significant amounts in the cannabis plant, but the substance is tweaked to provide more of an effect in both delta-8 and delta-10.
Federal law bans delta-9, which is a stronger substance produced from the marijuana plant. It does not ban delta-8 or delta-10, a stronger version, thanks to a loophole created in the 2018 farm bill, according to committee testimony.
Photo Gallery
Delta-8 products at Grass Roots Health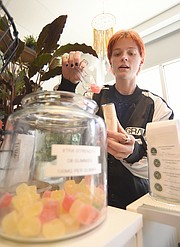 Debate on ban
During the House subcommittee debate on the measure to ban delta-8 and delta-10, bill sponsor Majority Leader William Lamberth, R-Portland, a former state prosecutor, urged colleagues to act.
"There's 115 people last year who OD'd on high level, spiked THC, specifically the delta-8 variety," Lamberth argued. "Thirty percent of those were under the age of 5. There are folks that are selling these substances right now in Tennessee. There are no regulations on this product, there are no packaging requirements on this product, there are no protections on this particular product that is in the code because it was never intended to be legal, quite frankly.
"There are no standards here. There needs to be a clear-cut line. We need to absolutely not have it available to children."
Rep. Bryan Terry, a Republican physician from Murfreesboro who is Health Committee chairman, disagreed.
"Nobody's dying from delta-8," he said "People are dying from alcoholism every day."
Over in the Senate, bill sponsor Sen. Richard Briggs, a Republican physican from Knoxville, sees a problem.
"The problem here is the concentrations sold may be 10, 20, 30 or higher," Briggs said. "A person's going to get high."
Among those testifying against the Senate ban bill was John Kearns, co-founder of Chattanooga-based New Blooms Labs, which he said does chemical analysis for legal compliance, quality control and safety on legal delta-based products.
The bill is a "dramatic overreach," said Kearns, adding it would wind up bankrupting hundreds of businesses, including his.
"It requires a blunt instrument instead of a scalpel," Kearns said.
The solution, he said, is legally recognizing the need to require lab testing to determine content and strength.
Sen. Jon Lundberg, R-Bristol, brandished what he said was a bottle of delta-8 gummies and challenged Kearns on whether he would take a "little gummy" and drive.
"It depends on the concentration of the product," Kearns said.
Mike Lyttle, a state Bureau of Investigation assistant director in charge of the agency's Forensic Services Division, testified about a recent case involving the gummies.
"I don't know the death numbers associated with THC," he said. "We, however, are currently working a case in Coffee County where three children - ages 4, 5 and 9 - got into mom's THC gummies - look exactly like the ones that Sen. Lundburg has. All three children overdosed with my definition of an overdose, meaning that they required medical attention."
Lyttle said he was told by an assistant prosecutor that one of the children was hospitalized.
The more restrictive bill passed the Senate Judiciary Committee on a 6-3 vote, with both Chairman Mike Bell, R-Riceveille, and Sen. Todd Gardenhire, R-Chattanooga voting yes.
Regulatory bill
The regulatory bill quickly ran into trouble in Senate Judiciary Committee.
"This bill attempts not to outlaw delta-8 but to tax it, regulate it, make you have to have a photo ID to prove you're 21 years old to buy it," bill sponsor Sen. Frank Niceley, R-Strawberry Plains, told colleagues. "Tax it at the same rate as cigarettes, give that revenue to the Department of Agriculture, let them tax and regulate a legal product that's legal at the federal level."
Sen. London Lamar, a Memphis Democrat, spoke in favor of the measure.
"I think the way we are determining these products and these regulations are unfair when we know alcohol is far more dangerous than THC," she said. "No one has died from THC alone, at least any adult from my understanding. I think we need to have a balanced perspective. I can't believe that THC is more dangerous than alcohol, I just cannot believe that's true."
Gardenhire sought to caution Niceley on proceeding with the bill, indicating he didn't have the votes. Bell said the measure had already been delayed multiple times.
But the bill advanced in the House Agriculture and Resources Committee despite similar arguments.
"Folks, we have a product we're looking at right now that's legal, it's federally legal. The cat is out of the bag," Rep. Chris Hurt, R-Halls, told the panel.
The bill was approved on a voice vote. Rep. Greg Vital, R-Georgetown, signaled in advance about how he would vote.
"I have serious reservations and will vote against it," he said.
Contact Andy Sher at asher@timesfreepress.com or 615-255-0550. Follow him on Twitter @AndySher1.