ATLANTA — There has been college football chaos this season, and there has been Georgia.
On a weekend that began with Southern California and TCU getting upset in their respective Pac-12 and Big 12 conference championship games, the top-ranked Bulldogs rolled to a 35-10 halftime lead against LSU before winning 50-30 inside Mercedes-Benz Stadium to claim a Southeastern Conference crown that eluded last season's national champions.
"Our plan was to have a connected assault and to stay connected, and they did that," Georgia coach Kirby Smart said. "Our team kind of played this game like they've played the whole season — unbelievably well at spurts and unbelievably poor at spurts, and they answered the bell when they had to. I'm proud of them, because they've handled that all year.
"This has been a different group that you guys have tried to label, figure out and analyze, but they're not comprehendable. They do what they have to do, and they do it well."
The first SEC championship for the Bulldogs since 2017 was also their 14th overall, breaking a second-place tie in league annals with Tennessee behind the 29 that Alabama has accumulated, with the 29th of those for the Crimson Tide being last December's 41-24 derailing of Georgia. The Bulldogs would avenge that setback weeks later at the national championship game in Indianapolis, but losing last year's SEC title contest prevented Georgia from an undefeated season.
Saturday's triumph resulted in Georgia's first 13-0 start ever.
"I'm happy in the moment, and I don't want to diminish what we've done," Bulldogs redshirt sophomore center Sedrick Van Pran said. "I think it's tremendous, and I'm super excited about being 13-0 and SEC champions, but ultimately we're looking forward to going out and competing in the playoffs."
Georgia will learn its postseason plans Sunday afternoon, but the Bulldogs are expected to return to Mercedes-Benz for a New Year's Eve date in the Peach Bowl national semifinal against either Ohio State or TCU.
The Bulldogs cruised Saturday against LSU (9-4) despite being outgained 549-529 in total yardage and despite surrendering 502 yards through the air from the combined efforts of Tigers quarterbacks Jayden Daniels and Garrett Nussmeier. Georgia sixth-year senior quarterback Stetson Bennett, who along with outside linebacker Robert Beal were the lone Bulldogs on the roster the last time they won the league, completed 23 of 29 passes for 274 yards and four touchdowns.
Photo Gallery
Georgia vs. LSU, Dec. 3, 2022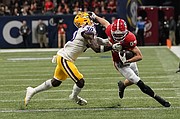 Bennett now has seven career touchdown passes in the SEC championship game, with only former Florida quarterback Danny Wuerffel having more with 10 from 1994-96.
"When it's the SEC championship, you've got to play confident," Bennett said. "I don't think I got touched tonight. Our offensive line was incredible."
Said Smart: "He has played really well, and I had people come up to me saying he played the best game of his career tonight."
Georgia produced the most surprising opening score in SEC championship game history, as LSU's second possession ended after 14 plays and 69 yards when Nazir Stackhouse blocked Damian Ramos' 32-yard field-goal attempt. As the Tigers began jogging off the field, Bulldogs senior safety Christopher Smith picked the ball up before it came to a stop at Georgia's 4-yard line and raced 96 yards for a touchdown and a 7-0 lead.
At the beginning of Smith's lengthy journey, he blew past Beal and Jalen Carter, who were still celebrating Stackhouse's block.
"That's a scenario we go over a lot, and if the ball passes the line of scrimmage, we have the opportunity to be able to pick it up," Smith said. "I was just waiting to get the go from the sidelines."
LSU, to its credit, quickly responded with a 53-yard touchdown pass from Daniels to Kayshon Boutte at the 2:21 mark of the opening quarter. At that point, the game was deadlocked at 7-7, but the Tigers held a 160-6 advantage in yards.
The Bulldogs took a 14-7 lead with three seconds remaining in the first quarter on a 3-yard pass from Bennett to tight end Brock Bowers and then produced their second devastating blow, opening the second quarter with a Smael Mondon interception on a pass from Daniels to Jack Bech that bounced off Bech's helmet.
On the ensuing play, Bennett connected with Ladd McConkey for a 22-yard touchdown and a 21-7 lead.
"I just saw the ball bounce up, and then it was floating in the air like slow motion," Mondon said. "So I grabbed it. It didn't even feel real. It felt like a dream."
Late in the first half of a 28-7 runaway, in one of the plays that could typify Georgia's season, Carter recorded a sack of Daniels by lifting him up with one arm and flashing a No. 1 sign with his free hand.
"I've seen players do that where it usually doesn't end well," Smart said. "They usually don't have the restraint. I told him, 'You proved to a lot of people that there is a thought process and great restraint to keep from doing something dumb.' It showed great discipline on his part."
The Bulldogs have displayed more discipline than anybody this season, which has them watching Sunday's playoff selection show as the team to beat.
"I've tried not to pay attention to any of that," Smart said. "I didn't have any games on, and I have not heard anything. To me, that's so far away, and we don't control it. My focus has been on this, because I didn't want one kid to walk out of our program without an SEC championship ring in their career, and that was about to happen if we didn't get this one.
"They said enough was enough tonight."
Contact David Paschall at dpaschall@timesfreepress.com.