Rainfall over the next few days will determine whether those puddles and flooded local streets are any indication the ongoing drought in Southeast Tennessee has finally been busted, according to meteorologists.
Continuing precipitation over the past week has helped even up the drought score and more rain on the way is good news, according to Tennessee's climatologist.
"Rainfall is very close to normal in Southeast Tennessee, while farther north in East Tennessee most counties are slightly above normal for the year," State Climatologist Andrew Joyner said Tuesday in an email.
Joyner said a few locations in the region remain below normal but only by about 10% or so.
"It seems like we've reached the peak of the drought, and rain last week and this week will result in two class improvements over the two week period," Joyner said of drought classifications that range from abnormally dry to moderate drought, severe drought, extreme drought and exceptional drought.
The U.S. Drought Monitor over a nearly rainless October showed most of Southeast Tennessee enduring a severe drought and some areas of moderate drought. But the monitor released Dec. 1 showed some reversal of that trend with much of the Chattanooga region rebounding to moderate drought and abnormally dry conditions except for mountainous Polk and Monroe counties, which still remained in severe drought Dec. 1.
"There may be some low level of drought that persists, but we'll wait and see," Joyner said.
Year-to-date numbers paint an inaccurate picture of Tennessee's situation because much of the rain came all at once and was countered by long dry spells, National Weather Service meteorologist Allan Diegan said Tuesday in a phone interview. Meteorologists note the January to December calendar used for weather records doesn't necessarily represent current weather conditions.
Photo Gallery
Rainy morning commute into Chattanooga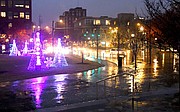 (READ MORE: Weather whiplash: Summer lurches from drought to flood)
Year-to-date rain accumulation in Chattanooga stands at 54.11 inches while normal year-to-date rainfall is 50.82 inches, Diegan said. Most of the surplus rain came in the spring and summer then September and October dried out dramatically, weather records show.
"August, we were well above normal for the month, but it looks like September was the first month that we showed kind of a deficit for this fall drought," Diegan said.
Rain totals for September stood at a little more than 3 inches, more than 1 inch below normal, he said, then October had about 1.5 inches of rain, almost 2 inches below normal, leaving a lot of ground to make up.
"We're almost 2 inches below normal now," he said. "October is our dry month anyway, so to be below normal in your driest month says a lot."
But November rebounded with almost 6 inches of rain, more than 1 inch above normal.
"This was a short-term drought -- technically it still is because we officially haven't gotten out of anything yet," Diegan said.
Joyner said the timing of the drought fortunately didn't have too much of an effect on agricultural operations.
"Winter wheat was slow to germinate in November due to low rainfall," he said, adding no effects to other crops have been reported otherwise.
(READ MORE: West Tennessee farmers struggle to get crops to market as drought drains Mississippi River)
"Looking at the winter seasonal projection for December, January and February, the (weather service's) climate prediction center predicts warmer than normal temps and average or slightly above-average precip," Joyner said.
"This is a third La Niña winter in a row, but in Tennessee that has mixed effects -- normally drier to our south and wetter to our north with us in the middle," he said.
La Niña refers to the periodic cooling of ocean surface temperatures in the central and east-central equatorial Pacific, according to the weather service. Typically, La Niña events occur every 3 to 5 years or so, but on occasion can occur over successive years. During a La Niña event, the changes in Pacific Ocean temperatures affect the patterns of tropical rainfall from Indonesia to the west coast of South America, creating changes in tropical rainfall patterns that affect weather patterns throughout the world.
Diegan and Joyner said the lack of tropical storms tracking through Tennessee in 2022 meant large rainfall events the region usually depends on didn't happen. But according to the prediction center, Tennessee has an above average chance of a wetter than normal December, Joyner said.
In the near term, Diegan said rain will continue until Friday night or Saturday before there's a break.
"It looks like we'll have a dry period late Friday and into Saturday. Then we have chances of rain Sunday through Tuesday," he said.
Accumulations from Wednesday to Thursday could total more than an inch, and rainfall should be similar to the heavy drizzle the area has experienced the past several days, Diegan said.
Contact Ben Benton at bbenton@timesfreepress.com or 423-757-6569. Follow him on Twitter @BenBenton.