A relatively dry September and -- so far -- rainless October with only a chance of precipitation in sight could rouse memories of the drought of 2016, when wildfires plagued Southeast Tennessee and North Georgia and the smoke some days lay like a blanket over Chattanooga.
But since the first eight months of 2022 were quite wet -- bringing Chattanooga's rain tally to 44.66 inches so far this year -- East Tennessee is still above its yearly norm, even if the ground in the Chattanooga region is increasingly cracked and parched. The days without rain are beginning to show on the U.S. Drought Monitor as a large swath where Southeast Tennessee is dry as a chip, and that area is expected to expand. Annual rainfall in Chattanooga averages 55 inches.
For Chattanooga, Saturday marks the 18th day in a row without rain.
"There were no areas of improvement across the whole state, and you have a pretty decent area that was already abnormally dry in Southeast Tennessee, and now you've got an area that's (experiencing) moderate drought in northern McMinn County and Monroe County and a little bit in Loudon County," Tennessee State Climatologist Andrew Joyner said Thursday by phone.
(READ MORE: Chattanoogans seek relief during June heat wave)
According to the National Weather Service, 3.08 inches of rain fell in September and none has fallen so far in October, meaning the precipitation deficit is increasing. The most rain last month fell Sept. 4, and the most recent rainfall event was Sept. 20, when the Chattanooga area got about a quarter-inch of rain. Deadly Hurricane Ian, which made landfall in Florida Sept. 28, dodged Tennessee entirely as it swept up the East Coast.
The Tennessee Climate Office at East Tennessee State University in Johnson City provides information on weather conditions to the U.S. Drought Monitor in its weekly assessments.
"I would expect the area of the drought to expand in next week's monitor," Joyner said. "But temperatures are at or maybe a little bit below average, too, so you're not seeing that extreme heat and you're not seeing that evaporation transpiration either, at least in East Tennessee."
West Tennessee will have higher temperatures, he said.
Photo Gallery
Dry weather persists in Chattanooga area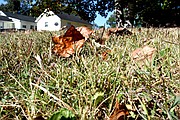 Tennessee's current dryness isn't anything like the drought of 2016.
"In that drought, the early part of the year -- January, February and March -- was pretty dry, as well, so you had a long-term, annual deficit that built up over time," Joyner said. "The state came out of that a little in April-May into June and went back into drought, especially in East Tennessee, that led to those wildfires.
"But that doesn't mean there couldn't be wildfires," he warned. "You can definitely continue to dry out and you can get some low humidity and wind and you can get some wildfires."
Expanding dryness
According to the U.S. Drought Monitor released Thursday, a swath of Southeast Tennessee including Hamilton, Bradley, Polk, Marion, Meigs and Rhea counties currently is experiencing abnormally dry conditions, while parts of McMinn, Monroe and Loudon counties have moderate drought conditions.
Currently in North Georgia, only the northern parts of Dade, Catoosa and Walker, near Chattanooga, and Fannin, Union and Towns counties near the state line in the Southern Appalachians fall in the abnormally dry category, the monitor shows. Parts of DeKalb and Jackson counties in Northeast Alabama are also abnormally dry, while further west, Madison and Limestone counties have moderate drought.
According to data from the climate office, August for most of the state was fairly typical, though there were extreme drought conditions in portions of West and Middle Tennessee. It was the first appearance of extreme drought in Tennessee since October 2019. One indicator of Tennessee's weather is its corn crops as harvest approaches. Only 29% of corn crops in late August were reported in good or excellent condition, according the climate office data for August.
Farmers feel the dry heat the most. In McMinn County, University of Tennessee Extension Agent and County Director Tim Woods said crop yields are down and stockmen could start having to feed hay to their stock earlier than usual this year, creating the possibility of a shortage in the winter and spring.
"It seem like the yield's down some in corn but by how much I'm not sure," Woods said Friday by phone. "Of course, we're starting to get into soybeans so hopefully we'll get enough rain next Thursday to help settle the dust and give us a little moisture."
(READ MORE: In the last five years, Chattanooga weather has been a roller coaster ride of extremes)
Hay tonnage and quality have been down during the summer, too, he said.
"As dry as the pastures are now, if we could get a half-inch or an inch it would help," he said. "We're getting to a very critical point right now if we don't get some rain."
In the coming weeks, despite a slight chance of rain late next week, dryness is expected to expand, and the near future looks drier than usual, National Weather Service meteorologist Tim Doyle said by phone.
"This fall we haven't had tropical systems -- I think [Hurricane Ian] was our first tropical system because there weren't any in August," Doyle said. "This is our driest time of the year after we get out of the pattern of summer thunderstorms."
Normal rainfall for September is 4.23 inches, and this year the month's total was 1.15 inches behind or about 73% of normal, he said. The outlook for October, November and December calls for above-normal temperatures and below-normal precipitation.
TVA's view
Tennessee Valley Authority meteorologists look at the weather from the perspective of the Tennessee River watershed.
James Everett, TVA's River Forecast Center senior manager, said rainfall throughout the Tennessee River watershed in Tennessee, Georgia, Virginia, North Carolina, Alabama, Mississippi and Kentucky remains above normal for the year but officials are watching for developments.
"We're also closely following the dry conditions in the valley. Looking back over the last 30 days, we've only seen about 1.7 inches of rainfall in the Tennessee Valley, that's about 50% of normal over the last 30 days," Everett said in an emailed statement.
Now is the time of year when TVA lowers its tributary lakes in the eastern part of the Tennessee Valley. The water coming from upstream tributaries is helping to supplement flows into the Tennessee River past areas like Knoxville and Chattanooga and through North Alabama and out into the Ohio River, Everett said.
"Despite below-normal rainfall conditions we've seen recently," he said, "we operate the reservoir system in an integrated manner so as we are drawing tributary lakes down that water is used over and over again through the river system to produce hydroelectric power and provide other benefits like water quality and water supply."
TVA also monitors the amount of water in storage, which is currently about 109% of normal, Everett said.
"So although we've had some recent dry conditions, overall, the volume of water in our reservoir system is very close to where it normally is this time of year," he said. "If we see any trends of these dry conditions sticking around, then TVA will adjust our releases as conditions change."
TVA also has eyes on conditions far to the south.
"On the flip side, this time of year we are also keenly aware of potential for active tropical systems to bring heavy rainfall into the valley," Everett said. "We watched this very closely in the week leading up to Ian's arrival but only saw some moderately heavy rainfall in the higher tributaries like South Holston and Watauga reservoirs."
Like a farmer, Woods in McMinn County knows the weather can be fickle.
"It's a risky business and you're kind of at the mercy of Mother Nature," Woods said. "We never complain when it rains, even if it's too much, because we know that we're going to get to a point where we wish we had it."
CHATTANOOGA WEATHER RECORDS
National Weather Service climatological data lists Chattanooga area weather extremes recorded since 1879.
Highest temperature: 107 F, July 1, 2012, and June 30, 2012
Lowest temperature: -10 F, Jan. 21, 1985, Jan. 31, 1966, and Feb. 13, 1899
Highest rainfall total in one day: 9.49 inches, Sept. 5, 2011
Highest rainfall total in one month: 16.32 inches, March 31, 1980
Highest rainfall total in one year: 73.70 inches, 1994
Most snow in one day: 18.5 inches, March 13, 1993
Most snow in one month: 20 inches, March 31, 1993
Most snow in one season (Dec.-Feb.): 22.2 inches, 1917-1918
Most snow in one year: 22.7, 1992-1993
Source: National Weather Service Chattanooga Climate Page
Contact Ben Benton at bbenton@timesfreepress.com or 423-757-6569. Follow him on Twitter @BenBenton.