Elaine Winer, of East Ridge, uses the "Jewish Holiday Kitchen" cookbook as her guide for making latkes, a kind of potato pancake. Back when she and her husband, Sanford Winer, were raising their children, they held Hanukkah bashes at their house. Few dared venture into the kitchen as Elaine deployed several oil-soaked pans at once -- using every burner at her disposal.
"I would make tons of latkes, " she said. "Tons and tons and tons of latkes."
Now the Winers' children are grown and far away, and Thursday night, her latke operation required just two fry pans. As Chabad Chattanooga's Hanukkah on Ice Menorah Car Parade ran downtown, the longtime couple, whose personal histories in many ways trace that of the greater Jewish community in this town, enjoyed a quiet evening at home.
The Winers' grandparents were among the millions of mainly East European Jews who immigrated to the U.S. starting around 1890.
Fleeing a draft that was pulling Jewish Latvians into the Russian imperial military ("that was the end of their life basically," Sanford Winer said), one of his grandfathers, upon coming to America, got connected to a Chattanooga-area Jewish businessman who ran a wholesale pack peddler supply business.
His grandfather's domain was Meigs County, Tennessee. He took the train or riverboat from Chattanooga to Decatur and journeyed by horse and wagon to farmhouses to sell dry goods, clothing materials, pots and pans, and take orders for the next time he came around.
Sanford's grandmother came from Latvia to join his grandfather, and their first children were born during a period when they lived in Decatur, Sanford said.
But in Chattanooga, foundries were emerging to produce metal products, and the city was booming, Sanford said. In the early 1900s, his grandfather moved to town to open a store.
THE FIFTH CANDLE
The Winers have many menorahs. One, which is defectively fragile, Sanford bought for Elaine after seeing an advertisement in The New York Times. One belonged to Sanford's mother. One is of Israeli origin. It wobbles a bit. A few years ago, Elaine made the colorful glass-based one that sat on their dining room table Thursday evening.
Hanukkah, a relatively minor Jewish holiday that has taken on special prominence in the U.S. -- Sanford called it "an American Jewish holiday" -- traces back to pre-Christian times, when a Jewish group fought back oppressors to reclaim a holy temple. Re-sanctifying the space required lighting a menorah, but the available oil only seemed sufficient for a day, Elaine said. Miraculously, the story goes, the flame lasted eight nights.
"That's why oil has come to be a big factor in the celebration," Elaine said.
She turned to her husband. "Do you want to do it, Sanford?"
"Sure."
"Forgive our voices," she said.
Photo Gallery
Hanukkah at home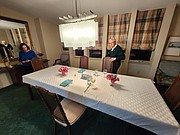 He leaned down and lit the shammash -- a helper candle used to light the others -- while the couple sang a prayer in Hebrew.
The lighting of the fifth candle marking the fifth day of Hanukkah did not give way to gifts, as when the children were home and they opened one every night. The Winers moved straight to briskets, green beans and the latkes – which have an initial salty crunch that gives way to the soothing warm flow of oil on the tongue.
"FOR BOTH OF US"
Growing up on what is now known as the North Shore, Sanford hung out with his mostly Jewish friends at the B'Nai Zion synagogue or at the Jewish community center, which was then on the downtown side of the present-day Veterans Bridge, he said. There they mingled with children from the Mizpah congregation and played basketball.
Sanford went to university and worked one summer at his father's store. He said "never again," and went on to work summer camps and met Elaine.
He served in Okinawa while she went to the University of Florida. They spoke over ham radio. Elaine remembered, upon learning Sanford was calling, racing through the dorm halls to the public phone. They had to indicate they were done speaking by saying: "over."
Eavesdroppers abounded. When Sanford came to visit, Elaine said, her friends put up a big sign: "We love you Sanford. Over."
They married. She left college early and moved with him to the Chattanooga area.
"Good thing," Sanford said, laughing, "for me anyway."
"For both of us," said Elaine, who at 21 years old got a job teaching high schoolers. Early on, she said, she learned home rooms were supposed to raise money for the "Bible Love Offering" to fund the Bible in the Schools program.
Bristling at what felt like a violation of the separation of church and state, she remembered telling the students, "That's illegal, and we're not going to do it in this home room."
She wrote a letter to the Supreme Court. She remembered getting a nice note back. Meanwhile, at the school, her students, eager to participate in a fundraiser framed as a competition, raised the money anyway on their own.
Elaine became a lawyer, and Sanford an accountant, embodying the dynamics of a local Jewish population that would ultimately shrink as a merchant class birthed more professionally-inclined children, who in many cases went off to bigger cities like Atlanta, Sanford said.
The Jewish Federation of Greater Chattanooga recently launched a billboard-based campaign enjoining Chattanoogans to call out Jew-hate, the history of which runs deep in the area. One time, a guest abruptly canceled a dinner party set to take place at the Winers' dining room table. A man, they recalled, had been arrested with explosives -- and a list bearing their guest's name.
Still, they've found reason for optimism. One time, Elaine remembered, she was assigned to a client whose father was an outspoken Jew-hater. Nervous, she broached the subject.
"And before I could say another word, he said, 'My father was so-and-so, and he was a terrible racist and antisemite. I am not anything like him, and I hope that we can just go from there.'"
Contact Andrew Schwartz at aschwartz@timesfreepress.com or 423-757-6431.