Medical leaders are pleading with the community to help bolster the local blood supply for when disaster strikes as low blood donor turnout persists.
Dr. Elizabeth Culler, medical director at Chattanooga-based Blood Assurance, said that until 2021, the nonprofit had never been forced to tell providers to suspend non-emergency surgeries due to its dangerously low blood supply.
"Last year, we did that five times," Culler said at a news conference Tuesday.
Not only are fewer people donating blood since the pandemic began, many businesses are no longer hosting blood drives as their workers continue to work from home. Those that are scheduled may wind up canceled because people are sick or in quarantine for COVID-19, she said.
The need for more blood prompted Blood Assurance to join the Blood Emergency Readiness Corps - a group of 29 blood centers across the United States that collaborate to reserve extra units of blood and share those with centers that need them during mass casualty disasters, such as the December 2021 tornado outbreak that killed at least 77 people in Kentucky.
Photo Gallery
Chattanooga medical officials say blood donors needed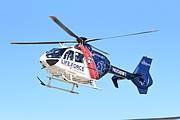 Blood Assurance's coverage area stretches as far north as Bowling Green, Kentucky, and in the path of the storms.
"We knew we did not have enough blood," Culler said. "So we called the head of BERC, we relayed what the emergency was. He agreed - absolutely - we need to activate, and the blood just started rolling in later that night."
While the new partnership provides a safety net for disasters, it doesn't help the daily need.
As the area's Level 1 trauma center, Erlanger Medical Center uses more blood than any other hospital in the region.
Dr. Robert Maxwell, an Erlanger trauma surgeon and Life Force air medical director, said the hospital performs on average 10 to 15 massive blood transfusions per month - and it's not just trauma patients who need blood. Pediatric patients, high-risk obstetrics patients, stroke and other emergency surgeries all can rely on large quantities of blood.
Though Erlanger hasn't run out of blood yet, Maxwell said the hospital has been close several times throughout the pandemic.
"You never want a patient to succumb because there wasn't enough blood to get them through their surgery, or get them to where we control the bleeding," he said.
J.B. Gaskins, president and CEO of Blood Assurance, said blood centers are the stewards of blood, but it's up to people to supply the life-saving treatment.
"It's the responsibility of the communities at large to make sure that we have a safe and adequate blood supply at all times," Gaskins said. "And if we didn't have that, we could never be able to take care of the blood needs of an individual community, much less multiple communities, which Blood Assurance does throughout this region."
Contact Elizabeth Fite at efite@timesfreepress.com or 423-757-6673. Follow her on Twitter @ecfite.