For many students at Orchard Knob Elementary, staying home has been a choice they made to avoid the embarrassment of wearing the same dirty clothes to school another day.
Orchard Knob Elementary has a 31% rate of chronic absenteeism, which is defined as missing 17 or more days of school per year, said Bailey Gibson, Community Forward school coordinator at Orchard Knob Elementary.
A new initiative under Chattanooga Mayor Tim Kelly, Community Forward is a partnership between the city and Hamilton County Schools with a goal of eliminating barriers to learning faced by the district's students by working with community partners and nonprofit resources to address student needs outside the classroom so they can focus on learning when they are in the classroom, Gibson said.
(READ MORE: Chattanooga will fund wraparound service coordinators in 7 Hamilton County schools)
"Our goal is just to get them in the building," she said. "We feel if they're here, they're safe and they can focus on what they're here to do, which is learn and grow as a student."
One of the challenges she found students facing was a lack of access to laundry facilities. To eliminate that all-too-common barrier to learning, Gibson approached Goodwill Industries of Chattanooga about donating a washer and dryer to the school, where she washes clothes for students who need it and returns them at the end of the day.
She said her goal is to eventually allow parents and families of students to sign up for time slots to do their laundry at the school, where they would have access to computers to fill out job applications and work on resumes while they wait for their clothes to finish.
HOW TO HELP
Orchard Knob Elementary is in need of laundry detergent and fabric softener. If you want to help, you can reach Community Forward School Coordinator Bailey Gibson at 423-303-9892 or [email protected]
The issue isn't isolated to Orchard Knob Elementary.
School board member Joe Smith, of Hixson, knows the situation all too well.
Several years ago he made donations of washers and dryers to a few area schools, including Brainerd High School and East Lake Academy, when a participant in the Youth Community Action Program he led brought to his attention the need for laundry facilities that many students face.
"We had this little boy who was coming to our program every afternoon, and he had pretty bad body odor," said Smith, who bought him some personal hygiene items and told him that because he was becoming a young man, he needed to start bathing every day with soap.
But the next day he came back and he still had body odor, and Smith heard the other kids making fun of him. Since it didn't seem like they made any progress with their previous conversation, he told the boy - who lived with his aunt -that he wanted to take him home and have a talk with his aunt.
Photo Gallery
Orchard Knob Elementary's donated washer and dryer help fight chronic absenteeism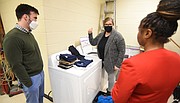 <

Smith immediately realized what the problem was when he pulled into the driveway of the boy's home in East Lake. There was a water hose running from the outside of the neighbors house into a window of the boy's house.

"It made perfect sense why he wasn't taking care of himself," Smith said. "What 12-year-old kid is going to get up in the morning and take a bath with a water hose in the middle of February?"

And if he didn't have running water in the house, he definitely didn't have a washing machine.

"So many of these kids, they'll wear the same clothes for three, four, five days in a row to school. People just struggle, and it was just a way to try to help," Smith said of why he decided to acquire laundry facilities for schools.

Some of the schools, including East Lake Academy and Orchard Knob Elementary, have "care closets" with donated clothes and other items kids can use. Laundry facilities are another way to help address the persistent need.

(READ MORE: Orchard Knob Middle School's Care Closet helps meet student needs 'from head to toe')

Smith also got a washer and dryer for the youth program's boxing gym that family members could use while their children participated in the program.

"You go to the laundromats nowadays, and it'll cost you $3-$4 to wash a load of clothes, and that's a lot of money to some people," Smith said. "The beauty of that was not just the fact that we were able to help them get their laundry done, but you had that mother or that grandmother sitting there with you for two hours. So it turned into a counseling session with that mom or that grandmom to talk to them about parenting or things that maybe they should look at.

"So a washer and dryer became a counseling tool."

Contact Emily Crisman at [email protected] or 423-757-6508.