An odd result of the pandemic is that Chattanooga's comedy-club scene got a shot in the arm. A joke jab, so to speak.
Month after month, comedians from New York City gather here to play a pop-up comedy show in the lobby of Bode, a boutique hotel at 730 Chestnut St. They do it, in part, as tribute to a friend, Jeff Greenspan, a diminutive, self-described "gay, Jewish guy" who fled New York for Chattanooga during the first wave of the pandemic in 2020 and never moved back.
Greenspan, 51, attributes his move here, in part, to being shown a two-bedroom North Shore condo for sale. It was unit No. 420 (coincidentally, the numerical equivalent of a secret handshake in marijuana culture), and the property was represented by a real estate agent named Michael Jackson. Greenspan took both facts as signals from the comedy gods that he needed to relocate here immediately.
Also, Greenspan said, he bought the condo because he realized he could use it as a base camp for his comedian friends - some fledgling, some more established. A few were already working bigger comedy rooms in Atlanta and Nashville. While they are here, some manage to clock a little stage time a few blocks away at The Comedy Catch at the Chattanooga Choo Choo, the city's dominant comedy club.
Soon, some of New York's estimated 5,000 "working" comics, most of whom had never been to Tennessee, were talking about "the Chattanooga run" and using the Scenic City as a hub for a week or two of performances around the South.
Through force of will, Greenspan has created a twice-monthly, Friday night comedy show he calls "Carpetbagger's Comedy Night," where customers pay 10 bucks to feast on a comedy buffet featuring New York (and regional) comedians.
"The reason I come [to Chattanooga] is that he cares so much," said Eric Neumann, an up-and-coming New York-based comedian who has appeared on Comedy Central, Netflix and just last week on "The Tonight Show with Jimmy Fallon." "It all starts with Jeff. It's cool to start in a smaller market and help build up the comedy scene.
"New York is the major leagues. It's unbelievably competitive and sometimes extremely daunting. Sometimes you have a better shot of making it somewhere else."
Added Dan Pulzello, another New York comedian who appears on Greenspan's shows here, "Nothing personal, but I had never heard of Chattanooga before Jeff."
Photo Gallery
Chattanooga: A Southern base camp for New York comedians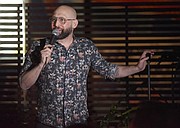 Fittingly, Bode is in the shadow of Cameron Hill, which was reportedly a nest for entrepreneurial Northerners who moved here in the 19th century - yes, some called them carpetbaggers.
Greenspan, and others, have come to believe that the comedy shows at Bode, which consistently sell out and have many repeat customers, represent a "new" Chattanooga, where transplants from urban centers such as New York can find a sense of community along with open-minded locals who value geographic diversity.
"This pandemic has helped people realize in the arts community that you don't have to live in New York, Los Angeles or Chicago," Greenspan said in an interview.
A simulation?
Greenspan, an aspiring comic himself who was formerly the first "creative officer" at BuzzFeed, does a comedy bit about Chattanooga in which he muses the city might be a simulation.
Maybe Chattanooga is a made-up, virtual reality world whose designers were simply too lazy to give the landmarks proper names. Look, he tells audiences, "There is a building here with a dome on it called 'the Dome Building.'" And, get this, he added, "There's also a girls preparatory school near my house called 'Girls Preparatory School.'"
And, if that doesn't settle it, Greenspan said he met two Chattanooga fitness instructors recently who introduced themselves as "Kyle" and "Kyle."
As they say in the South: Dang, son.
Makeshift stage
When Greenspan first came to Chattanooga in 2020, the comedy clubs in New York were all closed because of the pandemic. He arrived here for a temp job working as a "comedian in residence" at the Humanaut branding and advertising agency.
With the ad group, he worked on campaigns for clients such as Liquid Death canned water. He was part of a team that created a "Killer Baby Namer" generator that came up with inappropriate monikers for infants such as "Doctor Murderbones" and "Slither Doombringer."
He was living at Bode at the time and thinking about his next move. Nobody knew when the clubs in New York would open again, which left Greenspan wondering if he could turn the lobby of his hotel here into a makeshift comedy stage.
He said the Bode management liked the idea of creating a swell of activity for its customers during a period of flat tourism and business travel, so the Carpetbagger's Comedy Night was born. Cafe tables and chairs were clustered on one side of the lobby. Meanwhile, a small stage cobbled together from a broken pingpong table was positioned near the front windows. There was room for about 20 customers in the beginning due to pandemic social distancing guidelines, but now it's up to 65. There have been 19 sold-out shows in a row.
"It takes a good bit of work, but it's worth it," said Michael Palmer, assistant general manager at Bode. "It gives us the sales we need and introduces the community to the hotel. It's a selling point for our hotel. It gives [our customers] something to do on a Friday night."
Greenspan wanted a place where he could continue honing his comedy act while providing his comedian friends a refuge from the frenzy of the Big Apple. Many of those "working" comedians in New York City are paid a pittance, Greenspan said, or are even required to bring paying friends to get stage time at clubs.
"The comedians pay for their own travel down [to Chattanooga] and I give them a place to stay," Greenspan said. "And they pick up a run of shows."
Step right up
On the first and third Friday of each month, the lobby of Bode transforms into a comedy club. The comedians take the stage at 9 p.m. and exit before 11.
On show nights, Greenspan - the producer of the action - bounces around the room like a wedding planner. He checks digital tickets, prompts laughs and generally caffeinates the room. He said he doesn't want to be photographed in a knitted cap because it makes him look elfish, but he doesn't mind talking about it for a laugh.
The Bode lobby is filled with floor-to-ceiling windows that allow passers-by to see the comedy audience huddled inside. When the shows started, it was just for Bode guests. Later, when the numbers were allowed to grow, Greenspan would hit the streets like a carnival barker and herd people into Bode. Step right up y'all and see the funny people from New York. Nowadays, pedestrians who wander in off the street are often politely turned away because the shows sell out in advance.
The front desk doubles as a bar, where customers stand in line for their drinks. On a recent Friday night, some ticket-holders were carrying $11 burgers and fries from a food truck outside. Meanwhile, a carefully curated musical playlist energized the lobby crowd with music from the Talking Heads, Depeche Mode, Meat Loaf, Britney Spears, Wilco, They Might Be Giants and other 20th century bands.
Rachel Grundy and Scott Morris, two New York transplants, ran the sound system. Grundy, who is originally from the U.K., was an actor, singer and stage manager in New York before moving here. The two, who are husband and wife, now work for ButcherBox.com, an online meat and seafood delivery service.
The pair said they started coming to Bode shows because they were looking for edgy echoes of the New York comedy scene and soon became good friends with Greenspan, who ended up coming to their outdoor wedding here last April.
"We saw Jeff's post [about the show] on Reddit, and we had just moved here from New York City," Morris said.
"We work in the tech industry, so we can work anywhere," Grundy said. "There are quite a lot of people here who have moved from New York."
Said Greenspan, "Rachel and Scott have been to every show, except two.
"[Other] audience members have offered to open their homes [to comics]," he said. "At the last show, there were a bunch of people here who have moved down from Brooklyn."
Indeed, Greenspan said, the audience at the Bode shows is a mixture of locals and transplants, and many new friendships have developed over drinks and laughs.
Said Dan Pulzello, a comedian who has done multiple shows here, "You've got locals and transplants; and any time you get a mixture like that, it makes a good experience."
Greenspan said he thinks a lot about the cultural implications of New Yorkers moving to a medium-sized city in the mid-South such as Chattanooga. Most of the time he feels welcome here, he said, but a few times he has felt awkward, maybe a little unwanted.
"Sometimes it creates some tensions, like, 'You ain't from around here, are you?"' he chuckled.
On balance though, he said he finds Southerners more tolerant and willing to listen to others' beliefs than New Yorkers, even when they disagree.
"I think I've become a better listener [here]," Greenspan said. "I feel like Southerners are more willing to listen to you, too. I feel like New Yorkers are much more likely to shove their ideology down your throat. In New York everybody is ready to fight. People here are more chill."
Greenspan admitted to uttering an occasional "y'all" and sometimes has heard himself saying, "bless your heart." Meanwhile, he said, his move here is being validated professionally. Later this month, he will be the headliner at a comedy club in New York, but he said he has no desire to move back.
Meanwhile, the carpetbagger show is fully booked with comedians through June, he said. Comics are asking to come here now.
"The more good comedy on stage here in Chattanooga, the better it is for everybody," Greenspan said.
He said there's room to grow the Bode show some, maybe to 70 seats. Any more than that, though, and it might lose some of its charm.
"I don't want it to become like a rock concert or a wrestling match," he said.
Contact Mark Kennedy at mkennedy@timesfreepress.com or 423-757-6645. Follow him on Twitter @TFPcolumnist.