At least one case of someone infected with both influenza and coronavirus - a condition being dubbed "flurona" - has been detected in Hamilton County, according to the director of a local COVID-19 testing lab.
Athena Esoterix staff detected the case of flurona this week at their temporary community testing site on Signal Mountain Road, which they officially opened to the broader public on Monday in an attempt to accommodate the region's high demand for COVID-19 testing.
Although not a new phenomenon, the incidence of flu and COVID-19 co-infection is gaining attention with cases cropping up across the U.S. as a record-breaking coronavirus surge fueled by the omicron variant collides with flu season after holiday gatherings.
Flurona is not a distinct disease, but The Washington Post reported Wednesday that a flurry of people around the world have been searching the term online in the New Year after Israel reported that two young pregnant women had tested positive for both viruses.
Athena Esoterix founder and technical director Elizabeth Forrester said this week's case of flurona is the only one the lab has detected so far, but many patients who've come through the site have tested positive for either the coronavirus or the flu.
An average of 300 people per day have sought testing through the site this week, and as of Wednesday, roughly 44% of the samples collected were COVID-19 positive, according to Forrester.
She said a fair portion of other samples have been positive for influenza A - which so far this season has been the predominant strain of influenza, according to the U.S. Centers for Disease Control and Prevention.
Patients who come to the site aren't automatically tested for flu, but a flu test may be recommended depending on how patients fill out their intake form, Forrester said.
Photo Gallery
Hamilton County reports first case of 'flurona'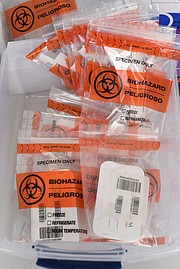 "For people who are symptomatic, [the CDC is] really encouraging COVID and flu tests so you can catch co-infections," she said, which enables sick people to be treated appropriately and access antiviral drugs to combat their illness.
(READ MORE: Tennessee faces omicron surge with 'extremely scarce' supply of antibodies, other COVID-19 treatments)
Holden Young, spokesperson for the Hamilton County Health Department, said in an email that it's unknown whether there have been other local cases of flurona, because "seasonal flu is not a reportable disease," meaning providers aren't required to report positive flu cases to the public health agency like they are for COVID-19. Therefore, the health department would not necessarily know if a COVID-19 case also had the flu, he said.
Similar to how the CDC monitors flu activity, the health department tracks flu-like illness by reports from hospitals and providers reporting the proportion of patients seeking care in order to track overall disease trends.
"The Health Department is always concerned about communicable diseases, especially in the winter months when both influenza and SARS-CoV-2 [the virus that causes COVID-19] are more likely to spread given people are most likely inside, out of the cold weather," Young said.
The public health and medical communities have warned about the possibility of a "twindemic" where both flu and COVID-19 patients overwhelmed the health care system since the novel coronavirus emerged.
While the 2020/2021 flu season was extremely mild - likely due to widespread practicing of COVID-19 mitigation measures, such as masking and social distancing, which also help prevent other respiratory viruses - influenza has resurged to pre-pandemic levels in recent months.
Overall, flu activity is still low nationally but above the national baseline, which represents far more activity than last season, and steadily increasing, according to the CDC.
Like COVID-19, the vast majority of flu cases do not require intense medical care. However, a portion of flu and COVID-19 patients will inevitably wind up hospitalized or die, and the number of those cases will be greater with high levels of transmission - as is the case with the highly contagious omicron variant.
(READ MORE: COVID-19 hospitalizations increase in Hamilton County as record surge of new cases continue)
Forrester said omicron is now responsible for about 98% of the lab's positive COVID-19 samples.
The Hamilton County Health Department reported a combined 1,516 new COVID-19 cases for Wednesday and Thursday, bringing the county to 1,820 new cases per 100,000 residents in the past 14 days and more than doubling the county's new COVID-19 case rate in less than 10 days.
On Thursday, there were 173 hospitalized COVID-19 patients in the county, up from 96 patients two weeks ago.
The health department does not report local influenza hospitalizations.
For more information or to register for testing at the Signal Mountain Road site, visit athenalims.com/walkup.
For other help finding other testing locations in Hamilton County, call 423-209-8383 from 8 a.m. to 4 p.m. Monday through Friday or visit the health department's website at health.hamiltontn.org.
Contact Elizabeth Fite at efite@timesfreepress.com or follow her on Twitter @ecfite.