State Sen. Bo Watson, a Hixson Republican and chair of the Senate Finance Committee, on Thursday night hosted the first of four local town halls to gather public opinion on Gov. Bill Lee's proposed overhaul of the state's public education funding formula.
Held in Red Bank, the forum drew several dozen people.
The current "resource-based" funding formula, which has remained unchanged for about three decades, is a based on 46 different factors that determine how funds are distributed to school systems. The new funding framework proposed by Lee is based on per-student calculations, with more weight given to students with unique learning needs and those who attend charter schools or live in poverty or rural areas.
Watson, who is serving on a subcommittee for the overhaul effort that looks at funding formula challenges and changes, was joined at the forum by Sen. Todd Gardenhire, a Chattanooga Republican who is co-chair of the legislature's Fiscal Review Committee and is serving on a subcommittee for the funding overhaul focused on English language learners.
Jenny Hill, who represents District 6 on the Hamilton County school board, said the funding formula draft released by Lee on Tuesday addresses some of what she feels are the biggest needs that are missing the current funding formula, including increasing the ratio of school counselors and nurses to students.
Photo Gallery
Hamilton County education forum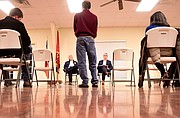 Hill asked the state representatives to also consider the value of the arts, foreign language, post-secondary opportunities, technical education, physical education and after-school enrichment, such as tutoring and clubs.
"These are things that can be really transformative to students, and I think are some of the hooks that help a child who falls into some of the weighted categories, whether it's a special learning need or they're in poverty," she said.
Marisa Moyers, school health program manager for Hamilton County Schools, said her program that serves 79 schools gets the same amount of money that Bradley County's program receives to serve its 16 schools.
Red Bank Mayor Hollie Berry said she'd like universal access to high-quality pre-K to be considered in the new funding formula and echoed Hill's request for the arts to be considered as well.
Ben Connor also advocated for arts and language to be included in the formula.
"Languages are the key building blocks to opening doors in all sorts of avenues," he said.
As a member of the board of directors of a preschool, Northside Learning Center, Connor agreed with Berry that pre-K should be factored into the formula.
Katy Spurlock said she appreciates the weighted measures for low-income students, English language learners and students with special education needs. She also brought up the need for arts, language and universal pre-K, as well her belief that the student-teacher ratio in pre-K and kindergarten should be reduced.
"We need to do better by our teachers," she said. "Our teachers need better resources. They need better pay, they need professional development opportunities that they can get paid for.
"We're seeing in our state and around the country an exodus of teachers from the profession, to things that pay higher that are not near the importance to society in terms of what teachers do."
Three more town halls are scheduled on Thursdays through Feb. 3 at 6 p.m. The next forum is Jan. 20 at Abba's House in Hixson, followed by another on Jan. 27 at Collegedale Commons and the final forum is Feb. 3 at the Highway 58 Volunteer Fire Department.
Contact Emily Crisman at ecrisman@timesfreepress.com or 423-757-6508.