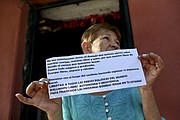 Federal agents arrested a man Wednesday for possessing a firearm at the scene of the early Sunday morning shooting incident on McCallie Avenue in Chattanooga that killed three and wounded 14.
Agents with the U.S. Bureau of Alcohol, Tobacco, Firearms and Explosives and the Federal Bureau of Investigation, as well as Chattanooga police, took Garrian King into custody and charged him with being a felon in possession of a firearm, according to a news release from the U.S. Attorney's Office for the East District of Tennessee.
King made an initial appearance Wednesday before U.S. Magistrate Judge Christopher H. Steger in U.S. District Court in Chattanooga. King was detained without bond.
"The U.S. Attorney's Office is committed to working with all of its law enforcement partners to protect our community through the vigorous enforcement of federal criminal gun laws," U.S. Attorney Francis M. Hamilton III said in the news release. "Yesterday's charge is the result of the tireless, around-the-clock work by, and collaboration among, the Chattanooga Police Department, the ATF, and the FBI, which continues unabated."
Chattanooga Police Department Chief Celeste Murphy said her department would continue to collaborate with other agencies.
"Immediate deployment of all resources typically yields the best results," she said in the release. "We will continue to collaborate with our law enforcement partners in order to bring those responsible to justice and secure the safety and freedom of all Chattanoogans."
Also Thursday, Chattanooga police announced making an arrest in the May 28 mass shooting downtown that injured six teens.
A 16-year-old turned himself in to the Hamilton County Juvenile Detention Center on Thursday, according to a news release from the Chattanooga Police Department. He was not identified because of his status as a minor. He was charged with six counts of attempted murder, unlawful possession of a firearm and possession of a firearm during the commission of a felony.
Chattanooga Mayor Tim Kelly applauded the arrests Thursday afternoon.
"Thanks to the tireless work of the Chattanooga Police Department and our federal partners, an individual was arrested yesterday in connection to the acts of violence that occurred early Sunday morning in Chattanooga on McCallie Avenue," he said in a Thursday afternoon news release. "I want to thank the U.S. Attorney's Office, the ATF, and the FBI for their collaboration in bringing those responsible to justice. Their partnership is a vital part of our ongoing strategy to address violent crime in our city.
"I also want to recognize the hard work by CPD's Fugitive Unit and the Bradley County Sheriff's Office in making a second arrest in connection with the downtown shooting that injured six of our city's youth. We will continue to relentlessly pursue those who use firearms to settle their differences, alongside our federal and community partners."
This is a developing story. Stay with the Times Free Press for updates.
- Compiled by Colin M. Stewart