Are you kidding me? Four-point-three seconds on the clock? Ninety-four feet from the basket? Down two points to reach the NCAA Tournament?
Can you say Oh-No?
Could University of Tennessee at Chattanooga sixth-year senior guard David Jean-Baptiste say Oh-Yes?
There are moments in sports you'll never forget, especially in college basketball. What happened in those final 4.3 seconds of overtime on Monday night in the Mocs' Southern Conference championship game against Furman will forever more be the ultimate One Shining Moment for Moc Maniacs everywhere.
Or as UTC assistant Eddie Shannon told Jim Reynolds, the Voice of the Mocs, of the 35-footer Jean-Baptiste launched just ahead of the horn: "You think the game is over. The (Jean-Baptiste) shot goes up. Boom! It's March Madness."
Unbelievable. Does it get any better than this? Seriously.

This. Is. March. cc: @JonRothstein @Nothing_ButNet x #GoMocs pic.twitter.com/60U8pFA2xE

— Chattanooga Mocs MBB (@GoMocsMBB) March 8, 2022
Boom! From 63-61 down, the Mocs won 64-63. From seemingly beaten with 4.3 seconds to play, the game virtually over, UTC now finds itself in its first NCAA Tournament since 2016.
March Madness, indeed. Or should that be Mocs Madness? Sure, it was about to be a pretty mad Mocs fan base before that shot. All season long UTC had been the best team in the SoCon, blessed with size, experience and the league player of the year in Malachi Smith. If this team couldn't reach the NCAA tourney, when could the Mocs ever be expected to get there again?
And, of course, they had Jean-Baptiste, who was on the roster before head coach Lamont Paris arrived five years ago. Jean-Baptiste, who had become such a fixture around both the campus and the town that he'd earned the nickname "The Mayor."
Then again, prior to overtime, DJB was having one of those games that everyone cheering for UTC Blue and Gold would gladly have voted him out of office. He was 3 of 14 from the field overall. He was 1 of 7 from the 3-point line.
Or as Paris described the first 40 minutes for DJB: "Awful game offensively."
But that's also the beauty of March Madness. The goat can deliver the Greatest (Moment) Of All-Time with a single shot.
Said Paris, "Poetic justice."
Photo Gallery
UTC vs. Furman on March 7, 2022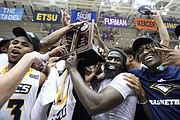 Paris himself almost wrecked it all. As Jean-Baptiste started up the court in those final 4.3 seconds, the Paladins on top 63-61, he started to call timeout.
"I would have messed it up," Paris said afterward. "Glad I didn't get it. That's why they play and I sit in a little chair."
He had called them together before the game, these regular-season champs, this seemingly superior team and told them, "This is why we were running hills in August. This is why we lifted weights. We did it for this day. In August I knew we had a date with this day. And now that day is here."
Yet it had looked like anything but the right day in the opening half. Furman bagged five 3-pointers, as befitting a team that hit more 3-pointers than any other team in college basketball during the regular season. The Mocs missed all but one. The Paladins, having twice lost to UTC during the regular season, entered halftime up 26-16.
As Shakespeare once penned, "Uneasy lies the head that wears the crown."
Still, all that nervousness and uncertainty appeared to be much ado about nothing when the Mocs grabbed a 40-32 lead midway through the final half. This was the team that many predict can duplicate the 1997 Mocs run to the Sweet 16, a team of immense defensive skills and offensive smarts. Order was restored. And superiority. The league's automatic NCAA bid seemed little more than a formality.
But the Paladins hit some miraculous 3-pointers down the stretch. UTC got a little sloppy with the ball. Overtime arrived. Then that two-point Furman cushion with 4.3 seconds to go, despite an earlier triple from Jean-Baptiste to tie it.
Yet to look back over the last couple of days of college hoops is to know a lot can happen at the finish. The Kentucky women shocked No. 1 South Carolina on a late triple after trailing the Gamecocks by 14 in the final quarter. Tulsa's Jeriah Horne hit one at the horn from beyond half court to stun Central Florida on Sunday. This is the time for March Madness and March miracles and UTC handed its fan base both in those final 4.3 seconds.
Between now and NCAA tourney Selection Sunday, expect Jean-Baptiste's shot to fill ESPN's and CBS's broadcasting windows for hours on end. It might even replace, at least for a season or two, that shot Duke's Christian Laettner hit to beat Kentucky some 30 years ago in 1992.
It was that big and that unlikely and that amazing.
And don't dare inject the word "luck" into it in the presence of the SoCon tourney champion Mocs.
"It wasn't easy," said Malachi Smith after freeing himself from the pile of humanity that blanketed DJB a second after his game-winner. "We don't care. We're going dancing."
At some point, their feet might even touch ground.
Contact Mark Wiedmer at mwiedmer@timesfreepress.com.