PITTSBURGH - University of Tennessee at Chattanooga men's basketball coach Lamont Paris sat at the podium late Friday night, visibly upset. Next to him sat two of his UTC players, senior Silvio De Sousa and sophomore Malachi Smith.
The wild ride of a season, with more smooth roads but a few bumpy spots, had come to a crushing conclusion, with Smith's final attempt glancing off the back iron and giving Illinois a 54-53 win over the Mocs at PPG Paints Arena in the first round of the NCAA tournament.
Over the course of the season, this Mocs team had proven it could win big games with an experienced roster, but most of that was done in a sort of obscurity not uncommon for mid-major conference programs.
But this was the big stage, and sometimes the team that plays the best isn't the one that gets the win. The 13th-seeded Mocs had done that, with the Southern Conference champions jumping out to a 14-point first-half lead and holding the advantage on the scoreboard for 38 minutes and 34 seconds of game clock to just 25 seconds for fourth-seeded Illinois (23-9) of the powerful Big Ten.
So yes, the emotions in the moment were warranted - because the Mocs lost a game they had every chance of winning.
"This group is a different group," said Paris, a former Wisconsin assistant who wrapped up his fifth season in charge at UTC. "They're abnormally close and connected and abnormally fun to be around, and they let me coach them. I've done this a long time, and I respect that every team is different - some in great ways, some in not-so-great ways, but this is an incredible, incredible group to be around, and honestly, when I say that, it has less to do with what they do on the basketball court.
"They're good, they have a good team, they play well, they played well together, and they let me coach them. They let me come along."
Photo Gallery
UTC vs. Illinois men's basketball on March 18, 2022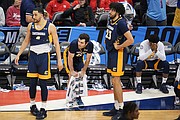 Paris restored the program back to a place it hadn't been since 2016, and he basically did it from the bottom. Ten wins with the youngest roster in the country in 2017-18, to 12 the following season, to 20, 18 and then 27 this season (with eight losses). UTC's 2021-22 roster was filled with experience, too: Of the nine players who touched the court Friday, five of them were seniors and three others were in their fourth year of college.
They came from different places. Seven of those nine players started their careers elsewhere. But they knew they were good. Not just SoCon good - though they proved that by sweeping the league's regular-season and tournament titles - but nationally good. And they had a chance to defeat the Illini, who were 0-2 all-time against the Mocs prior to Friday and were extremely close to 0-3.
Paris took so many chances on so many different guys, and it almost paid off with the program's biggest win since the Sweet 16 run of 1997. Instead, the Mocs' quest for their first NCAA tourney win since that year remains unfinished.
The players who made this season happen, though, are gratefl for what it meant.
"I was just looking back at my past two or three years in college, and look where I am at now," said former Kansas player De Sousa, who had eight points and three assists against Illinois. "I don't know if I have the words to say how much I'm thankful for the opportunity Chattanooga has given me, because Coach Paris, he showed me love. They showed me love: My brothers, my teammates, they showed me love every single day. I'm just thankful."
Smith led the Mocs with 12 points, adding eight rebounds and three steals. Darius Banks had eight points and 13 rebounds, while KC Hankton finished with six points before injuring his ankle in the second half. The Mocs outscored Illinois 36-24 when he played and were outscored 30-17 when he didn't.
De Sousa, Hankton, Josh Ayeni and Avery Diggs were tasked with trying to slow down 7-footer Kofi Cockburn, who finished with 17 points and 13 rebounds but was largely neutralized in the second half until late. Alfonso Plummer, who knocked down the winning free throws with 12 seconds remaining, hit a trio of 3-pointers in the second half and had 15 points.
"Twenty years from now, the interactions that guys had with each other is what I'll think about," Paris said. "Guys' personalities, all those things that have to do with a team coming together, and that's why we did what we did. I think we have good players, certainly there are teams that have better players than we do here or there individually, but collectively as a group, there are 358 teams, and I feel like a lot of guys would want to coach my team."
Contact Gene Henley at ghenley@timesfreepress.com. Follow him on Twitter @genehenley3.