The Tennessee Volunteers picked a lousy time to produce their fewest 3-pointers of the season.
After making 12 shots from long range against Texas A&M in last Sunday's Southeastern Conference championship game and 14 more during Thursday's rout of Longwood University in an NCAA tournament South Regional first-round mismatch, third-seeded Tennessee shot just 2-of-18 from behind the arc Saturday and stunningly fell 76-68 to 11th-seeded Michigan inside Gainbridge Fieldhouse in Indianapolis.
"We shot the shots that we practice," Vols junior guard Josiah-Jordan James said after a 13-point performance that included an 0-of-6 showing from 3-point range. "For 40 minutes, they didn't go in. Credit Michigan, because they played good defense, but today just wasn't our day shooting the ball."
Hunter Dickinson scored 27 points and Eli Brooks added 23 as the Wolverines won consecutive games for the first time in more than a month and will advance to the Sweet 16 with a 19-14 record. Tennessee, one of the hottest and most consistent teams in the sport the past several weeks, had its season conclude at 27-8.
Kennedy Chandler led the Vols with 19 points and added nine assists, while Uros Plavsic tallied nine points and nine rebounds.
"It's really tough," James said. "We know that we had bigger expectations."
A sobbing Chandler buried his head into the chest of Michigan coach Juwan Howard after the game. Chandler and Howard's youngest son Jett, a 2022 Wolverines signee, played AAU ball together and have known each other since elementary school.
Chandler may have played his final college game Saturday but did not discuss his future afterward.
"I just gave him some words of encouragement," Howard said. "It shows his emotion and that he cares, and as coaches, you appreciate that."
Photo Gallery
Vols vs. Michigan basketball on March 19, 2022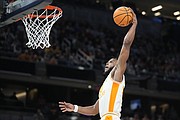 Tennessee was denied a ninth trip to the Sweet 16 and fell to 23-25 all-time in the NCAA tournament. Vols seventh-year coach Rick Barnes was seeking a seventh career trip to the Sweet 16, having made just one since 2008.
Barnes has a 25-26 career record in the NCAA tourney.
"It's very frustrating," Barnes said when asked about another first-weekend exit. "I've been blessed to be here a bunch, and some teams got here that people probably didn't think would get here, and there were some teams we expected to get here, and it didn't turn out the way we wanted it to. I can tell you from experience that whether you lose on the first day or the second day like we did today or you lose in the semifinals, it's the same feeling.
"People can say whatever, but you don't ever take getting here for granted. It is so hard to get here. I've been frustrated a lot in my career, but I'm also very thankful. There are people who never get to taste this."
A Brooks layup and free throw with 3:21 remaining gave the Wolverines a 65-62 lead that they would never relinquish. John Fulkerson was fouled on a tip-in basket with 27 seconds remaining that pulled the Vols within 72-68, but the sixth-year senior forward missed the free throw that could have made it a one-possession game.
"Nobody believed in us," Dickinson said. "Everybody thought that we shouldn't even be in the tournament, and now people who were hating on us before the tournament better watch us next week."
Brooks and Dickinson made 3-pointers within the game's first minute to put Michigan up 6-0, and a Moussa Diabate layup less than three minutes in made it 10-2. A Chandler dunk at the 9:37 mark provided Tennessee its first lead at 18-17, but the Wolverines quickly forged back ahead by six at 30-24.
From there, however, Tennessee closed the half on a 13-2 run to take a 37-32 lead into intermission. A Santiago Vescovi 3-pointer put the Vols up 34-32, and then Plavsic's dunk on an assist from Chandler and ensuing free throw completed the three-point play and accounted for the five-point bulge.
A Dickinson 3-pointer with 13:53 to play in the game put Michigan back up 50-49, and the teams briefly exchanged the lead until a pair of Chandler layups got the Vols back on top 59-54. A James free throw with 8:27 remaining gave Tennessee its largest advantage at 60-54.
While the Wolverines were turning that 60-54 deficit into their 65-62 lead, the Vols had two missed 3-point attempts from Zakai Zeigler and one apiece from Chandler and James.
"We had some good looks," Barnes said. "I would have loved to have seen some of those shots that we shot go in, but that's part of it."
Contact David Paschall at dpaschall@timesfreepress.com or 423-757-6524. Follow him on Twitter @DavidSPaschall.