Each Monday, Gabriel Perez goes through the methodical process of preparing, collecting and shipping raw sewage samples from Chattanooga's Moccasin Bend Wastewater Treatment Facility to be tested for traces of the virus that causes COVID-19.
It's not glamorous work, but public health experts say it's one of the most important tools to help the community spot warning signs of another COVID-19 surge - particularly now that testing and case reports are more sporadic than in the early days of the pandemic.
Perez, an environmental engineer with the city's Waste Resources Division, begins by preparing his work space with the sampling materials sent from Biobot Analytics, a start-up company based in Cambridge, Massachusetts, that specializes in the emerging science of mining wastewater for health information.
Since May 2020, Biobot has analyzed Chattanooga's sewage for genetic fragments of the coronavirus, which are found in sewer water flushed by infected people. Although the science isn't exact, the concentration of these fragments helps shed light on whether COVID-19 is circulating at higher or lower levels in the community - often earlier than is reflected in case reports from health departments.
Photo Gallery
Wastewater sentry stays alert for next COVID-19 surge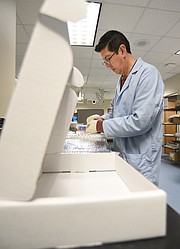 "We think that most people start shedding the virus most when they are first symptomatic, or possibly just before they're symptomatic. That's when it kind of peaks, and then it will stay at that peak for a little bit, and then drop off," said Jennings Heussner, business development manager at Biobot.
Perez ventures across the lab to a jug filled with sewage, then vigorously tilts it up and down to distribute the solids it contains before filling the sampling tubes and making sure the lids are screwed on tight.
The final steps involve packaging the samples in a biohazard bag along with ice packs, then sealing the contents in an insulated box and shipping it to Biobot's Cambridge lab. Results are usually ready within 36-48 hours.
Heussner said data in the report goes through a "normalization" process based on the size of the catchment area and the flow rates of each plant, which accounts for factors such as large rainstorms that could dilute samples, and allows the reports to be compared to treatment facilities in other cities regardless of size.
Each sampling is collected over a 24-hour time period to gather a representative sample of the community, since most people will use the bathroom at least once a day
The most valuable aspect of the report is the graph showing viral concentration over time, he said.
"You can see where this individual sample compares to all the other samples that we've taken at that individual location, and it really gives you a sense of where you are and where you've been," Heussner said, pointing to the peaks representing each surge and the subsequent valleys that correspond with periods of low transmission.
Chattanooga's's treatment facility saw its highest viral concentration during the omicron surge on Jan. 10, with an effective, or "normalized" concentration of 10,122,390 virus particles per liter. At that time, Hamilton County was averaging 645 new COVID-19 cases per day for the week
The latest report based on Monday's sampling found an effective viral concentration of 89,832 particles per liter, and the county has reported an average of five new COVID-19 cases per day in the past week, according to health department data.
(READ MORE: COVID-19 pandemic hits two-year mark in Hamilton County with easing of case counts)
Heussner said there's still a lot to learn about how viral concentration in wastewater might translate to actual caseload in the community.
"Unfortunately, because we're not 100% sure how much virus is shed from each person, and that's doubly true when it comes to these new variants, there's no real way for us to really put a number on the number of cases within a community based on the viral load we've seen," he said. "That being said, generally when the viral load increases, so do the number of people who are infected."
Mary Lambert, director of community health for the city of Chattanooga, said wastewater disease surveillance is useful to help monitor trends but should be used alongside other health data and strategies.
"It seems to be an indicator of when cases are rising, so that makes it of interest and another helpful tool to monitor the health of the public, what's going on, what might be coming," Lambert said, noting that it "shouldn't replace the other things in public health that we should be doing," such as continuing to get more people vaccinated against COVID-19.
Though it's unlikely that widespread COVID-19 mitigation measures will be required across the Chattanooga region, monitoring wastewater reports is another way residents can make informed decisions about when to wear masks in public or avoid crowded indoor spaces.
And with the seemingly most transmissible BA.2 omicron subvariant driving the latest worldwide surge, experts say it's only a matter of time before Chattanooga sees its next wave.
Contact Elizabeth Fite at efite@timesfreepress.com or 423-757-6673. Follow her on Twitter @ecfite.