With housing costs climbing to record levels and wages failing to keep up, Chattanooga Mayor Tim Kelly on Thursday unveiled plans for a $100 million affordable housing initiative over five years.
"In a very real way, Chattanooga faces a crossroads," Kelly said in a news conference in front of City Hall, adding that housing affordability is increasingly intolerable and helping drive homelessness.
He said the city plans to put up $33 million in "seed" money in the upcoming budget without raising taxes. The remaining two-thirds funding is to be raised working with nonprofit groups, banks, foundations and other entities.
Kelly expects that thousands of affordable homes will be created and rehabilitated in what the city is calling the largest such effort in its history. The first projects will see funding by the end of this year, the mayor said.
He said the effort will involve apartments, single-family homes, duplexes and other housing types across the city.
"All of the above," Kelly said. But he said there's no talk of building huge "Eastern bloc" types of developments, which were raised in the former Soviet Union and nearby countries.
"We're talking quality developments in keeping with the character of neighborhoods," Kelly said.
While the mayor said more funding details will be revealed later, the city plans to use tools including grants, partnerships, direct investments and incentives for housing providers.
Photo Gallery
Affordable housing initiative in Chattanooga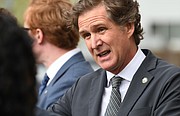 Also, Kelly said the city plans to leverage the federal infrastructure bill and the American Rescue Plan Act, part of which provides grants to states and local governments for financial assistance to households for rent, utilities and other housing expenses.
Affordable housing is considered 30% or less of a person's income, according to the city. Kelly said the city is targeting a mix of workforce housing, missing middle-class housing and "supportive and transitional housing."
Doug Fisher, the Home Builders Association of Greater Chattanooga's executive officer, said that while all the initiative's details aren't known, he applauded Kelly for taking on the affordable housing problem.
"It's a right first start," he said in an interview.
City Councilman Darrin Ledford, of East Brainerd, said outside City Hall that it's exciting looking at the issue "seriously and doing it intelligently" without a tax increase.
"It's a testament to the administration's commitment," he said, adding that more funding details will come out during discussions of the city's next budget.
The mayor said home costs have nearly doubled over the past seven years.
In the hot housing market, a new study shows Chattanooga area buyers are overpaying by about 35% for homes versus historical trends. That's up from a 24.8% premium just six months ago, according to the Florida Atlantic University and Florida International University study.
The average rent for a two-bedroom apartment between 2016 and 2021 grew from $775 to $1,150, according to a recent report by the Eviction Prevention Initiative.
The mayor said there are no plans for any kind of rent controls in the city.
Kelly said the city has a lot of surplus property suitable for affordable housing units, and he cited entities such as Chattanooga Neighborhood Enterprise as helping in the initiative.
"It's all over the city," the mayor said.
He said he imagined the city's Westside of downtown will hold some of the new or rehabbed affordable units.
Already, the Chattanooga Housing Authority and the city have pledged to maintain an affordable, subsidized housing development there even as rising property values around it push up home prices and rents and gentrify parts of the central city.
In a plan proposed by residents, planners and consultants over the past 18 months, all of the subsidized units in the Westside would be maintained, and there would be a "build first" strategy to ensure new affordable housing is raised before old units are torn down.
"We stand the very real risk of becoming a city where lifelong Chattanoogans cannot afford to live, and that is flatly unacceptable," Kelly said.
Contact Mike Pare at mpare@timesfreepress.com or 423-757-6318. Follow him on Twitter @MikePareTFP.