The certificate accompanying the commendation medal David Ulmer earned from the U.S. Air Force 50 years ago is pretty specific.
It cites then-Sgt. Ulmer's "outstanding administrative knowledge" and "professional competence," both of which "contributed immeasurably to the effectiveness" of Scott Air Force Base, near St. Louis, where he received the medal in October 1972.
"The distinctive accomplishments of Sgt. Ulmer reflect credit on himself and the USAF," said Ulmer, 74, reading from the certificate.
Ulmer himself sees it somewhat differently.
"I didn't do anything special, like saving someone's life," said the East Brainerd resident.
Photo Gallery
Veteran David Ulmer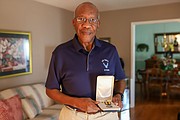 But retired U.S. Army Maj. Gen. Bill Raines said anyone in any branch of the armed forces who works in an administrative capacity, as Ulmer did from 1970 to 1974, is "extremely important."
"It takes everyone to conduct a war," Raines said. "You've got to have a synchronized force, and without the administrative role, you can't do the job on the front line.
"Just because you're not face-to-face (with the enemy) doesn't mean you didn't do a good job," Raines said.
Ulmer said his family came to Chattanooga from Nashville when he was three months old. He graduated from Riverside High School and went on to Morehouse College in Atlanta. He said he chose to enlist after his May 1970 graduation to head off the prospect of being drafted.
"I had a pretty low (draft) number, and I watched every time they called numbers," he said. "They were coming down fairly fast, and I thought there was a pretty good chance they'd get to mine."
Despite eyesight that he said he knew would keep him out of a cockpit, Ulmer chose the Air Force. He said the first flight he ever took was the one that took him from Atlanta to Lackland Air Force Base, near San Antonio, Texas, where he began his basic training.
"I was made a squad leader in basic," he said, "which meant that when people were assigned duties like (mess duty) or latrines, squad leaders got assigned to work in offices.
"You also learned to not sleep too hard," he added. "The training instructor would come through at 5 in the morning to wake us up, and if you were too slow to get up, he'd turn your bed over with you still in it."
From there, Ulmer was stationed at Keesler Air Force Base in Biloxi, Mississippi, where he chose to attend administrative school. Later on, he said, came his stretch at Scott Air Force Base and, finally, at what is now known as Joint Base Charleston in South Carolina.
He said that in Charleston, he went from being an administrative specialist to an education specialist.
"I signed airmen up for everything from GED courses to undergraduate and master's (degree) programs," he said, adding that he eventually signed up himself for a master's program. He said he was discharged in April 1974, just before he completed his coursework, but returned to the base to finish his business management degree.
"The courses were designed for pilots," he said. "A normal semester was 36 hours -- planes would come back in on Fridays, and pilots would be in class Friday nights and all day Saturday and Sunday, every other week, and I was in there with them. That way, you can complete a course in two or three weeks instead of a traditional semester."
Ulmer said he couldn't see making the military his career but added that he benefited from his service experience -- and that similar service would do most young Americans good as well.
"I do believe young (people) should have compulsory service for a period of time," he said. "It builds character and maturity."
BIO
Veteran: David Ulmer
Age: 74
Branch: U.S. Air Force
Years of service: 1970-74
Contact Bob Gary at bgary@timesfreepress.com