Vividiana Lugo Rubio grew up in a family of restaurant workers and owners. The Dalton, Georgia, native said her grandmother in Mexico is a cook, and other family members have owned restaurants in various locations in the United States, so she knows her way around a kitchen and a menu.
"I grew up in the business," she said in a telephone interview.
"My grandmother in Mexico had a restaurant. My family has a restaurant in Louisiana. They are my mentors."
(READ MORE: Meet the Chef: Adrian de la Torre proudly shares his heritage at Poblanos Mexican Cuisine)
The restaurant is currently open while remodeling work is being done. She said her plans for La Santa, located in the former Pablanos location on River Street near Coolidge Park, are to ramp up the list of offerings at the restaurant based on what she has learned over the years.
"I'd say it is more traditional Americanized Mexican food like chips and salsa, burritos, tacos and fajitas, but also with things like a rib-eye steak," she said.
She said the rib-eye will sell for around $25, while she will offer weekly specials like tacos on Thursdays for $1.75.
Photo Gallery
La Santa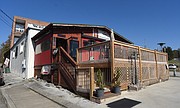 (READ MORE: Chattanooga-area's weekend events include Leslie Jordan memorial and Thanksgiving celebrations)
In addition to taking some items off the menu to make room for others, she is doing some remodeling to the 42-seat restaurant that also features a heated outdoor patio. She said she is not sure when she will have a grand re-opening, but hopes it will be in the next couple of weeks.
Rubio is also in the process of moving to Chattanooga to be closer to her new business.
Hours for the restaurant will be from 11 a.m. to 9 p.m. Tuesday-Thursday and Sunday, and from 11 a.m. to 10 p.m. Friday and Saturday.
Contact Barry Courter at bcourter@timesfreepress.com or 423-757-6354. Follow him on Twitter @BarryJC.