Jonathan Valadez was born in the Baja region of Mexico, spending much of his childhood between Guadalajara, Mexico, and San Diego, where he earned his culinary degree at the Art Institute of California. Valadez worked for a spell at Cafe 21 in San Diego, but now calls Dalton, Georgia, home. He has been the executive chef at Cyra's since its inception six years ago.
(READ MORE: Dalton: A city that will floor you)
Cyra's offers a menu with a mix of flavors that fuses tastes from the coast, such as lobster risotto, with Southern favorites, like shrimp and grits, and New Orleans fare, including Cajun chicken pasta. It's a mix that appears to work. A recent patron is quoted on the restaurant's website saying, "If you haven't been to Cyra's, you haven't been to the best restaurant in Dalton. This restaurant prides itself in using only the freshest of ingredients. Chain the chef and don't let him leave."
Valadez credits his grandparents with his love of cooking.
"They had the biggest influence on my life," he says. "Every meal they made me lit my tastebuds on fire."
Photo Gallery
Meet Chef Jonathan Valadez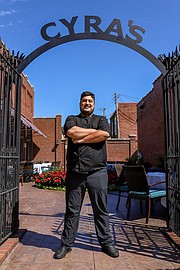 Here, he talks about memories from his childhood, as well as how he stays calm in the busyness of one of Dalton's most-popular restaurants. Try his recipe for cranberry sauce with your holiday meals.
Q: What's one of your earliest memories of cooking?
A: I remember as a child making lemonade -- a common memory most share. Instead of squeezing the lemons, then adding sugar and stirring, I had the idea to infuse limes in the lemonade. At that moment, I lit my own tastebuds on fire, just as my grandparents did, and I knew that I wanted to keep that fire going.
Q: Cyra's specializes in natural ingredients prepared daily, and all its meats are hormone-free. So what's the speciality of the house?
A: People love our avocado fries, crab cakes and pastas made from scratch. It all goes along with our philosophy of simple goodness.
Q: Are you attracting people from outside the Dalton area?
A: Yes, in addition to our patrons who live in Dalton, people come from Cartersville (Georgia), Chattanooga and business clients who frequent the Dalton area, many of whom dine exclusively at Cyra's.
Q: What's the one cooking tool in your kitchen that would be hard to live without?
A: A good, sharp knife.
Q: Is there any new ingredient or spice that you're liking these days?
A: Yuzu kosho. It's a Japanese lime-fermented pepper paste, and we toss it with our grilled shishito peppers.
Q: Restaurant kitchens can be a really hectic place, so how do you maintain calm in what can be a crazy environment?
A: You have to have a sense of humor, then you need to be silent when things get a little overwhelming.
Q: What food is your guilty pleasure?
A: Beef jerky.
(READ MORE: Watch as our staff blindly taste-tests exotic jerky flavors)
Q: Who would be at the table for your dream dinner?
A: All of my cousins at the same table so we could resurrect our wonderful childhood memories.
Q: Describe your favorite date night out in Dalton.
A: First, we'd have cocktails at a local bar, then dinner at a local restaurant. Then we'd go to Burr Park for a concert.
Q: Is there a food trend that's being overdone these days?
A: Italian. It seems like all restaurants have at least one so-called "Italian" dish.
Q: What's one of your favorite recipes for the holidays, and how do you use it?
A: This cranberry sauce is perfect to serve with seared duck breast or any other fowl, including turkey and chicken.
Cranberry Sauce for the Holidays
2 cups water
1 cup dried cranberries
1/2 cup sweet chili sauce
2 whole fresh jalapenos, seeded and chopped
Combine all ingredients in a pan, and simmer for 10 minutes. Blend with an immersion blender or in the food processor until smooth.
A great sauce for seared duck breast and other fowl.
Contact Anne Braly at abraly@timesfreepress.com or annebraly.com.