Chinese natives Quan Ren Lin and his wife, Xiu Feng Lin, came to the United States nearly three decades ago and began working in New York City.
But with a passion for cooking and the restaurant business, the immigrant couple soon found more opportunities in the South and moved to the Atlanta area where they have developed an array of Asian-style restaurant concepts over the past decade and half in Georgia, Tennessee and New Jersey.
Last week, the Lins cut the ribbon on their newest venture in Chattanooga -- the Volcano Korean BBQ which brings a unique all-you-eat menu where a variety of steak, pork, chick, shrimp and squid options are cooked right at customers' tables.
"We appreciate our customers and employees and try to offer a unique dining experience," Lin said last week during a grand opening celebration of the Volcano Korean BBQ where lights project ocean waves on the floor and patrons enjoy video displays of Korean dancers and other entertainment while dining in the 250-seat restaurant.
Adults pay $22.99 for lunch and $39.99 for dinner (children's prices are less) at the new Gunbarrel Road restaurant near Hamilton Place. So far, regional sales manager Christina Phakonekham said the new eatery has stayed busy.
"This is different from our other restaurants and a lot of people aren't familiar with Korean barbecue, but we wanted to bring this new concept to Chattanooga," Phakonekham said in an interview.
Like several of their other local restaurants, the Lins' newest eatery is located on the site of a former restaurant that previously closed. Volcano Korean BBQ opened earlier this month on what was once the Chop House restaurant before that steakhouse closed in January 2020 after 25 years of operation.
In 2020, the Lins converted a shuttered Applebee's restaurant into their Volcano Crab and Bar and now the restaurant group is looking at redeveloping two other local restaurants that shut down during the pandemic.
Xie Feng Lin said they have never had to close any of their restaurants yet, but they have turned around other shuttered restaurants.
Photo Gallery
New restaurants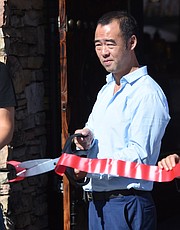 Last year, the couple bought the former Wendy's restaurant on Shallowford Road and Shallowford Village Drive near I-75. The fast-food hamburger restaurant closed more than a year ago, but the Lins are working on retrofitting the 2,764-square-foot drive-through restaurant into a new Volcano Express. Although the menu items are still being developed, the restaurant will cater to primarily drive-through traffic, similar to most Panda Express locations,
"We hope to open by December," Phakonekham said.
The Lins also are planning on converting a former Ichiban steakhouse at 5621 Brainerd Road into another Korean barbecue restaurant by next year.
The opening of the new Volcano Korean BBQ restaurant was delayed by more than a year due to supply chain problems delivering some of the table-top grills and other items for the new eatery, Phakonekham said.
"It's great to finally be open," Lin said after cutting the ribbon to celebrate the new restaurant.
The Lins opened their first Chattanooga restaurant in 2009 when they debuted the Fuji Steak and Sushi on Shallowford Village Drive.
The couple's business, known as Volcano Group Inc., has also opened -- or will soon add -- Volcano Steak & Sushi restaurants in Acworth, Alphretta, Cumming, Hiram, Marrietta, Kennesaw, and Woodstock, Georgia, as well as in both Maple Shade and West Berlin, New Jersey.
The new Volcano Korean BBQ on Gunbarrel Road is open from 11 a.m. to 10 p.m. Sunday through Thursday and from 11 a.m. to 11 p.m. Friday and Saturday.
Contact Dave Flessner at dflessner@timesfreepress.com or at 423-757-6340. Follow on Twitter at @Dflessner1.