Editor's note: This story has been updated to correct an earlier error. Uptown Cheapskate will give away items it doesn't buy to Bethel Bible Village and Northside Neighborhood House.
Uptown Cheapskate's debut will be Beth Savini's comeback.
Fifteen years after setting aside her career aspirations to be a full-time mom and caregiver, Savini and her husband, Mitch, are planning to open an Uptown Cheapskate location in Hixson next month. Uptown Cheapskate sells "new and gently used clothes" from brands including Coach, Michael Kors and J. Crew, according to its website.
"She has done everything," Mitch Savini said, "from working with the builders and the business plan to training in Salt Lake City for two weeks and internships in Atlanta. Dealing with architects, run the wiring for the internet -- you name it.
"I get up, go to work, go to the gym and come home. She's spearheading the whole store. It's her dedication, and she gets all the credit," he said.
(READ MORE: Chattanooga, Tennessee Valley corridor will seek to become innovation hub, Mayor Kelly says)
Photo Gallery
Chattanooga couple launching upscale resale shop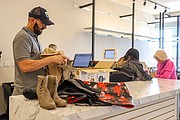 In an interview at the new store, Beth Savini said she was working toward a master's degree at the University of Tennessee at Chattanooga in 2007 when her son, Barrett, was born with cerebral palsy. She said she decided to step away from her studies in order to stay home full time.
As Mitch's job as a defense contractor necessitated periodic relocation, the Savinis and their five children were living in Augusta, Georgia, in 2012. That, Beth Savini recalls, was when she discovered Uptown Cheapskate.
"I ran into that store one day and just fell in love with it," the Rhea County native said. "I see value in resale. Always have. I'd always done (resale) because, as a stay-at-home mom, you have to be budget-conscious.
"I thought it'd be really cool if we could have a store like that one day," she said, "but my next thought was always, 'Sure, it'd be cool, but it's never gonna happen.'"
But when Mitch Savini got a chance in mid-2019 to commit to a year in Qatar, he and his wife saw an opportunity to act on the notion they'd had seven years earlier, he said.
(READ MORE: Southern Champion Tray buys West Coast packaging firm)
"One reason I took that job was that we could secure funding for the store," he said. "It's a year away from the family, but it was worth it. It was a once-in-a-lifetime chance."
Beth Savini said she flew to Salt Lake City later in 2019 to meet with members of the Sloan family, which owns Uptown Cheapskate. Per its website, Uptown Cheapskate has made Entrepreneur magazine's Franchise 500 list for nine straight years, including three straight "Best in Category" designations.
"Pretty spectacular family," she said. "The thing about them is that they really want you to succeed. I've talked to several (franchise) owners, and they told me that if you follow the procedures, it works.
"I saw that little (Augusta) store from 2012 again in 2017," she said, "and it had tripled."
Beth Savini said the original plan was to return to the Florida panhandle, where they'd lived before, to settle and open their store in Pensacola. But she said she and Mitch, a Hixson native, shifted their focus when they decided they wanted to be closer to their parents, all of whom live in the Chattanooga area.
(READ MORE: Volcano Korean BBQ among four local restaurants Chinese emigrants have opened in shuttered Chattanooga eateries)
"We thought Chattanooga would be a good place to put a store, but someone from Atlanta already had the rights," she said. "But then that guy decided to open a second store in Atlanta instead.
"I'd prayed about it," she said, "and to me, that was God saying, 'Don't go to Florida. Go home.'"
Beth Savini said she was ready to sign the franchise agreement in February 2020 -- days before the global pandemic ground business worldwide to a virtual halt. The Savinis finally made it official in September 2020, then leased the 4,000--square-foot former Mandarin Garden restaurant location in July 2021.
The Savinis' store is in an "open-to-buy" mode, Beth said, meaning that she and her husband are buying from individuals what will eventually be their inventory. She said they have about a quarter of what they'll need to be able to open.
"All we're doing is buying clothes," she said. "It's not super common to buy (from individuals) on the spot. Once we open (to shoppers), we'll invite a customer (who's selling) to have a look around, and we'll have that buy done in 20 or 30 minutes."
The Savinis said their goal is to open to shoppers before Thanksgiving. Whenever they open, they'll be joining an economic sector that's conspicuous by its current boom. The U.S. secondhand market is expected to more than double by 2026, to a value of $82 billion, according to thredUP, an online reseller. The same report said that, in 2021, 244 million consumers said they had, or were open to, shopping for secondhand products.
"Resale is growing astronomically," said Beth Savini, who added that, with a seller's permission, Uptown Cheapskate will donate items it doesn't buy to Bethel Bible Village and Northside Neighborhood House.
"We're seeing more and more people buy used clothing, especially the younger generation," she said. "It's the trendy, cool thing to do."
Contact Bob Gary at bgary@timesfreepress.com.