Chattanooga dentist Joel Davis is moving his East Brainerd True Dental office less than a mile geographically, but he says the figurative scale of the move is quite another matter.
"It's going to be an amazing transition," he says, "given the accommodations, the ability we'll have to have multiple providers working together and the patient experience we'll provide.
"We're about 1,800 square feet now, and we're going to 5,000," he says. "Access to the building will be better. Parking will be better and traffic will be easier to manage."
Davis says he's been practicing at 7003 Shallowford Road since 2015, but he anticipates being in a brand-new, "multi-million dollar" building at 7344 Gunbarrel Road, next to Drake's restaurant, by year's end.
Davis adds that he had something very specific in mind when he rebranded from Davis Family Dental Care to True Dental in January 2021.
Photo Gallery
True Dental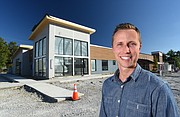 "I wanted a name that would represent [our work]," he says. "What I love to do most is restorative dentistry - taking teeth that are broken down, removing old dentistry and restoring someone's mouth in a way that will both feel natural and last.
"And I wanted a bigger group, not a solo practice," says Davis, noting that Dr. Jim Thompson Jr. joined the practice in 2019. "We will have general dentists with a focus on restorative dentistry. Our mission is to restore smiles and confidence."
The new Gunbarrel Road location will actually be True Dental's third Chattanooga-area location. Davis says he bought the practice of Dr. Todd Ealy this past spring and rebranded those Hixson and Trenton, Georgia locations. Davis says his plan is to add a third dentist so that Hixson, Trenton and East Brainerd will each have a full-time practitioner and staff.
"Patients are leery of corporate dentistry, but this is not that," Davis says. "I'm the only owner, and I am passionate about patient care."
That care, Davis says, will start when patients are greeted by name at the door. At East Brainerd, he adds, the reception area will be 19 feet high with abundant natural light. Those high ceilings will go through the building, he says.
"It should be a welcoming place," he says. "The treatment rooms will be designed with the patient experience in mind - the old style could be cluttered and feel intimidating, with all those cords hanging from the chairs.
"Here, you'll see the chair, a big window and a computer to the side - the patient won't see a bunch of [instruments], suction tubes or syringes. The supplies will be there, but hidden away in lots of cabinetry. Management of supplies will not only make the room feel less full, but it'll make each appointment more efficient," he says.