KNOXVILLE — There seem to be no limitations to what Tennessee's offense can accomplish in the Josh Heupel era, but every now and then something takes the Volunteers second-year coach by surprise.
Such as junior receiver Jalin Hyatt scoring five touchdowns during Saturday's 52-49 win over Alabama.
"I don't know if you ever plan on that," Heupel said.
Hyatt's scores of 36, 11, 60, 78 and 13 yards broke a Tennessee single-game record for touchdown catches, which previously had been set at three by 10 players, with Cedric Tillman the most recent in last December's Music City Bowl. The 78-yard touchdown that set the standard occurred with 14:01 remaining to give Tennessee a 42-35 lead, and Hyatt's 13-yarder with 3:26 left provided a 49-49 deadlock.
The 6-foot, 180-pound junior from Irmo, South Carolina, was targeted eight times by quarterback Hendon Hooker and made six catches for 207 yards.
"Some of it was the looks they were giving us, and me and Hook were on the right page as far as what we were looking at," Hyatt said. "I'm just happy for the way Vol Nation came out and for their support. I'm proud of the coaches and players. There is a lot that goes into it.
"I'm just blessed. This is what we needed."
In this three-hour and 55-minute marathon of a thriller, Hyatt racked up more touchdown catches than in his freshman and sophomore seasons combined.
"He's worked to be a great player this year," Heupel said. "Preparation meets opportunity, and you're ready to go smash it. Tonight he had opportunities and played really good football. It was really special what he did tonight."
Photo Gallery
Tennessee vs. Alabama football, Oct. 15, 2022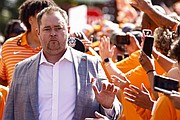 McGrath's atonement
Tennessee sixth-year senior kicker Chase McGrath missed his first extra-point attempt since he was a University of Southern California freshman in 2017 during Saturday's third quarter after the Vols had taken a 34-28 lead.
"Obviously you don't want that happen, and that's something that really hadn't happened to me," McGrath said. "You just wipe it and go on to the next kick. I knew I would get another opportunity later on in the game."
Said Heupel: "I went over and talked to him on the bench, and he gave me a look like, 'Get away from me. I'm good. You don't need to talk to me.' He's a competitor."
McGrath would make his next extra-point try but was given the opportunity for absolute atonement with two seconds remaining, and he capitalized with a 40-yard field goal that decided the game as time expired. It was his first winner since helping USC top Texas in double overtime five years ago.
When asked to comment on his final kick Saturday, McGrath said, "Obviously it wasn't my cleanest hit."
Own worst enemies
Alabama set a program record against the Vols with 17 penalties, which did 130 yards in damage.
"The big thing our players need to do is learn from this experience and have more respect for playing with discipline so we don't get penalties and we don't help the other team," Crimson Tide coach Nick Saban said. "We can accomplish every goal that we had at the start of the season. There is no room for error in the (SEC) West, but if we win out in the West, we can win the West and still have a chance to go to the SEC championship game."
Eliminating flags may be easier said than done, as Saturday marked the fourth consecutive road game in which Alabama had more than 100 penalty yards. The Tide committed 11 penalties for 129 yards last year at Auburn, 15 for 100 last month at Texas, and 10 for 101 earlier this month at Arkansas.
Patchwork secondary
The Vols played Saturday without safety Jaylen McCollough, who was charged with felony aggravated assault last Sunday, and without cornerback Kamal Hadden, who has a lower-body injury. They are already without corner Warren Burrell, who's out for the season, which left Tennessee with Trevon Flowers as the veteran Saturday, sophomore De'Shawn Rucker getting his first career start at corner, and with walk-on William Wright playing in the waning moments.
"Kamal was ultimately a game-time decision, but other guys had some preparation," Heupel said. "We had to play a bunch of guys, and I thought they all stepped in and were ready to go compete. It will be an opportunity to learn and get better from."
Said Flowers: "No matter who's out there, we've just got to go out there and execute."
Odds and ends
Tennessee has outscored foes 264-68 in the first quarter under Heupel, which includes 75-17 this season. ... The Vols improved to 13-0 under Heupel when leading at halftime. ... Hooker wound up throwing 261 consecutive passes without an interception until getting picked in the third quarter. ... Three bowl games -- Sugar, Peach and Citrus -- had representatives at Saturday's matchup. ... Among the Chattanooga-area prospects in the 2024 signing cycle attending the game were Chattanooga Christian's Boo Carter, Bradley Central's Marcus Goree, McCallie's Carson Gentle, Baylor's Amari Jefferson and Brainerd's Martels Carter Jr.
Tide tidbits
Junior running back and former Dalton High standout Jahmyr Gibbs racked up 203 all-purpose yards, rushing 24 times for 103 yards and collecting 48 yards on receptions and 52 on kickoff returns. ... Senior kicker Will Reichard scored 12 points via two field goals and six extra points to bring his career scoring total to 363, replacing Adam Griffith (357) for second place in school history. Leigh Tiffin holds the all-time mark of 385. ... Tennessee became the first SEC East team to defeat Alabama in a regular-season game since South Carolina in 2010.
Contact David Paschall at dpaschall@timesfreepress.com.