Saturday morning, Charley Miller, of Cookeville, Tennessee, sat in a chair in a sunny parking lot between the Second Presbyterian Church and the Mountain City Club downtown.
Just back from the Pace Grand Prix racing area on this second day of the Chattanooga Motorcar Festival, Miller unpacked a bucket he'd received for free from the O'Reilly Auto Parts tent. His new swag, which he collected in the bucket, included a magnetic cup holder, a stress ball, a blanket from the Volkswagen tent ("had to take a survey") and a hat that said "Flatrock," which happens to be the name of a motorsports park in development near his home.
He fished the hat from the bucket and placed it on his head.
Though the Motorcar festival, now in its third installment, goes on into Sunday, Miller would be loading the green Corvette he was displaying in the parking lot onto a trailer on Saturday afternoon, as he had a race at his local drag strip later in the evening.
"Us drag racers, we're like family," he said. "And that's what my wife can't understand."
Miller said he would not be driving the green Corvette – a 4-speed 1972 Stingray 454 – at the race because it is too valuable. But he owns nine "insured and legal" cars. These include a 1962 Corvair, which he planned to use at the evening race. He called his car "greNader," with a grenade image fashioned into the "g" – a reference to the activist and eventual presidential candidate Ralph Nader, who raised concerns that the Corvair was unsafe. Chevrolet would go on to discontinue the car.
"That's what happens when you get somebody mouthing off," Miller said.
A few blocks down, by the Westin Chattanooga, the ex-senator and ex-Chattanooga mayor, Bob Corker, sat on a stage, flanked by two interviewers. Corker praised Volkswagen's ID.4, a new electric vehicle now being produced at the company's Chattanooga plant. An ID.4 sat on display across the street.
On the stage, Corker told interviewers about the "clandestine" meetings he held with Volkswagen executives as they determined where to develop a factory. When Volkswagen leadership called with the news that they would develop a plant in Chattanooga, Corker said he was so overwhelmed with emotion that he couldn't speak, and had to call them back.
After answering a question about whether he would run again for political office – "I don't think that's in the cards" – Corker left the stage, shook some hands and wandered down Eighth Street, disappearing into the crowd.
At the second and final auction day at the Chattanooga Convention Center, workers displayed car after car – a Ferrari, a Jeep Wrangler, an SUV stretch limousine – at the front of the convention hall, as an auctioneer cried out, almost unintelligibly, while other workers identified bidders among the hundreds in attendance.
Photo Gallery
Chattanooga Motorcar Festival - Day 2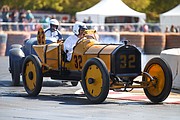 Away from the din, in the back of the hall, a man eyed a hot red truck with a "sold" sticker on it, yearningly. Another couple examined a white Porsche, awaiting its turn at the auction. They'd missed out on a similar one Friday.
David and Lisa McGalliard, a couple from Sylacauga, Alabama, fresh off their 38th anniversary, looked proudly at their new 1960 Oldsmobile. The $50,000 price reflected an intense bidding war.
"I was so amped up," David McGalliard said.
When the auctioneer banged the gavel, McGalliard said he immediately scurried to the procession office, but the paperwork on the car wasn't yet ready.
Outside the auction hall, festival attendees boarded buses for the Pace Grand Prix, located in The Bend west of downtown, near Novonix's large plant, developed to produce materials for electric vehicles. Richard Marter, a mechanic and fabricator at Honest Charley Garage, outfitted in white coveralls, stood next to a 1911 Lozier – identical to the car that finished second place at the inaugural Indianapolis 500, he said.
The car had technical issues in an earlier race, he said. Did he like his odds to win?
"If you finish, you win," he said, laughing, before putting on his helmet, then his goggles, and motoring off to the start line.
Contact Andrew Schwartz at aschwartz@timesfreepress.com or 423-757-6431. Follow him on Twitter @aonSchwartz.