Two years ago when tornadoes ripped through East Brainerd, Scenic Community Credit Union was among the businesses hit and was forced to keep one of its branches closed for two months.
The office reopened by the summer of 2020, the president of the credit union, Kendall Foster, said the storm and pandemic showed a need for a drive-through location for the growing East Brainerd area.
On Thursday, 25 years after opening its first East Brainerd branch in the Concorde Center, Scenic Community Credit Union opened a new bank office at 8171 East Brainerd Road that includes drive-through windows, an internet cafe and a beverage bar, along with new video technology services.
"This is a better facility for us and we own this building rather than just renting like we did down the street before," Foster said during an interview at a grand opening celebration Thursday morning. "This is a growing area and this location is accessible for many of our customers in North Georgia."
Foster said the property became available and was purchased last year when Suntrust closed down its branch on the site. Scenic Community Credit Union paid $928,000 last year to buy the 1,573-square-foot building, which was erected in 1980, according to Hamilton County property records.
Foster said the building has been completely renovated and upgraded for the new branch.
Although Chattanooga banks continue to prune their branches, Foster said many of the credit union members who belong to Scenic Community want to have a local branch.
From the 2009 peak of 179 bank offices, Chattanooga area banks have pruned their branches in the past 13 years by more than 21%, cutting the number of bank offices in the market by 38 branches even as overall bank deposits have nearly doubled, according to the latest FDIC figures.
Contact Dave Flessner at dflessner@timesfreepress.com or at 423-757-6340. Follow on Twitter at @Dflessner1
About Scenic Community Credit Union
Start: Began in 1954 as the Dupont Employees Credit Union
Current name: In 2015, the credit union changes its name to Scenic Community
Locations: Four branches, including the newest branch at 8171 East Brainerd Road
Assets:$151 million
Members: Nearly 14,000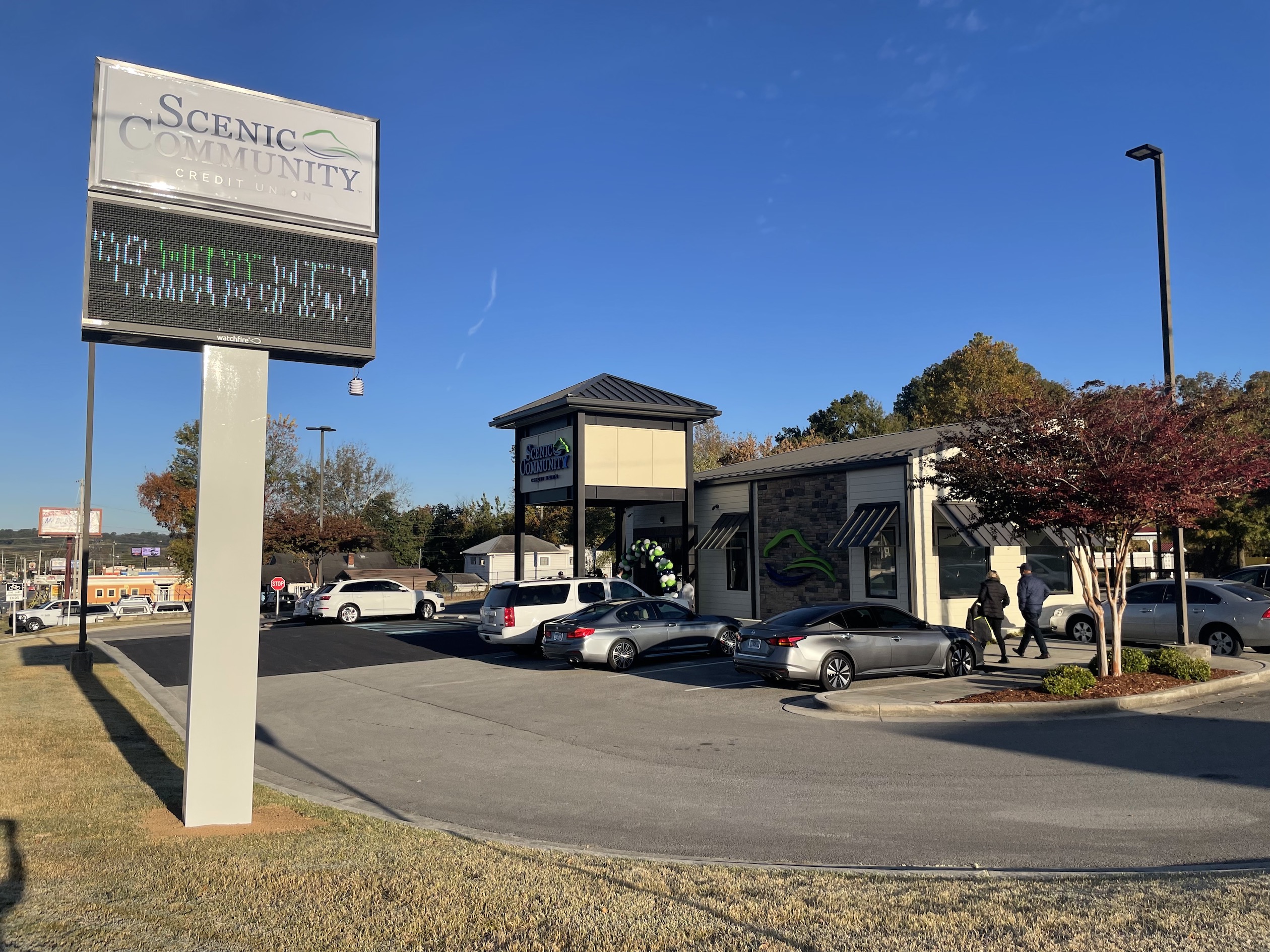 Photo by Dave Flessner / Scenic Community Credit Union celebrated the grand opening of its newest branch in East Brainerd on Thursday, Oct. 20, 2022.