Erlanger Health System continues to buck industry trends by maintaining a positive financial margin in the face of growing inflationary pressure, a tight labor market and the ongoing pandemic, new financial reports show.
Financial reports released Monday during the Board of Trustees' budget and finance meeting show that the health system finished its fiscal year, which ended June 30, with a net income of $21.4 million compared to a budgeted net income of $20 million.
That figure includes $11.4 million of federal provider relief funds meant to offset the cost of the pandemic.
In the first quarter of the new fiscal year, which began in July, Erlanger posted nearly $7 million in net income from operations.
Erlanger CFO Lynn DeJaco said that means Erlanger has posted eight consecutive quarters with positive margins, attributing Erlanger's financial performance to several factors, including getting a jump-start on expense management before the pandemic started, increasing patient revenue and not using costly contract labor.
(READ MORE: Rating service upgrades Erlanger outlook as hospital prepares to shift to nonprofit)
Unlike most hospitals across the U.S., Erlanger hasn't resorted to using travel nurses to weather COVID-19 and instead has been paying its current nursing staff overtime to try and meet staffing needs -- which Erlanger officials said was something the nursing staff wanted because bringing in outsiders is disruptive.
Although Erlanger saw increased labor costs as a result, DeJaco said that decision still cost Erlanger less in the long run than using travelers.
Still, DeJaco said Erlanger saw a "sharp incline" in labor costs beginning in January. Since that time, Erlanger has given two across-the-board pay increases and adjusted salaries to compete in the market.
"On top of that, many of these months were premium pay due to COVID," she said.
High labor costs continued in the new fiscal year's first quarter, which ended in September. Erlanger saw a $6 million increase in labor costs and a $7 million increase in other operating expenses compared to the same quarter last year, DeJaco said.
"Pretty soon, that's going to add up, so we've got to match that with revenue," she said.
Although hospital admissions are still down compared to pre-pandemic levels, DeJaco said Erlanger has been able to increase revenue because the patients who are coming into the hospital are sicker and more complex -- meaning the hospital makes more money for treating them.
Erlanger has also increased its number of outpatient visits, regional transfers and surgery volumes, she said. Erlanger's net patient service revenue in the most recent fiscal year grew 5.9% compared to the prior year, increasing patient revenue from $1 billion in the 2021 fiscal year to $1.1 billion in 2022, according to the reports.
Photo Gallery
Erlanger Health System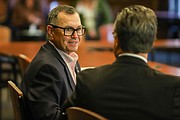 DeJaco said Erlanger is also leaving less money on the table by improving its billing, coding and bill collection process.
Erlanger CEO Jim Coleman said during the meeting that he's pleased with the health system's financial performance but leadership "can't let our foot off the gas" and needs to "catch a break" in terms of managing expenses and revenue.
"I think we're well positioned to do that, and we'll keep reminding our team that," he said. "We have a good group that can do it, but it is going to be challenging."
DeJaco pointed to industry experts, who are projecting 2022 to be the worst financial year for U.S. hospitals since the start of the pandemic, with more than half of all hospitals experiencing negative margins even with stimulus funds.
Rising costs, the largest of which is labor, is largely to blame, she said.
Erlanger has $3.3 million worth of provider relief funds left that must be used by Dec. 31.
Contact Elizabeth Fite at efite@timesfreepress.com or 423-757-6673. Follow her on Twitter @ecfite.