Election commissions in all 95 Tennessee counties have been sent at least one public records request related to the 2020 presidential election, according to a Meigs County Libertarian who contends the nation's election system is broken.
Alan Fanning, of Ten Mile, said he and others in a loose but impassioned network of people across the state and nation have joined together to probe results they believe were inaccurate at the least -- and manufactured at the worst -- when Joe Biden won the Oval Office.
(READ MORE: Voter challenges, records requests swamp election offices)
Former President Donald Trump lost his re-election effort election by 7 million votes in November 2020, but had laid the groundwork for claims of election fraud long before Election Day. Trump's claims were rejected by the states, the courts, the Electoral College, his own administration and eventually Congress -- which was targeted by a mob of Trump's angry supporters on Jan. 6, 2021, as lawmakers gathered to certify the results.
Trump's claims have reverberated among his followers, leading to a barrage of records requests this year in an effort to challenge voter eligibility even in places where Trump won and presidential election results have not been challenged.
Fanning, who is retired from the Tennessee Valley Authority and last worked at the Sequoyah Nuclear Plant, was among a handful of requesters who filed for November 2020 election records in Rhea County, where Trump won 81% of the vote.
The November 2020 election first caught Fanning's eye, he said, in the summer of 2021. Fanning said he believes the percentage breakdown of age groups in different counties seemed suspiciously similar, but officials in election commission offices contend nothing was out of order and elections had been free and fair.
"What I've been doing lately is requesting these cast vote record files to see if there are any unnatural patterns in the actual voting," Fanning, 72, said Thursday in a phone interview.
Fanning said he could be counted among those who doubt any election in the U.S. is secure.
CAST VOTE RECORDS
As mid-term elections loomed, requesters have been asking for "cast vote records" for the November 2020 election, which Hamilton County election officials have described as a report that shows the time each ballot was cast on Election Day and who it was for. MyPillow CEO Mike Lindell, a vocal Trump supporter, urged his followers to obtain copies of those records from every elections office in the nation during a gathering in Springfield, Missouri, in mid-August, according to The Washington Post.
Lindell gained an ally in the records request effort in Jeffrey O'Donnell, who sent requests from his home in central Florida, targeting each of the more than 3,000 counties in the U.S. and demanding records on voting machines and email communications between election officials and vendors of those machines, according to a Bloomberg report on Tuesday. Election officials say the deluge is taking valuable time away from preparations for the upcoming midterms, which will determine who controls Congress and oversees the vote count in 2024.
O'Donnell, a 61-year-old software and database engineer, goes by the online name Lone Raccoon. He communicates with his more than 13,000-person strong "Raccoon Army" on his Telegram channel from his home office. O'Donnell said his goal is to create a public database of "cast vote records," allowing his supporters -- and anyone else -- to probe the data to find evidence of voter fraud.
"I was led by God to do this," O'Donnell told Bloomberg by phone.
The efforts continue as local government officials, academics and news organizations have found no evidence of widespread voter fraud or irregularities during the 2020 election. Former Attorney General William Barr also said the Justice Department came to similar conclusions, and a federal judge indicated recently that Trump knew voter fraud claims were false.
Photo Gallery
Records requests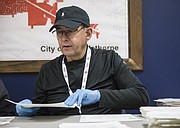 LOCAL REQUESTS
"Between myself and a few other activists, we've requested records from every county in Tennessee," said Fanning, part of the Raccoon Army. "What we got was six (county responses), and this was because of a variety of reasons."
Fanning said Hamilton, Williamson, Pickett, Davidson, Blount and Sevier counties are the only ones to provide requested records, so far. Other counties, he said, erased such records when officials updated voting systems.
Rhea County Administrator of Elections Tom Davis said his office has received a handful of the requests, seeking so many documents that it would take an estimated 100 hours to collect them all. Davis said he provided an estimate at $18 per hour after the first hour and 15 cents a page for a total bill of $3,600 for copying an estimated minimum of 12,000 documents, possibly up to twice that number.
"They narrowed it down to cast vote records, and that wound up being the specific thing they were after, but it started out as every record including emails, phone logs, everything that we had," Davis said Thursday in a phone interview. "Rhea County never kept cast vote records separate from what was maintained on the machines, and early January this year we bought new equipment and are using new voting equipment. And we traded in those old machines, so we do not have those cast vote records."
Ginger Wilson, 57 of Loudon, Tennessee, sent numerous records requests to Tennessee counties including Rhea, something she was directed to do by God, she said.
"I had asked for the 2020 election records from all counties in Tennessee because I know that the election was stolen," Wilson said Thursday in an email to the Chattanooga Times Free Press. "God told me on Nov. 29, 2020, that it was stolen and massive, massive fraud."
Wilson said her requests were met in some counties with high copying fees she believes are unnecessary and are being used to block public access to the data. She said she won't pay the $3,600 bill in Rhea County for copies.
"No, never would I pay for what is free by email," she said.
She provided a copy of an even higher estimate from Cumberland County: $10,650 plus shipping costs for the 200-250 hours required to answer her request there. The estimate also noted the office kept no cast vote records, according to a letter to Wilson from Administrator of Elections Jill Davis.
Bradley County Administrator of Elections Fran Green said her office received three or four requests for Bradley's 2020 cast vote records, but the office had none to provide and demands for them stopped.
"We cannot produce that report, so it's not been a big issue for me," Green said Friday in a phone interview. "I still have the machines, but once you overwrite them, you can't pull that file."
Fanning said the requests made up till now were blanket requests because officials aren't legally required to retain any records after September 2022.
"We were trying to prevent them from destroying anything. As it turns out, they casually erased the records we were looking for a long time ago, which is, in my mind, completely counter to the spirit of the law whether they believe they're complying or not," said Fanning, who voted for Trump in 2020.
(READ MORE: Hamilton County sees influx of records requests related to 2020 presidential election)
Fanning said he will at least follow up with more specific records requests to counties that have acknowledged the information he was seeking was available.
"This isn't just one guy sitting in his basement cranking on this issue," he said. "These are hundreds of activists across the state that are deeply concerned about the integrity of our elections. I don't care who won. I'm a Libertarian. My entire interest in elections is to protect the freedom of the citizen. Stolen elections have dire consequences for liberty. It's crucial people understand elections have been under attack for a long time."
He said Nov. 8 balloting will undergo the same scrutiny.
"It's just conjecture at this point," he said. "That's why we're going to request all this information from 2022."
FIVE VENDORS
In Tennessee, technological issues from equipment purchased as long as 16 years ago or more can create headaches for county officials, according to Tennessee Association of County Election Officials President Mark Stephens, also Anderson County's administrator of elections.
Stephens said he is being sued by the requesters and couldn't discuss anything relevant to the lawsuit, but said the requesters generally want to do away with voting machines and return to paper ballots, as Fanning suggests.
Stephens said Fanning and others appear to be working from the same playbook that uses the same language and is tailored for specific counties. State election officials can guide county officials on how to deal with requests in their situation, he said.
"It's a bit of a challenge because there's five different vendors throughout the state as far as election machines go, so not every system has audits that are built in that (requesters) are wanting," he said.
Tennessee's vendors are Dominion, ES&S, Hart, MicroVote and Unisyn, according to the Secretary of State's office.
"Dominion has only one county, and that's Hamilton County right now," Stephens said.
In cases such as Rhea's where the cast vote records aren't captured by old machines bought as long ago as 2006, the data is irretrievable, he said, because of the old machines' limited memory. Fulfilling requests are time-consuming and the requests coming in the middle of an election cycle have places a weighty burden on the election system, he said.
"It's going to take several months to get all these records together," he said of counties that can generate records. "Some of the older systems don't have them."
NORTH GEORGIA
Election officials in North Georgia report requests similar to those in Tennessee but officials are not having as much trouble providing the records.
Larry Sampson, Murray County elections superintendent, said in a phone interview that his office has had only a handful of requests for cast vote records and ballot images. On the job for nearly 50 years, he said these requests started just this election season.
The election records requests have been a hassle even though the requests aren't very time-consuming, Sampson said, but some of the people making the requests have been abusive in their emails when the records weren't given in an editable format.
(READ MORE: Election deniers could make deep changes to Arizona voting)
The Walker County Board of Elections and Registration has received six or seven records requests this year, according to Danielle Montgomery, director of elections. She said in a phone interview that it's fairly simple to meet the requests, especially when most are asking for the same records from the 2020 election. A few have requested ballot records from the May primary, too, she said.
Montgomery said her office hasn't received any follow-up criticism from the requester.
"It (voting records requests) might take us away from what we're concentrating on, but if it helps them to realize what was right is still right, then we'll take that time," Montgomery said.
Catoosa County Elections Director Tonya Moore said her office received less than 10 requests for cast vote records this year, all several months ago. It's a simple process to fulfill that request, she said in a phone interview, and her office hasn't heard anything back from the requesters.
"It's all public records, we have nothing to hide," Moore said.
Nov. 3 is the last day of early voting in Tennessee. Nov. 4 is the last day of early voting in Georgia. Election day is Nov. 8.
Staff writer Andrew Wilkins contributed to this story.
Contact Ben Benton at bbenton@timesfreepress.com or 423-757-6569. Follow him on Twitter @BenBenton.