Chattanooga's Tennessee Valley Railroad Museum got $200,000 in grant funding from a Save America's Treasures Grant to go toward the restoration of a 1925 Pullman sleeper car donated by Southern Railway 57 years ago.
"TVRM is pleased to be recognized through this grant for our efforts to preserve this important piece of railroad history," museum President Tim Andrews said Monday in a museum news release.
The museum's "Save the Maitland: America's Railroad Passenger Legacy" project will be the beneficiary of the grant funding, according to museum officials. Once restored, the car will be part of the museum's growing display.
"I know it was a very early arrival at the museum," Steve Freer, museum operations supervisor, said Monday in a phone interview. "It's been in off-site storage awaiting what might be next."
(READ MORE: Chattanooga's Tennessee Valley Railroad Museum archive expands as rail history hub)
Southern Railway donated the Maitland to the museum in March 1965 when it was retired, museum officials said.
Photo Gallery
Tennessee Valley Railroad Museum gets grant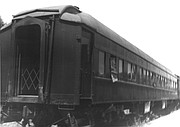 The Maitland formerly carried passengers in peacetime and during wartime service on the World War II home front. Funds will go toward restoration efforts for the display and operation of the historic Pullman sleeping car, officials said in the release.
The grant, which requires a dollar-for-dollar match in funding from the museum, was awarded by the National Park Service in partnership with organizations including the Institute for Museum and Library Services, which targets projects across the country, according to a news release issued Friday.
"It's a combination of in-kind matching, which can be labor from our own shop sources, and we'll also be seeking outside funding to help offset the costs," Andrews said Monday in a phone interview. "The start date for the project is the first of December of this year, and we have three years to complete the project."
(READ MORE: Chattanooga-area tourism spending jumps more than 40% last year)
Now, museum officials are getting busy with planning.
"Museum staff will be meeting in the next few weeks to organize the project milestones and fundraising plans," Andrews said. "We'll announce those plans by the first of December."
The Maitland was built in 1925 with 12 open sleeping sections and one drawing room, according to documents related to the Maitland's 1980 listing on the National Register of Historic Places.
The Maitland is a time capsule of the famed Pullman sleeping car fleet, project proponents say, and though such vehicles were once a mainstay of travel by rail, functional and original Pullman sleeping cars are an increasingly rare find.
"To have the public experience the originality of the Maitland, the incredible story of the Pullman porters and maids who worked aboard and the major historical events surrounding its service makes this a vital cultural project for Chattanooga and its lasting identity in rail transportation," museum officials said in Monday's news release.
In the park service release, federal officials applauded projects such as the museum's.
(READ MORE: Hospitality industry reaches new employment peak in Chattanooga)
"Through private and public investments, the Save America's Treasures program supports community-based preservation and conservation work on some of our nation's most important collections, artifacts, structures and sites for the benefit of future generations," park service Director Chuck Sams said in the release.
Save America's Treasures, funded through the Historic Preservation Fund, provided $356 million to more than 1,326 projects between 1999 and 2020, federal officials said. Those grants have leveraged more than $500 million in private investment and contributed more than 16,000 jobs to local and state economies, officials said.
Buildings and collections that have previously received Save America's Treasures grants are not eligible to receive a second grant for the same project.
The Tennessee Valley Railroad Museum grant is among the latest batch of awards, totaling $24.25 million. Officials expect to leverage more than $69 million in private and public investment and support projects.
Contact Ben Benton at bbenton@timesfreepress.com or 423-757-6569. Follow him on Twitter @BenBenton.