Only 15 months after buying one of the South's oldest and biggest billboard and outdoor printing companies, Beau Wells is finalizing an even bigger deal to merge Vincent Printing in Chattanooga with BPGraphics in Phoenix to create one of the biggest firms in the outdoor printing industry.
Known as the Convergent Print Group, the combined company will have about 140 employees with plants in both Tennessee and Arizona conducting large and grand-format printing for billboards, point-of purchase signs, truck-side graphics and other large print advertising.
Terms of the sale were not disclosed, but the owners say they are maintaining all of the existing employees and look to further grow their printing operations even as more outdoor and other advertising shifts to digital formats.
Wells, the president of Vincent Printing who acquired the Chattanooga firm from former owners Doug and Charlie Casey in early 2022, said as he took ownership last year of the company he quickly saw the opportunity to work with a major West Coast competitor and expand the business even more.
"We realized that this was such an incredible opportunity because of the vision that we shared," Wells said last week during an interview at the company's 90,000-square-foot office and production facility in East Chattanooga. "Our people are fairly like-minded with those at BPGraphics, and fusing these two companies together, we really believe will be in the best interests of our employees, our customers and our industry."
The merger is expected to close May 1, and the new Convergent Print Group will be led by Curt Carpenter, the owner of BPGraphics who will become chief executive, and Wells, the primary owner of Vincent Printing who will be president of the combined company.
Ian Scott, who is a partner with Carpenter in BPGraphics in Phoenix, will be the chief operating officer for the new Convergent Print Group, and Gary Brooks from Vincent Printing in Chattanooga will be the chief financial officer of the combined company.
"Our two companies were friendly competitors for decades," Carpenter said during a visit last week to Chattanooga where he is buying a condominium for what he expects to be frequent trips to the Scenic City. "As the industry and technology changed, we began to work together more closely, leveraging the strengths we both brought to the relationship."
Photo Gallery
Convergent Print Group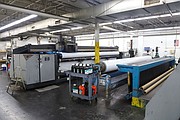 Both companies have evolved their printing and processes over the years to shift to larger presses, vinyl prints, computer-driven design and other upgrades to adapt to changing outdoor advertising needs and displays.
Both companies already print millions of square feet of vinyl every year on presses that roll out digitally printed signs and billboards sold to billboard companies, advertising agencies and many name-brand users across North America. The printed products are on everything from billboards to yard signs and from building walls and roofs to the sides of semi-trailer trucks.
In a new study of outdoor advertising, Polaris Market Research estimates that outdoor advertising totaled nearly $22 billion last year and is expected to reach nearly $40.5 billion by 2032, growing at an average annual growth pace of 6.3%. While much of that growth will come from more digital billboards and signs, Carpenter said he remains optimistic about print advertising.
"We feel very good about how we are positioning ourselves and our company going forward because we're bringing a new value proposition to our customers," Carpenter said. "We hope and plan to pick up new customers because of what we can offer. We may face some headwinds like everybody else if the economy takes a downturn, but we feel like we're ready to deal with what's ahead."
Wells said their printing operations adapted during the pandemic to printing everything from floor signs for social distancing to face masks and curtains.
Vincent Printing has also been an industry leader in sustainability by developing its EnhancedAir coatings on billboards to absorb nitrogen oxide in the air, which is linked to air pollution and global warming. Vincent Printing worked with the Pureti Group LLC to develop a topcoat that includes titanium dioxide which absorbs sunlight and reduces nitrogen oxide that comes in contact with the sign by 30%.
"This product can help make outdoor advertising assets into strategically placed air purifiers," Wells said.
Carpenter called the EnhancedAir coatings "a game changer" for the industry.
Carpenter has worked in the industry for more than three decades since he bought the former Billboard Poster Co. at age 25 after his father, a CPA, told him about the business opportunity. Carpenter told employees and customers for the first five years that he was the general manager and didn't start acknowledging his ownership of the company until he had owned the business for five years.
The young entrepreneur later sold part of the business back to the founder and later his son, as he has grown BPGraphics by developing software to better develop and track prints for customers across the country.
Carpenter said the merger of Vincent Printing in Chattanooga and BP in Phoenix will allow printing to be done closer to many customers to facilitate quicker service and shipments.
"We can now seamlessly produce and ship a customer's order from both the East and the West, thereby increasing speed to market and simultaneously reducing the carbon footprint on their nationwide campaign while also turning their ads into air purifiers," he said.
VINCENT PRINTING
– Started: 1940
– Ownership: Beau Wells backed by private equity firms FutureTech Holding in Atlanta and MLJB Holdings in Ooltewah
– Location: Sholar Avenue plant in Chattanooga
– Products: Billboards, truck-side graphics, outdoor and indoor signs, building and rooftop
– Staff size: 65 employees

BPGRAPHICS
– Started: 1961 as Billboard Poster Co.
– Ownership: Curt Carpenter and Ian Scott
– Products: Billboard, retail graphics, point-of-purchase signs and other large-scale printing
– Location: Phoenix, Arizona
– Staff size: 75 employees
Contact Dave Flessner at dflessner@timesfreepress.com or 423-757-6340.