PIGEON FORGE, Tenn. — A sweeping new roller coaster and a deluxe lodge are among the changes coming to Dollywood for its 38th season, giving 2023 the potential to become a banner year for the theme park and its associated properties.
Entertainer Dolly Parton was at her beloved theme park in March to greet the media and season passholders, a day before the park opened to the public. Her visit also kicked off a monthlong celebration of her iconic song "I Will Always Love You," released 50 years ago as her farewell to business partner and mentor Porter Wagoner. The tribute to songwriting continues through April 8, then more festivals will cycle through the seasons.
"Trust us to create memories for families," she told the crowd about the upcoming debuts.
Here's a look at some of the new attractions and old favorites in store this season.
(READ MORE: Dolly Parton and Garth Brooks to host ACM Awards in May)
Photo Gallery
Designs on Dollywood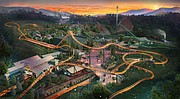 THE NEW COASTER
At a whopping $25 million, Big Bear Mountain roller coaster is the largest single investment since Dollywood opened in 1986. At an astounding 3,990 feet in length, it will become the park's longest roller coaster, wrapping around almost 6 acres of the Wildwood Grove section. The coaster boasts three launches and on-board audio -- a first at Dollywood -- along with multiple turns and tunnels at a top speed of 48 mph.
Will Parton be riding?
"Now y'all know as well as you know my name that I'm not going to be riding that thing!" she said. "I don't want my hair to fly off right on national television or something!"
The coaster is scheduled to open in May, at the height of the Food & Flower Festival.
NEW ACCOMMODATIONS
Visitors to Dollywood may begin making reservations for one of 302 guest rooms at the park's newest resort, HeartSong Lodge, in June. It's located on a hillside across from DreamMore Resort & Spa and will feature 26,000 feet of meeting space indoors and outdoors, as well as a pool, restaurant, bar, a grab-and-go eatery and gift shop. Best of all, though, guests get in early on Saturdays for exclusive ride times at the park.
"I'll be excited to come back for the grand opening in November," Parton told the crowd.
NEW MENUS
There are several full-service restaurants in Dollywood and about 15 locations where you can pick up snack food, such as the famous cinnamon bread, pizza, burgers, chicken and other everyday staples, according to Aaron Banks, director of culinary services at the theme park.
"We hang our hats on the fact that we have a variety of offerings for our guests," he said.
This year, there are a couple of new additions to the mostly Southern menus offered at the full- and quick-service eateries: Till & Harvest Food Hall, Front Porch Cafe, Miss Lillian's BBQ Corner and Smokehouse, Red's Drive Inn and Aunt Granny's Restaurant.
For starters, there's Front Porch's new Back Yard Crispy Chicken Sandwich served on a bun with a smear of comeback sauce, a side or coleslaw and hot crispy fries. Or go light with the new Caesar salad. And for dessert? The new strawberry shortcake.
One of the new snacks you'll find in the park is a spiralized, deep-fried potato -- with a hot dog in the middle if you want. For a somewhat healthier snack, there's the sweet potato taco stuffed with black beans.
While the menus change every so often, there's one thing Banks said he keeps in mind: "We can't forget who we are, so I think, 'How can we still be Southern, but put a unique spin to it?'"
DOLLY SLEPT HERE
Parton's pink-festooned Prevost RV, her former tour bus, is now retired from its road warrior days. It's parked beside the DreamMore Resort and is available to reserve for overnight guests who want to spend two nights where Dolly once lay her head.
(READ MORE: You don't have to drive across the country to live like Dolly Parton on tour)
Dolly Suite 1986 comes at a price, though: starting at $10,000 for both nights, but that includes a room in the hotel for extra guests, plus tickets to Dollywood and the Splash Country water park, a pink Jeep tour through the Smoky Mountains and an Eat Like Dolly chef's multicourse dinner.
When you make a reservation, you'll also be supporting Parton's Imagination Library, a program that mails free, high-quality books to children from birth to age 5, something that matters a lot to Parton, a native of nearby Sevierville, Tennessee, who knows well the effects illiteracy can have on families. Her own father could not read or write.
IMAGINATION LIBRARY
Imagination Library is a worldwide literacy program with almost 200 million books given free of charge.
"I'm so proud of that whole project," Parton said. "It started out here in this county (Sevier County), and my dad worked with me on that. He didn't have a chance to go to school, and he couldn't read or write, and that bothered him a lot, and that bothered me, too. I got Daddy involved, and he took great pride in that."
One thing she's discovered about her Imagination Library is not only do children love finding their own books in their mailboxes, she said parents are also learning to be better readers as they read the books to their children.
"I take as much pride in that as anything I've ever done," she said of the library.
For more information, log onto imaginationlibrary.com. Books arrive in mailboxes monthly.
FESTIVAL SEASON
› Through April 8: The first special event of the season, Celebrating 50 Years of I Will Always Love You, is timed to Parton's original recording of "I Will Always Love You" in 1973 -- before pop star Whitney Houston's version gave it a second life in 1992. The celebration commemorates the art of songwriting and the stories behind the songs with special decor and limited-time merchandise.
› April 21-June 11: More than half a million flowers bloom at Dollywood. The spring Flower & Food Festival calls attention to the tremendous displays.
Parton's favorite? "The 'Coat of Many Colors' sculpture means the most to me personally," she said. "It covers a whole lot of things."
The festival also offers certain foods not available year-round, such as Spicy Korean BBQ Meatballs, Street Corn Salad, Bacon Jammin' Fries and Smoked Mac and Cheese. Guests can stroll through the flowery wonderland sipping on raspberry tea or a cranberry watermelon cooler.
"I like to do the festivals because they really let us show a lot of skill set and we can put out different foods at different stations around the park," said Christopher Seabrook, Dollywood's executive chef.
› June 17-Aug. 6: Following the Flower & Food Festival is Dollywood's Smoky Mountain Summer Celebration with its popular Sweet Summer Nights drone and fireworks show. Back this year is the popular Gazillion Bubble Show: Aurora at Dolly Parton's Celebrity Theater.
› Sept. 20-Oct. 30: Dollywood's Harvest Festival returns in the fall with its amazing carved pumpkins and Great Pumpkin LumiNights, named the best theme park harvest event in the world.
› Nov. 24-Jan. 6: Concluding the season is Smoky Mountain Christmas with 6 million lights and holiday shows.
LOOKING AHEAD
Besides the changes coming for 2023, Parton announced that Dollywood will continue to grow in 2024. The park's Adventures in Imagination area will feature a new Dolly Parton Museum filled with keepsakes from her family, items from her massive wardrobe, a storytelling experience and a look at Parton's achievements throughout her career.
"I'm real proud of this and the folks who have been working real hard on it," Parton said.
"I'm thankful to God and to all of you for making my Smoky Mountain dreams come true," she added. "The Bible says to honor your mother and father, and I think my momma and daddy would be proud of me."
(READ MORE: Wisconsin school bans Miley, Dolly duet from class concert)
IF YOU GO
Dollywood's 38th season lasts through through Jan. 6, 2024. Hours vary by month. In April and May, the park is open daily except for Easter Sunday and Tuesdays, April 18-May 30.
For park tickets, reservations at DreamMore Resort -- and starting in June, reservations at HeartSong Lodge -- log onto dollywood.com.
Contact Anne Braly at abraly@timesfreepress.com or annebraly.com.